Emerging issues in equine medicine
Richard Newton and Jo Ireland consider the latest issues in equine exotic disease threats and emerging medical conditions of current relevance to UK horses, ahead of their CPD course providing attendees with tips on how to keep themselves informed on equine global disease occurrence.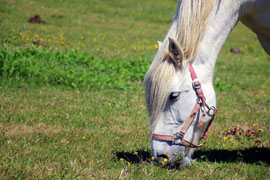 Although equine clinical practice invariably complies with the aphorism "common things occur commonly" and perhaps some consider that everything to be known about these 'common things' is already known, it may also be persuasively argued that clinicians are always on the frontline of emerging issues.  In equine medicine such emerging issues may take several forms; from the emergence of exotic infectious diseases seen in horse populations either for the first time or after prolonged periods of absence, through to the recognition of seemingly novel clinical entities such as atypical myopathy. Importantly clinicians also bear initial witness to evolving trends in changing disease frequency, such as recently with equine obesity, metabolic syndrome and associated pathologies.      
From the exotic
The UK currently has an enviable track record with respect to the status of exotic disease freedom within its horse population and this record helps facilitate a nationally valuable trade in the movement of horses internationally, particularly for breeding and competition. However, this status of apparent freedom from the major equine exotic diseases is occasionally challenged, requiring close co-ordination and effort between the UK's equine industry and government to maintain or restore the status quo.
Currently recognised exotic equine disease threats include vector borne viral diseases such as African horse sickness (AHS), equine infectious anaemia (EIA) and West Nile virus (WNV), as well as the historically important bacterial scourge of Glanders, caused by Burkholderia mallei. With the notable exception of AHS, which last entered Europe 30 years ago with eventual eradication four years later; EIA, WNV and Glanders have all been confirmed in Europe within the past three years, with cases of EIA and WNV recognised in imported horses in the UK within the past five years.
In addition to the periodic confirmation of these agents within European and UK horses, the emergence of Bluetongue caused by an AHS-related orbivirus, BTV-8, in northern Europe in 2006 and spreading to the UK through windborne movement of infected midge vectors the following year, served to highlight our clear vulnerability to AHS, should it find its way back into Europe. This led to a joint industry-government working group establishing new contingency plans and legislative powers to optimally deal with an AHS incursion but all based on early recognition and reporting of any suspected cases.
Therefore, the importance cannot be overstated of frontline veterinary practitioners serving attentive owners and professional horse keepers in facilitating the earliest possible raising of awareness of increased disease threats and reporting of any suspected incidents of exotic disease. To this end maintaining awareness of where and when such exotic diseases are occurring, as well as potential routes of entry and dissemination is of considerable benefit in ensuring prompt and appropriate action is taken on that all important frontline.
To the dysfunctional!
Anecdotally, the prevalence of pituitary par intermedia dysfunction (PPID) has increased over the past few decades; however there is no evidence to support this, and any apparent increase in prevalence likely reflects a combination of the increasing proportion of geriatric animals in the equine population, increased disease recognition and improved diagnostics. PPID is an age-related dopaminergic neurodegenerative disease affecting the pars intermedia of the pituitary gland, and as the most common endocrine disorder of older equids it is of significant importance in equine practice, with an estimated prevalence of 21% in horses/ponies aged ≥15 years. The clinical syndrome is variable between horses, with hypertrichosis, laminitis and epaxial muscle wastage being the most frequently reported clinical signs.
Initially described as Peripheral Cushing's Disease and pre-laminitic syndrome, a more recent ACVIM consensus statement defined Equine Metabolic Syndrome (EMS) as the presentation of a phenotype of obesity, insulin resistance and laminitis, or predisposition to laminitis. Insulin dysregulation is central to the pathophysiology of EMS, and assessment of insulin regulation is essential for diagnosis. While there are currently no robust prevalence data for EMS, obesity, hyperinsulinaemia and laminitis are all reported with high prevalence in horses and ponies.
Equine grass sickness (EGS) is a predominantly fatal polyneuropathy affecting grazing equids, first described in eastern Scotland in the early 1900s. Britain continues to have the highest incidence of EGS worldwide, with identifiable high-risk areas demonstrated through several epidemiological studies. EGS occurs in acute, sub-acute, and chronic forms, based on the duration and severity of clinical signs. Although recognised for over 100 years, the cause of EGS has not been definitively determined. Based on scientific evidence implying that EGS may be the result of a toxico-infectious form of botulism involving C. botulinum type C, a nationwide randomised field vaccine trial is currently underway.
Equine atypical myopathy (EAM) is an acute rhabdomyolysis with a high mortality rate, first recognised in grazing horses in Scotland around 1939. A major outbreak in Germany in 1995 raised awareness of the condition worldwide, and since 2000, numbers of European outbreaks have increased considerably, prompting epidemiological research into aetiology and prevention. Recent studies have demonstrated that EAM is associated with ingestion of hypoglycin-A, with seeds and seedlings of the sycamore tree (Acer pseudoplatanus) implicated in European cases, which has had a major impact in informing preventive management strategies.
Get involved
So why not join us at BVA HQ on 27 September 2017 for a day's CPD considering the latest issues relating to both exotic disease threats and emerging medical conditions of current relevance to UK horses. The course will update practitioners on the latest exotic disease threats and emerging medical conditions facing UK horses currently, whilst also providing attendees with tips on how to keep themselves informed on global disease occurrence.
Contact our media office
(for press enquiries only)
Want to join BVA?
Get tailored news in your inbox and online, plus access to our journals, resources and support services, join the BVA.
Join Us Today