#ItTakesTwo: Top tips for healthy, happy rabbits
At the Rabbit Welfare Association and Fund (RWAF) they are often asked about how rabbit owners can make sure their rabbits have a great life together. With the launch of the BVA #ItTakesTwo campaign, they thought what better time to get their top tips out there?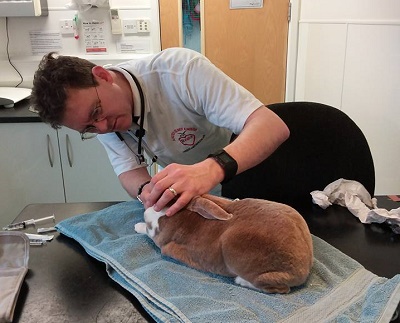 Here's how you can make sure you're caring for healthy, happy rabbits in 2020:
Remember, #ItTakesTwo - companionship is extremely important for rabbits. Rabbits have evolved to live socially with others and evidence shows that pet rabbits greatly benefit from living with other pet rabbits. So, if you're getting rabbits for the first time, make sure you get them in compatible pairs or groups, or if you currently have a single rabbit, ask your vet whether they think it will benefit from having a companion and how best to go about this.


Where possible, adopt don't shop, and make sure your rabbits don't breed: there are approximately 67,000 rabbits going through rescues every year, and many more being rehomed privately through online adverts.


Find a rabbit-friendly vet to neuter your rabbits, keep them up to date with all the correct vaccines, and provide other preventative care and any diagnosis and treatment needed. Neutering is a routine procedure, and whilst no anaesthesia or surgery is ever 100% safe, it prevents a number of health issues, including uterine tumours, the most common cancer in the rabbit. Vaccination is vital: with a resident UK wild rabbit population, myxomatosis and rabbit viral haemorrhagic diseases 1 and 2, are always out there.


Feed your rabbits properly. This is the single most important factor in keeping your rabbits healthy. They should eat approximately 80% good quality hay, grass or dried grass, 15% green leafy vegetation and 5% concentrate diet, pelleted not "muesli mix". They should be given free range to eat as much fibrous, grassy material as possible, to keep their dental and digestive health on top form. Too much concentrate food leads to dental disease, gut disturbance, and obesity.


A hutch is not enough. Rabbits need ample space to move about in. Any enclosure should be 3m x 2m x 1m high, regardless of being inside or outside, this can include their shelter/hiding places. This is the minimum for two average sized rabbits, but try to include artificial tunnels, boxes to hide in, and plenty of places to lie flat together, or get away from each other if needed. Lack of exercise can lead to poor lumbar musculature and weakness, and obesity. If rabbits find handling painful, they can become aggressive, and this is a major reason for neglect or rehoming. Get the enclosure right and avoid this.


Make sure your rabbits have a healthy weight and body condition. Check out the Pet Food Manufacturers Association's Rabbit-Size-O'meter to help you check your rabbit's weight and body condition. Being overweight or obese can limit a rabbits' mobility and put more weight on their joints. It puts more strain on the heart, lungs, and liver. The extra fat inside out outside the abdomen limits gastrointestinal motility and is another issue causing gut stasis. The extra weight borne by their feet can cause sore heels, becoming ulcerated and bleeding. Rabbits can easily become so fat they cannot groom themselves, allowing mite infestations, and much worse: flystrike.


Check your rabbits regularly for problems like drooling under the chin (indicating dental disease); weight gain or loss (use scales or assess body fat by feeling along the ribs and spine); sore ears or eyes; going off their food. If you notice any of these issues, speak to your vet as soon as possible. All of these can be signs of potentially fatal diseases, which, picked up early enough, are more likely to be treatable.


If you're after more information on how to give your rabbits the best possible care, check out the Rabbit Welfare Association and Fund web page for more detailed resources and information, and, of course, speak to your vet who will be happy to help.
Contact our media office
(for press enquiries only)
Want to join BVA?
Get tailored news in your inbox and online, plus access to our journals, resources and support services, join the BVA.
Join Us Today