Eye on the pies! Vets warn pet owners to keep edible festive hazards out of paws' reach
Add pet-proofing to your Christmas to-do lists to avoid an unnecessary emergency trip to the vets over the festive period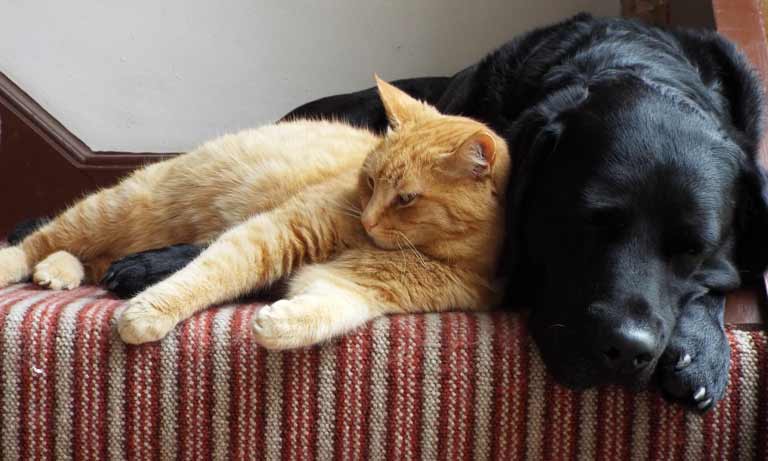 Vets are urging pet owners to add pet-proofing to their Christmas to-do lists to avoid an unnecessary emergency trip to the vets over the festive period.
The advice comes as our Voice of the Veterinary Profession survey findings reveal that eight in ten companion animal vets (80%) across the UK saw at least one case of toxic ingestion over the Christmas break last year. 
Chocolate, raisins and other dried fruit commonly found in mince pies, xylitol (found in sugar-free products), onion and garlic and seasonal decorations like mistletoe and holly can be dangerous to dogs and cats if eaten.
Chocolate treats remain top of the list of edible hazards for dogs, with 72% of companion animal vets reporting seeing at least one case of this type of poisoning over the last festive period. This was followed by cases of toxic ingestion of raisins/sultanas (reported by 63% of vets) and onion or garlic (15%). Concerningly, the average number of cases of all types of toxic ingestion in dogs has increased steadily over the last five years, with cases of chocolate poisoning increasing by 50% and those of raisin/sultana poisoning almost doubling.
Cats are also no strangers to emergency trips to the vet at Christmas. BVA's survey found that around one in six vets had treated a cat for antifreeze poisoning (17%) last year and around one in eight (12%) for poisoning by seasonal plants such as lilies and poinsettia. Unlike dogs, the average number of cases reported for each toxin is at a five-year low.
Edible treats aside, festive decorations such as tinsel and fairy lights can also be a hazard if hung within reach of a family pet. More than a quarter of vets surveyed (28%) had seen at least one such case over Christmas last year.
BVA President Daniella Dos Santos said:
"Christmas is a time of fun and festivities, but the presents, treats and decorations can often prove dangerous for our pets if we are not careful. Festive foods like chocolate, raisins, xylitol and macadamia nuts, and decorations such as mistletoe and holly, can be toxic if eaten by dogs and cats, while Christmas tree baubles or tinsel can require surgery to remove.
"Our advice to owners is to keep festive goodies such as chocolate advent calendars, mince pies or Christmas puddings safely out of reach of inquisitive pets. If you are concerned that they have eaten something they shouldn't, consult your vet straight away."
Here are five simple tips to keep Christmas hazard-free for pets:
Protect your pet from poisons
A range of festive treats and traditions, such as chocolate in advent calendars and sweets, raisins, xylitol (found in sugar-free treats), nuts, grapes, liquorice, poinsettia, holly and mistletoe are toxic to cats and dogs. 
Keep decorations out of reach
Ribbons, wrapping paper, baubles, tinsel and tree lights can seem like appealing playthings to cats and dogs but can be very dangerous if broken, chewed or swallowed. Batteries for Christmas gifts also need to be kept safe as, if ingested, they may cause severe chemical burns to the mouth, throat and stomach.
Forget festive food for pets
We all enjoy a richer diet over Christmas, but fatty foods and Christmas dinners shouldn't be shared with the animals of the household. They can trigger sickness and diarrhoea or other conditions from gastroenteritis to pancreatitis, so try to stick to your pet's regular diet and routine. Bones including turkey bones should not be given to pets as they can splinter and puncture the digestive tract.
Give toys not treats
We all want our pets to share the fun and many of us include a gift for our pet on the shopping list. But too many treats can lead to pet obesity, which can have serious consequences for their health, so consider opting for a new toy, or a long walk if you want to indulge your pet this Christmas.
Know where to go
Even with all the care in the world, animal accidents and emergencies can still happen. Make sure you're prepared by checking your vet's emergency cover provision and holiday opening hours or, if you are away from home, use the Royal College of Veterinary Surgeons' Find a Vet facility.
For more information on pets and poisons, download the free Animal Welfare Foundation 'Pets and Poisons' leaflet.
Contact our media office
(for press enquiries only)
Want to join BVA?
Get tailored news in your inbox and online, plus access to our journals, resources and support services, join the BVA.
Join Us Today