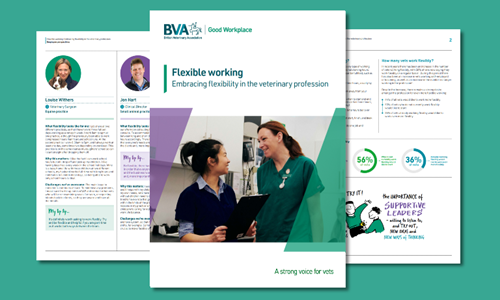 Good workplaces support requests for flexible working wherever possible, from all team members, regardless of the reason for their request.
Flexible working can have many benefits for individuals, including a better work-life balance and improved satisfaction at work, plus it brings benefits for businesses such as increased productivity and retention of staff.
Our Autumn 2021 Voice of the Veterinary Profession survey showed that 44% of all vets would like to work more flexibly, but staffing issues and concerns about out-of-hours cover and continuity of care are among the perceived barriers to doing so.
Download our resource for facts, figures, and examples of how vets are currently working flexibly, across a range of sectors, and for a variety of reasons. It demonstrates how flexible working can benefit both employers and employees, and offers tips and advice on tackling some of the challenges that can arise when introducing increased flexibility into your workplace.
This booklet supports our Good workplaces campaign which calls on the profession to tackle the 'leaky bucket' of vets leaving the profession by creating a good workplace culture where everyone feels valued.
Flexible working: Embracing flexibility in the veterinary profession
JOIN TO DOWNLOAD