Get your practice ready for Antibiotic Amnesty
Fergus Allerton, a vet and project lead for this year's veterinary Antibiotic Amnesty campaign, shares why the campaign is an ideal way for the profession to demonstrate its commitment to antimicrobial stewardship.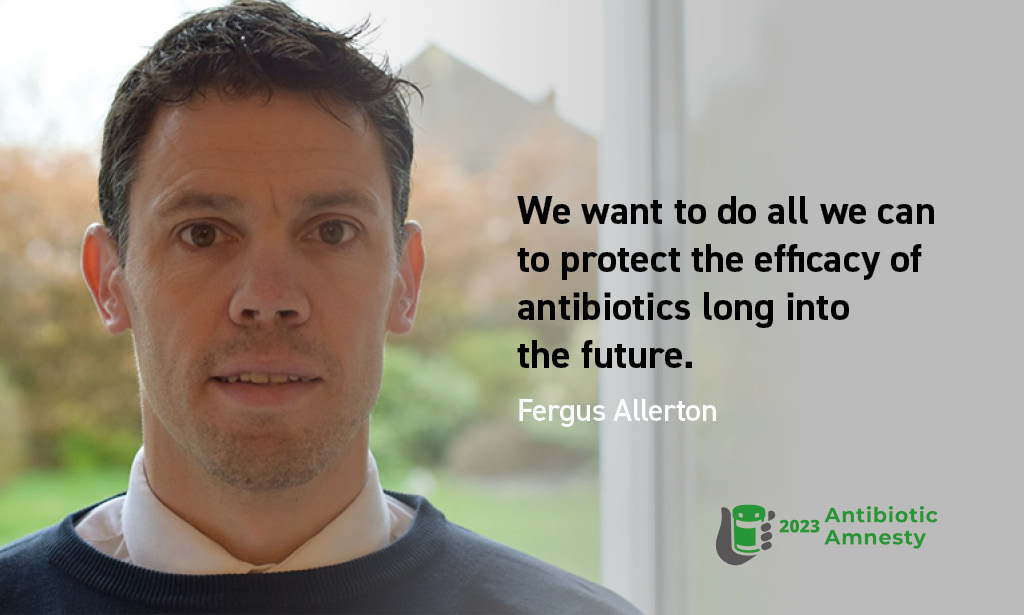 Studies show that leftover antibiotics are rarely returned to pharmacies or vets and are more commonly disposed of in household waste or down sinks and toilets. This could potentially contribute to antimicrobial resistance (AMR) and has a negative impact on water quality, aquatic life and wildlife. As a profession, vets hold a trusted role in the lives of the pet owning families that we see and that means that we are perfectly placed to have conversations with them about AMR and the Antibiotic Amnesty campaign.
The premise of the campaign is simple. It is designed to encourage members of the public to bring back unused or leftover antibiotics to their vet practice for safe disposal. It is led by a collaboration of UK veterinary organisations, practices and charities and looks to raise awareness with owners of AMR and the importance of the safe disposal of antibiotics to prevent environmental pollution.
Last year's pilot was a great success and provided us with useful insights and learnings to help make it even easier for practices to take part this year.
Get your practice campaign-ready
This year, practices can access a campaign toolkit hosted on the RUMA Companion Animal and Equine website, which comprises a range of promotional materials including reception posters, pre-written social media posts, social media graphics, newsletter content, client hand-outs and animations for use on practice screens and social media. There is also a guide advising practices of the practical steps they need to take to get ready for the campaign as well as what to do during it and afterwards.
Between now and 1 November, order a spare pharmaceutical bin for your practice and communicate plans for the campaign to colleagues, explaining what the campaign is all about and how the team can play their part. It's also a good idea to start engaging clients with the campaign by posting content on your social channels and in newsletters. You can also use the downloadable sticker [available on the online toolkit] that can be put on prescriptions to remind clients to return any unused antibiotics.
Next steps
During November, it's then about putting the pharmaceutical bin in a secure location labelled 'Antibiotic Amnesty'. When clients return their unused antibiotics to a vet, nurse or receptionist, the drugs should be put into this bin (other drugs should be disposed of via normal channels). Ideally, for the campaign to work effectively, it would be helpful to appoint a practice Antibiotic Amnesty Champion who can oversee the campaign throughout November and is happy to lead and champion all activity.
We're also encouraging vets, nurses and receptionists to record any conversations they have with clients about the Antibiotic Amnesty campaign. There are a number of ways practices could do this, such as a tally chart in the staff room to capture each conversation. It is also important to keep client communications going throughout November. There are many ideas practices could put into action, such as running a competition to see who can drive the most returns of antibiotics and who has the most conversations with clients about the campaign or creating a campaign waiting room display.
From 1 December, the campaign group will be collating information from the practices. Data collection from participating practices will help audit the impact of the amnesty and will help strengthen future campaigns. Practices will need to count up the number of antibiotics returned: numbers of tablets, number of topical packs, number of injections, oral suspensions and the types of antibiotics.
We will also collect the data relating to the total number of conversations with clients during the campaign. Everything can be reported via this BSAVA survey link. Everyone who submits information will also be entered into a prize draw for a chance to win some amazing prizes from the BSAVA and Webinar Vet!
A One Health initiative
In our field of work, we are all acutely aware of the emerging threat from AMR. I know from the feedback we have received from last year's campaign that as a profession, we want unused antibiotics to be disposed of safely. We want to do all we can to protect the efficacy of antibiotics long into the future for the benefit of both human and animal health.
Working together on this campaign, the veterinary community can help recover unused and out-of-date antibiotics from pet owners right across the country and help drive a real and tangible change in the fight against AMR.
Contact our media office
(for press enquiries only)
Want to join BVA?
Get tailored news in your inbox and online, plus access to our journals, resources and support services, join the BVA.
Join Us Today