Joining the One Health army
One Health recognises that the health and wellbeing of people, animals, and the environment are inextricably linked. Cecilia Tat, a final year veterinary student at the University of Surrey, tells us how discovering One Health has changed her outlook on the veterinary profession and her career.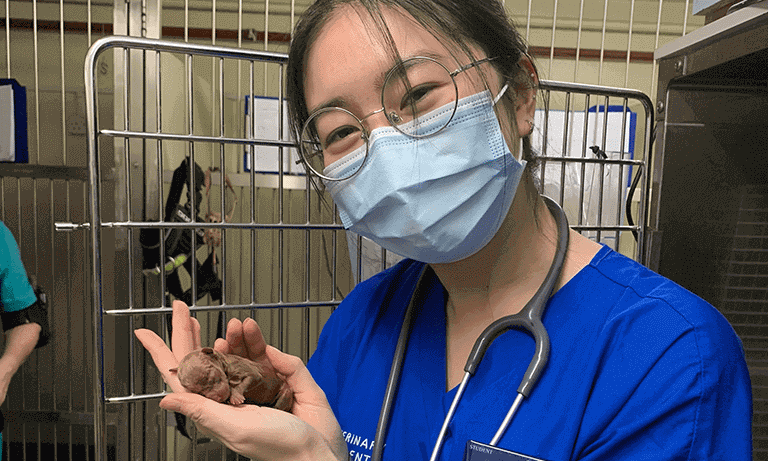 Finding One Health
After all the Zoom lectures, online examinations, and another tiring post-Christmas exam season, during the first half of my fourth year at vet school, a new semester was rolling around the corner. I had inklings about my future career, but I was feeling slightly disillusioned with my plans for purely clinical work.
Then a new module for the upcoming semester encompassing One Health and Epidemiology gripped my attention. This would be the moment that completely changed my outlook on the veterinary profession, and my career.
The concept of "One Health" recently became more prominent in the public eye as a result of the Covid-19 pandemic, which has affected every aspect of our lives. It suddenly became a relevant topic that concerned many, and very much so myself. After studying and engrossing myself in this subject, it made me more interested in epidemiology of infectious diseases, and how this affects policy and everyone's daily life, and ultimately, it made me to want to become involved in the One Health army!
I was very fortunate to be awarded a research project funded by the INSPIRE award from the Academy of Medical Sciences to the Veterinary School at Surrey, aimed at increasing awareness of careers in research. The studentship has definitely enabled me to dive into One Health in action, and has helped me in realising a career path I would potentially want to pursue post-graduation.
Becoming involved with a One Health project
The OHEJP (One Health European Joint Programme) is a consortium of institutions across European countries focused on the transdisciplinary cooperation and integration of activities by means of dedicated Joint Research Projects, Joint Integrative Projects and through education and training. The project I became part of, COVRIN, is an OHEJP project that encompasses One Health research integration on SARS-CoV-2 emergence, risk assessment and preparedness. The University of Surrey leads many activities in this project, as well as many other OHEJP projects.
I was very glad to have had the opportunity to collaborate on a novel OHEJP project, specifically on the aspect of assessing surveillance of SARS-CoV-2 in wildlife in the UK, which is particularly important due to the outbreaks of SARS-CoV-2 in minks in other European countries, potentially posing a risk to other wildlife. Meetings with the Animal and Plant Health Agency (APHA), and with other countries' health professionals, really cemented the multidisciplinary approach of One Health in combating current issues. It was definitely eye-opening to see how surveillance was done in the UK and in different countries, as well as what was presently in place to protect the public from emerging diseases.
My work involved researching the surveillance done in the UK on SARS-CoV-2 in wildlife. An initial internet search of projects currently present was performed, before a meeting with the APHA was scheduled to further find out if there were information about surveillance not available in the public domain, that was also conducted by the APHA. This information was compiled into a document at the end, which contributed to a larger report of the surveillance of SARS-CoV-2 carried out in animals across different European countries.
What's next?
Other paths open up when you least expect it, so I'd definitely encourage others to see where a One Health approach can take you and how it might mould your interests. A veterinary degree isn't limited to just one road of work, but an array of other opportunities!
For more ideas and information, check out the BVA One Health in Action report and the One Health European Joint Programme.
Contact our media office
(for press enquiries only)
Want to join BVA?
Get tailored news in your inbox and online, plus access to our journals, resources and support services, join the BVA.
Join Us Today