LGBT History month: Carl Bradbrook Q&A
To celebrate LGBT History Month, throughout February we are featuring Q&As with some key role models. Carl Bradbrook, RCVS and EBVS European Specialist in Veterinary Anaesthesia and Analgesia, shares his experience of the veterinary profession and encourages fellow LGBT+ vets to be open and honest with friends and colleagues.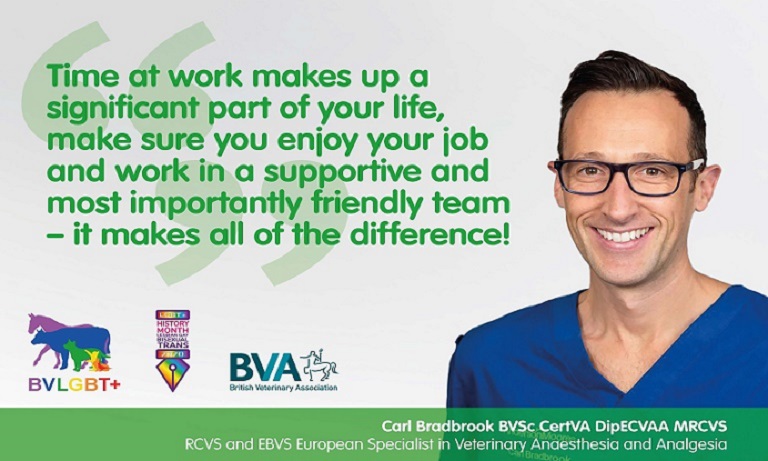 Can you tell us what started/inspired your path into the veterinary profession?
I got a weekend job working on a farm that was part of the University of Liverpool, kindly organised through a friend of my parents. This led to me having the opportunity for some work experience with the farm animal vet team at Leahurst. This led to a number of years of working weekends and during the school holidays and encouragement that this was the right profession for me.
What has been the most challenging part of your career?
My anaesthesia residency was a very challenging period of my veterinary career. It was tough to leave a mixed practice job that I really enjoyed and venture further from my family and friends. The first part of my residency did not go as planned and I was extremely lucky to be offered the position to continue my programme at another centre.
What has been the best part of your career so far?
I was very fortunate to start working at Davies Veterinary Specialists, which allowed me to complete my anaesthesia residency programme and also to make many great friends. This led to me working as part of their anaesthesia team for nearly ten years when they needed holiday and extra clinic cover.
What are your proudest achievements of your career?
Gaining my European diploma in veterinary anaesthesia and analgesia is something that I am most proud of. It was a tough challenge but a very worthwhile one.
What advice would you offer to someone experiencing difficulty with their sexuality or gender identity?
Be open and honest with your friends and close colleagues at work. It can be a tough career choice at times and the additional pressure of not being able to have someone to confide in can be really hard. Close friends often already have thought what you tell them and in my experience have been really supportive.
If there is one piece of advice you would give to your younger self what would that be and why?
Time at work makes up a significant part of your life, make sure you enjoy your job and work in a supportive and most importantly friendly team - it makes all of the difference!
This is part of a series of posts in celebration of LGBT History month. Keep an eye on the BVA blog for our other posts throughout February.
Contact our media office
(for press enquiries only)
Want to join BVA?
Get tailored news in your inbox and online, plus access to our journals, resources and support services, join the BVA.
Join Us Today