My evening at the BVA London dinner
Following the BVA London dinner, Angelos Angelidis reflects upon his experience of the evening and the importance of bringing different stakeholders within the profession together.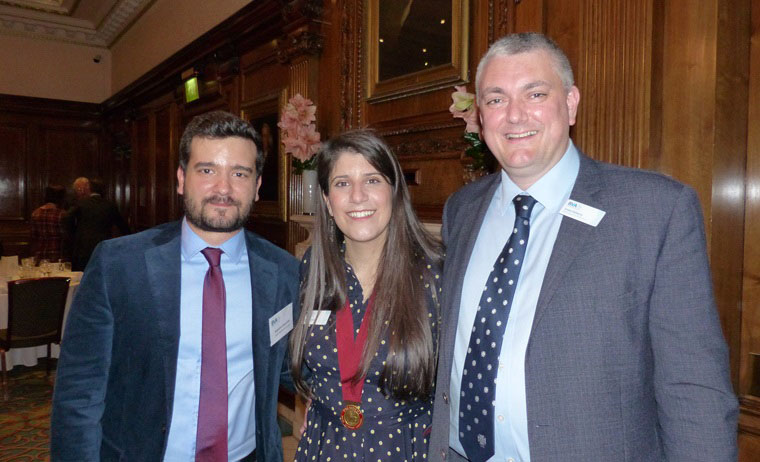 I greatly appreciate the opportunity I was given to attend the 2020 BVA Annual London Dinner this February. It is not common for a young member of the profession, making his first steps in research, to be invited to dinner alongside the Minister for Rural Affairs and Biosecurity, Lord Gardiner of Kimble, the UK Chief Veterinary Officer, Professor Christine Middlemiss, and over 80 special guests from across the veterinary profession, dealing with all aspects of animal health and welfare, in everyday clinical practice and private or governmental organisations.
Discussing Brexit and the importance of animal welfare
After receiving a warm welcome from the organisers upon arrival, we shared a drink and exchanged thoughts and opinions with key individuals from across the veterinary world, as well as MPs and Peers. With Brexit dominating the public debate at the time of the event, we all expressed our concerns about future trade deals that might lead to lower animal health and welfare standards. As nearly 80 percent of the current animal welfare legislation comes from EU law, we all agreed that solid legislation preventing welfare compromises for the animals imported in the UK is essential.
The President's Speech
Following the welcome reception, BVA President Daniella Dos Santos, in her opening speech, made special mention to ongoing issues, such as the vet workforce capacity post-Brexit and the gender pay gap, which need to be addressed. Most inspiring was the initiative for creating supportive workplaces where people feel motivated, challenged, and reasonably rewarded for their work. Major matters including non-stun slaughter, puppy smuggling, and bovine tuberculosis were also mentioned in Daniella's speech, all of which provoked passionate arguments in the dinner lobby.
Research and the value of feedback
As a final year PhD student investigating the nitrogen use efficiency in cattle, I discussed my findings with key representatives from the farming industry and colleagues, focusing on nutrition, metabolism, and sustainable farming. The main driver for my research was to provide knowledge and guide the sustainable reduction in feed protein and non-protein N inputs, without compromising the profitability of cattle farms. As beneficiaries from this project will be vets, producers, feed industry, researchers, policy-makers, and the public, I received challenging questions, each one with a different background, as well as valuable feedback on my research outputs.
Final thanks
As a result of BVA inviting a recently qualified member of the profession to such an engaging event, which brought together scientists, politicians, and industry, I had the chance to contribute towards the exchange of experience. I was also able to share my views on the implementation of novel approaches for issues concerning our profession. Thank you BVA for creating a truly special night for your guests.
Contact our media office
(for press enquiries only)
Want to join BVA?
Get tailored news in your inbox and online, plus access to our journals, resources and support services, join the BVA.
Join Us Today