Find your happy place this Mental Health Awareness Week
The theme for Mental Health Awareness Week 2021 is nature, recognising the positive impact that getting out and about can have on emotional and physical wellbeing. Here, BVA President James Russell details one of his favourite local settings to embrace the natural world.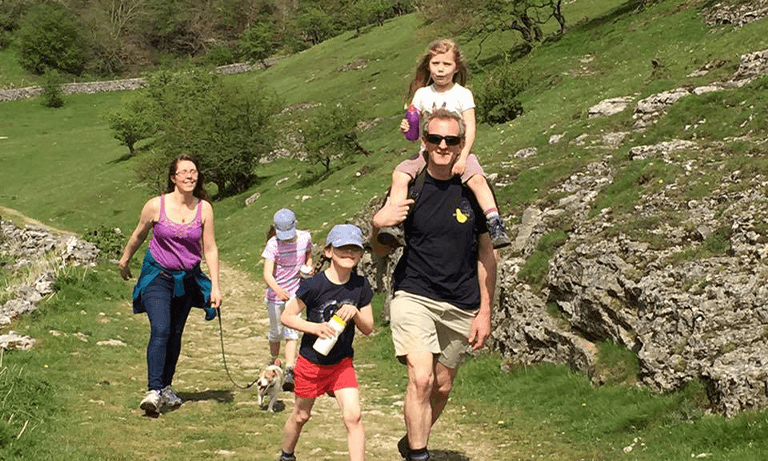 Vets very often lead busy lives. For an ambulatory vet, the car can be a sanctuary, and so setting some rules to protect that can be helpful for the occupants of the car! Amongst mine were that I was never too busy to run up Thorpe Cloud, a limestone hill in the Peak District National Park.
There are many ways to approach this hillock, but my word to the wise is that climbing Thorpe Cloud from the stepping stones is not a thing to do with a toddler in each arm. I know this from experience. At least one arm is required at some points to get up the slopes. It is a short, but savage scramble. The better informed will follow the stream up Lindale, or even do as I always did on my runs - park at the Sheepwash car-park in Thorpe, (there is even a loo!) and hotfoot it straight to the summit.
Your reward – to the south, the Weaver Hills and the Staffordshire plains, punctuated by the cooling towers at Rugeley marking the entrance to Cannock Chase and the home of our black panther. To the north, the outline of a beautiful day's walking to Hartington, folding and creasing into the landscape until the horizon drops near Buxton. Look east and you can spot the glint of the magnificent wind turbines riding high above Carsington Water with its eight-mile undulating running/bike track around it. I suggest looking down though, noticing the worn Derbyshire gritstone that makes Thorpe Cloud, shiny from the boots of visitors since time before time. If you've been lucky, you might hit the summit all alone. You are the highest person you can see and it is brilliant.
If like me you find that nature and the natural world can impact your senses in this visceral and important sense, then we need to prioritise the time to enjoy it, to breathe it, to touch it and to just be. That is my promise to myself from this week of focusing on our mental wellbeing – I will prioritise the time, with my family, to just be.
In keeping with the nature theme of Mental Health Awareness Week 2021 we're encouraging  members of Team Vet to share the places in nature that bolster their sense of wellbeing. Join us on Facebook, Twitter, Instagram, and LinkedIn to share pictures of your favourite spots using #VetsInNature and #MentalHealthAwarenessWeek.
Contact our media office
(for press enquiries only)
Want to join BVA?
Get tailored news in your inbox and online, plus access to our journals, resources and support services, join the BVA.
Join Us Today