LGBT History month: Victoria Nielsen Q&A
To celebrate LGBT History Month, throughout February we are featuring Q&As with some key role models. Victoria Nielsen, Lead Internal Quality Assurer at Medivet Training College, shares her experience of the veterinary profession and encourages others to embrace who they are.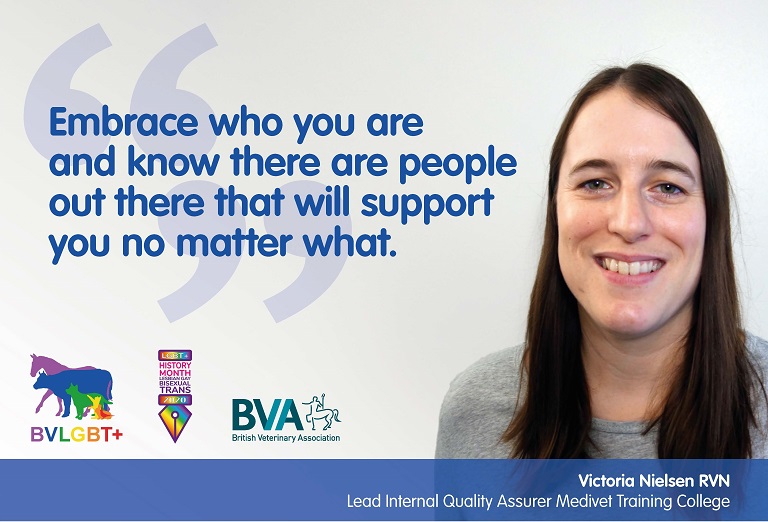 Can you tell us what started/ inspired your path into the veterinary profession?
Growing up with many dogs, horses, and birds meant that working with animals was a natural career choice. I cared for many puppies, birds, barn owls, and even an Indian runner duck! Living near Epping Forest meant I also spent many weekends horse riding and also went to dog shows with my parents as a child so animals were a significant part of my life.
What has been the most challenging part of your career?
When I was training as a Student Veterinary Nurse, it was one of the most challenging periods of my career and personally as not only was I working in a busy 24-hour hospital, I was also studying for my NVQ, completing my portfolio, and discovering who I was as a person at the same time. It was an incredibly tough time but I came through it and qualified!
Shortly after qualifying, I locumed for a while working at various practices for short periods of time. This meant I had to introduce myself and come out each time I went to a new practice. I didn't know how others would take it and it was an anxious time as I didn't feel comfortable hiding who I was. But I also did learn a lot from those experiences and interactions. It changed my own perception of people as most were very accepting of me, not only regarding my sexuality but also being deaf as well.
What has been the best part of your career so far?
Being a Head Nurse and this led me to joining Medivet Training College as an Internal Quality Assurer. I had always wanted to work in education and it is so rewarding. My role has also enabled me to travel to many different places and meet new people, which I would not have necessarily done otherwise.
What are your proudest achievements of your career?
Obtaining my RVN qualification after such hard work and seeing my students gain their own RVN qualifications. Knowing I have played a small part in helping them to achieve, makes me so proud and that feeling never diminishes as the years go by.
Also, this year I will be celebrating ten years with Medivet. That will be another proud achievement!
What advice would you offer to someone experiencing difficulty with their sexuality or gender identity?
Be open and honest with yourself and others. Don't be afraid to break barriers and say that you are struggling. Know that you don't have to conform to type. Life is too short. Embrace who you are and know there are people out there that will support you no matter what.
If there is one piece of advice you would give to your younger self, what would that be and why?
Don't worry about what other people think and don't be so hard on yourself. I have always worried about what others thought of me but I am gradually learning to worry less and go with the flow!
This is part of a series of posts in celebration of LGBT History month. Keep an eye on the BVA blog for our other posts throughout February.
Contact our media office
(for press enquiries only)
Want to join BVA?
Get tailored news in your inbox and online, plus access to our journals, resources and support services, join the BVA.
Join Us Today