Meet BVA President Justine Shotton - Zoo and wildlife vet
BVA President Justine Shotton reveals what it's like to work as a zoo vet.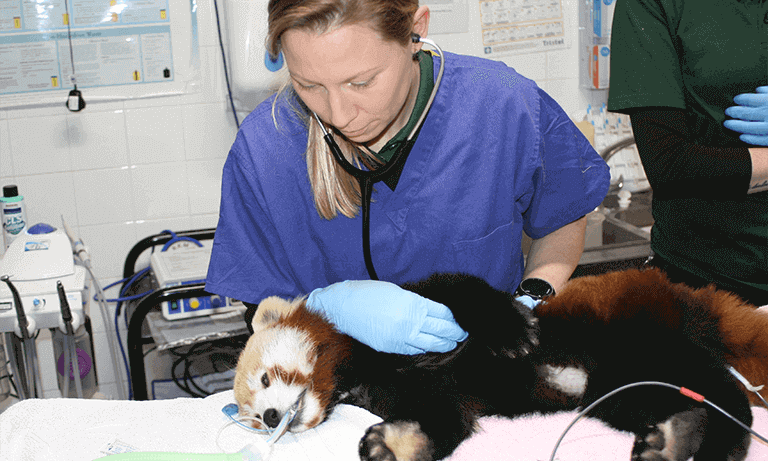 What's the most interesting fact you've learnt since working in a zoo?
I think one of the most interesting things I've learned is how much thought and preparation goes into getting a new species into a zoo, and all the important conservation-related breeding work that goes on. In terms of nuggets of opus quiz information, I've learned that wombats produce cubed faeces!
Have you ever thought, 'what on earth is that?!'
I remember in my early days at the zoo sometimes I'd be going out to check an animal of a species that I'd never seen before let alone was able to pronounce its name! I think I checked a sitatunga on my first day - it was a steep learning curve! With the breadth of species that we work with it's also not unusual despite researching as much as possible to sometimes be surprised by differences in anatomy or pharmacology, so it's important to be ready for anything.
How do you learn about animals you haven't seen before?
Zoo work is surprisingly straightforward, and with any species it's important to work from first principles. Get a history if you can, perform a clinical exam or at least a visual exam and then come up with a list of differential diagnoses and next steps. Use similar species as models, e.g. a zebra is like a horse; a tiger is like a domestic cat in many ways, etc.
Do you keep in touch with other zoos to share information about the animals?
Yes, we have a good email network where we share questions and ideas. There are also specialist veterinary advisors for many of the endangered and managed species as part of their taxon advisory group, as well as best practice guidelines. The zoo vet community is so small and we get to meet each other at conferences, then we can just pick up the phone to our friendly colleagues to ask questions too. There is also a surprising amount of published peer reviewed information on zoo animals now, so it's always worth checking the literature too.
What's your favourite animal and why?
I love all animals and try to appreciate the wonder of a tiny critically endangered tree snail as much as a majestic snow leopard. I really love albatrosses, as I love their lifestyle of cruising around the world, and I have a soft spot for lemurs. It's incredibly rewarding but terrifying working with animals such as tigers as you really appreciate how big and powerful they are when you get up close.
At the zoo we do lots of animal training to allow veterinary work where the animals engage with us, such as hand injections for anaesthesia or vaccinations and animals presenting various parts of their bodies (e.g. teeth, paws) for visual checks. This reduces the need for darting and therefore minimises stress so is a great way forward. It's possible to train any animal from fish to giraffes to lizards! 
Which animal has made the most amusing noise?
We have a huge tropical house which is its own ecosystem, with free-raining sloth, birds, tortoises, butterflies, and other species like tiny Trinidad stream frogs that make an incredibly loud noise. Whenever I walk through there I hear all sorts of wonderful sounds - I think most of them come from the birds but sometimes it's hard to tell!
Contact our media office
(for press enquiries only)
Want to join BVA?
Get tailored news in your inbox and online, plus access to our journals, resources and support services, join the BVA.
Join Us Today