My commitment to unifying farm vets to ensure good antibiotic stewardship – can you join me?
Fiona Lovatt is the Clinical Lead for Farm Vet Champions at RCVS Knowledge. She has a passion for proactive veterinary involvement on UK sheep farms, particularly enthusing both vets and sheep farmers to interact better through active individual flock health planning and Flock Health Clubs. In this blog, Fiona shares an update on the Farm Vet Champions initiative.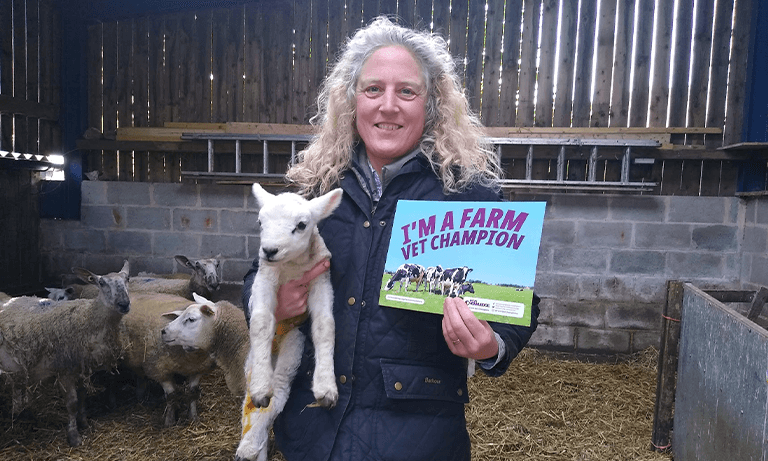 I generally think of myself as a naturally optimistic person with a positive outlook on life and the future.  And I have no time for sensationalism or shock-reporting. However, if there is one statistic that reverberates through my mind, it is the one from the 2014 O'Neill report that demonstrated how, by 2050, the number of human deaths due to antimicrobial resistance will outnumber deaths from cancer.  At a predicted 10 million global deaths a year, the scale of the issue will utterly dwarf the impact of our current world pandemic.
For my whole lifetime, I have not been scared when a member of my family has needed a routine operation.  I do not wish to contemplate a future when one of my kids may face a hospital procedure without the possibility of effective antibiotics. 
As a farm vet, I am acutely aware of the anguish and distress when lambs are dying, or calves won't stop coughing and I really hate the feeling of inadequacy when a disease seems to be out of control.  But I am also hugely proud of my professional colleagues and their ability to grasp the importance of the issue and their role in forging realistic solutions.
What is the solution?
Farm Vet Champions (FVC) is a major collaborative project spearheaded by the charity, RCVS Knowledge and it has at its heart the mantra Plan Prevent Protect in terms of ensuring healthy farm livestock.
There are 5,500 farm vets in the UK, each of us with a unique and complicated job.  Perhaps you work alongside Welsh sheep flocks or Devon dairy herds; you may have clients who own goat herds or suckler cattle or a Highland estate with a game bird shoot.  Any one of your farmers may also rear turkeys for Christmas or sell free range eggs at the gate.
Nationally, we have already made huge and significant progress in reducing levels of antibiotics used in farm animals – with a 45% reduction over 5 years– though it must be said that this progress has been largely evidenced in the more tightly integrated sectors such as pigs and poultry which are predominantly serviced by species-specific vets.
Who is involved?
Farm Vet Champions is a project aimed at all vets who have contact with food-producing animals and their owners with the myriad of different practical challenges that they face daily.
We have teamed up with the BVA species specialist divisions to provide high quality species-specific technical CPD and we have worked with different behaviour and communication experts to provide nuggets of useful information on how to motivate behaviour change.  We have created useful and important sessions with our colleagues at the VMD and NOAH on the legalities and practicalities of our use of veterinary medicines.
Farm Vet Champions is not simply about considering appropriate treatments, but we are taking a much more holistic approach - we are building a supportive community of farm vets who are empowered to motivate their clients to ensure good management, living conditions and preventative medicine plans so that livestock remain fit and healthy and the need to turn to antibiotics is minimised.
United we can make a difference
We are not underestimating the challenges that you may face – whether that is with an awkward farmer, or a boss who doesn't seem to care or an employee who doesn't want to be told.  You may feel that every prescribing decision that you make or each snatched conversation that you have within the practice or with a farmer is small or insignificant.  Put all 5,500 of us together, recognise that we alone are the guardians of farm antibiotic use in the UK, and you realise that every single one of us has our part to play.  We each have a moral duty to be well informed and well equipped. Together, we can tackle AMR.
We can't afford to leave you behind and we would love to have you join us.  We want to learn from you, and with you, as together we become Farm Vet Champions and ensure optimum antibiotic stewardship throughout the UK livestock industry.
To express your interest in becoming a Farm Vet Champion and access the free CPD, please visit the RCVS Knowledge website.
Contact our media office
(for press enquiries only)
Want to join BVA?
Get tailored news in your inbox and online, plus access to our journals, resources and support services, join the BVA.
Join Us Today