My journey to vet school – how taking a year out can set the right foundations
As A-levels and Highers students are working out their next steps in the wake of national exam results confusion, vet student Calum McIntyre reflects on his own experiences taking time out before starting his veterinary degree and offers advice on how to make the most of the opportunity.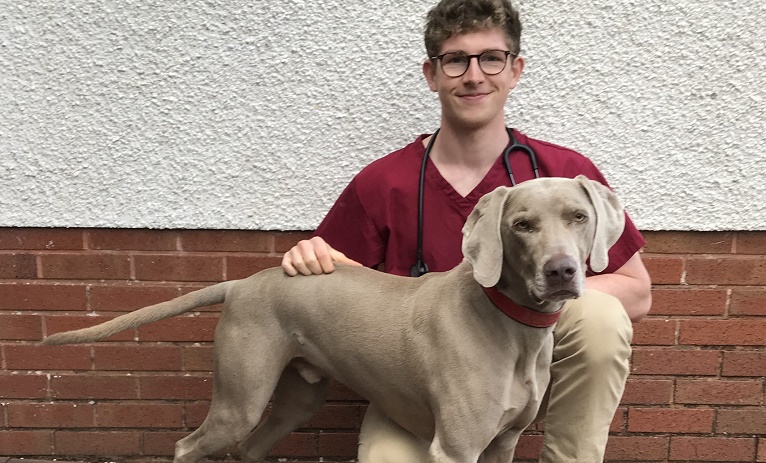 Amidst the yearly exam result headlines, I usually experience a sense of nostalgia. Given the increased anxieties students are facing this year, it has led me to a deeper self-reflection of my own experiences in applying to vet school.
My application wasn't straightforward. After falling short of entry requirements, but with tenacity for my dream, it took me three years of badgering admissions teams, resits, work experience and two separate applications that culminated in a single offer. Albeit a more 'scenic route', what was presumed a failing was perhaps the trajectory for success. Although my admission into vet school wasn't untroubled, I still held many privileges. Neither was it made amidst the aftermath of current headlines. However, I hope in sharing some tips from my own experience this may help in navigating the precarious situation some students may now find themselves in.
Beyond exam grades
School exam grades are often perceived as the single most important factor when embarking on studying veterinary medicine. But, from personal experience, exam marks were not the deciding factor, nor should they be. While grades are generally seen as universal markers in applications, the major differentiation between candidates is more often what else they bring to the table. With this said, in the same ways exam marks are not an indication of your value or a reflection of your character, a slipped grade doesn't necessarily have to dictate your future.
In retrospect, stressing over my comparably modest grades was unnecessary. Instead, I should have been focusing on the gift of that time between school and university which afforded me a plethora of fulfilling opportunities.
'Hidden curriculum' skills
In entering a profession with foundations in empathy, compassion, communication, and teamwork, developing skills of the 'hidden curriculum' are crucial. Bolstering life experience, for example through hobbies, working or volunteering, furthers interpersonal skills and teamwork. Amidst a busy schedule as a vet student, time management in juggling commitments and responsibilities can go a long way too. Moreover, once a student, the additional reward of having hopefully built up some savings, alongside a solid appreciation of the value of money, might just mean you're not living off spaghetti hoops four days a week!
As it is a unique field, applications for veterinary medicine also often require work experience. Showing dedication to sacrifice time and willingness to dive outside your comfort zone will greatly assist your application. But this experience shouldn't just be viewed as a tick box exercise. After chapping doors and sending letters, personally undertaking voluntary experience offered me true, contextual recognition of the role vets play, whether in companion care or agriculture. Plus, many fond memories of this time only deepened my motivation during tough spells at university.
Direct work experience opportunities aren't always available, especially as veterinary practices try to navigate the difficulties of Covid-19, and people can lose out due to finances, location or a lack of contacts. But any experience interacting with the public and learning new skills can be useful.
Additionally, this experience can offer a chance for mentorship. I was extremely fortunate to befriend our own vet who, while careers advisors, teachers and friends tried to sway my yearning away from a veterinary career, supported me and emboldened my ambitions. This is the power of role models in action.
Go for it
If you've reached preparations in making that application, you've already accomplished a feat in itself. With several stepping stones leading to undertaking veterinary studies, be sure to acknowledge the small hurdles within the bigger picture. Amid other fantastic candidates, it can seem daunting, with 'imposter syndrome' creeping in. Ensure you focus on the preparations you can make to boost yourself and your application, rather than focusing on others and what you cannot control.
Lastly, if in doubt - throw caution to the wind. Simply put, if you've not made an application, there'll be no admittance. Make sure to hit send on that UCAS application!
In all, use your dream as fuel to fulfil your ambitions. Set the foundations for skills you'll use after completing your studies and upon entering this amazing profession it will guide you to success. Cherish the experience and lessons learnt and the friends and mentors you've gained, then when the time comes, pass the torch to the next budding applicant. As I said earlier, I took a more 'scenic route', but I have no regrets. We all reach the same destination in this pursuit and if you keep the faith and follow your conviction, you may yet be writing a similar blog for the next generation.
For careers advice and more information on the career paths available take a look at the My Vet Future website. 
Contact our media office
(for press enquiries only)
Want to join BVA?
Get tailored news in your inbox and online, plus access to our journals, resources and support services, join the BVA.
Join Us Today