Proactive management of dairy cow foot health – treatment protocols
Dr. Nick Bell visits a farm of 300 Holsteins and finds some interesting cattle foot trimming case studies.
This week I was trimming at one of my favourite farms near Dorchester, which has a herd of 300 Holsteins. Historically we struggled with chronically lame cows with some quite severe foot lesions, which we dealt with to some degree with some success but now we're very much focussed on rapid cure of mildly lame animals.
I visit every 2 weeks, with a visit in the intervening week by a well-respected, competent professional claw trimmer who holds a Dutch diploma who works through the local farm practice. I rate him highly as a trimmer.
Arriving at the farm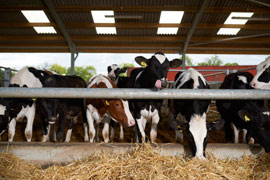 The cows presented to us for trimming on this farm are penned in a loose yard with food and water. It's extra handling time involved with pulling them out but the cows are noticeably calmer and happier in the crush. The crush is a basic WOPA-type.
The farm pull out lame cows for our visit and the trimmer will do mainly routine trims with some lame cows. The herd manager observation skills are good, so while we don't mobility score the whole herd, they spot the early cases. We do, however, mobility score all the lame cows before we trim. This helps in a number of ways: we establish the severity of lameness and which legs are affected. Occasionally we have a cow which clearly has an upper limb problem or nerve damage in which case they get examined behind a swing-gate against the wall. This week we saw a couple of cows which had a block on (amongst other cows).
Simple block removal case
The first was straight forward. She had a recovered sole ulcer with a thick, angled wooden block which I guess had been on 3 weeks, stuck on with moo glue. Moo glue is a fantastic, fast setting polyurethane glue, but occasionally it can deform slightly after placement. In this case the block had probably shifted a little axially after fitting, just enough for the block to rub the heel and the glue ran to the heel. It was a straightforward case of removing the block. There was still some 'height-difference' between the claws so I was happy this cow should cope with the remainder of her recovery. The best confirmation was seeing her walk away sound (score 0) as she left the crush. I left a note to say monitor and re-apply a block if necessary, only if the medial claw is sound.
A more complex case
The next cow was more challenging. She was a mild mobility score 2, again with a block on. We washed the foot in disinfectant (our standard procedure). She had a recovered white line lesion in a lateral hind claw. It was an enlarged claw without much height difference with the blocked claw, but there was no heat in the claw, no odour or pain on heel palpation or with hoof testers.
However, there was some sensitivity on heel palpation of the blocked medial claw. Sometimes we'll use the thermographic camera on these, but it wasn't available that day (with one of the other team), and I suspected the lameness was block related.
We removed the block (using nippers to split the block lengthwise) and checked the other foot which was ok. It's always wise to check for bilateral lameness which is common, especially as we sometimes misidentify the lame limb. However, this cow shifted weight when we let her down and her mobility score had worsened on release.
Deciding on the best course of action
We gave her 20 minutes (while we treated a cow with a flint penetration of the sole in a front foot) but she was still a moderate score 2.
In this case we had several options – reapply the block, give nonsteroidal anti-inflammatory drug (NSAID) or consider straw yard/nurse paddock rest.
In this case we opted for a block glued to the toe at a steep angle and some NSAID with an instruction to call us back to remove the block if she wasn't improved. I've not heard anything. I'll call the farm next week while in the car, to see how she is doing.
It's exhilarating to see how much the NSAID help these cases – a must for all claw inflammation or traumatic injuries.
I'll wait to see if the block was the right call. It was risky, as the cow is ruined if she develops a heel ulcer, but I'm much bolder now than I used to be (on certain farms!).
More from BVA
Dr. Nick Bell will be leading Dairy foot health - prioritising skills and actions veterinary CPD course on September 6 in Honiton. 
Other BVA resources:
Written by Dr. Nick Bell
MA VetMB, PhD, MRCVS, Lecturer in Livestock Veterinary Extension Services at Royal Veterinary College.
Nick is a senior lecturer at The Royal Veterinary College, heading a research / extension centre based in Dorset with a small but energetic team of dedicated vets and one paravet. Son of a vet, he grew up on a small sheep and beef farm in Herefordshire, qualified from Cambridge University in 1999, and from then started worked on lame cows, sheep, pigs, horses, the occasional elephant and one giraffe.
Treating lameness has always been an obsession, so the lucky break came in the form of a PhD project at Bristol on dairy lameness control programmes in 2002-6 followed by the Healthy Feet Project in 2007 and then the Cow Tracking project in 2011. He is a NPTC examiner in Cattle Foot Trimming and member of the National Association of Cattle Foot Trimmers. He is a European specialist and has been recently researching iceberg indicators of health and welfare in dairy cattle with a PhD student (Sophie Collins), timing of foot trimming in dairy heifers and automatic monitoring of cow behaviour and welfare with researchers at Writtle College, Essex University and Exeter University in the Cow Tracking project. He still enjoys nothing more than treating a lame cow and fixing a cubicle shed. His hobbies include collecting foot specimens, photography (cows, feet and farms mostly) and studying modern agricultural architectural design.
Articles from Dr. Nick Bell:
Contact our media office
Want to join BVA?
Get tailored news in your inbox and online, plus access to our journals, resources and support services, join the BVA.
Join Us Today