Quality of life isn't just about death
Quality of life (QOL) is a hot topic for veterinary practice. It is a way to help us make clinical decisions, to evaluate societal management practices, and to test novel therapies.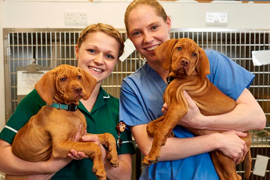 Discussions began early this century, adapting and adopting ideas from human medicine, and have become increasingly mainstream within the veterinary literature and, anecdotally, consulting conversations. It is a way to help us make clinical decisions, to evaluate societal management practices, and to test novel therapies.
An animal's QOL is certainly not the value of its life for its owner. It is the value that an animal's life has for that animal. Probably most of us would consider this value in terms of the experiences that its life provides. Those experiences certainly include emotions and feelings: pain, pleasure, fear and enjoyment make a life more or less worthwhile.
Those experiences might also include the fulfilment or not of the animal's preferences; achieving its motivations, and avoiding its negative preferences, also seem valuable (in addition to the feelings of satisfaction, frustration and relief that such fulfilment might involve). In considering human QOL we might also think of other experiences, in terms of 'meaning', and each person's own assessment of their life - but, even if we think these can apply to animals, these seem harder to apply reliably in practice. 
The experience factors
The quality of such experiences depends on multiple factors. It depends on the 'inputs' such as an animal's diet, environment, company etc. It obviously depends on the animal's health (making health not something for vets to ultimately be concerned with, but rather a means to an end). It certainly depends on the treatment and care an animal gets from its owner/stockpersons (which in turn depends on their compassion, expertise and resources).
To complicate matters further, it also depends on how animals respond to those facts - one patient may cope better with a situation than another. These responses themselves depend on the animal's previous experiences (and thus may vary with their prior QOL), in how they have developed and learnt, e.g. through conditioning processes.
It is therefore considered a parameter that is individualistic, holistic, long-term, meaningful and intelligible for owners, in comparison to other clinical parameters that relate to specific pathological states or physiological functions. On the flip side, these attributes make for greater disagreement (between clinicians and between clinicians and owners), non-numerical representations (in particular, there are no 'real' units of QOL} and a necessity to consider a wide range of factors (there is no one measurable QOL).
Is quality of life about death?
In one sense, QOL is absolutely not about death - it is about quality, not quantity, of life. However, perhaps its most obvious (and probably most common) application as a concept or term is in euthanasia decisions. We evaluate whether we should extend or shorten an animals' quantity of life based on the quality of what that life would (be expected to) be.
Furthermore, if partly circularly, we can score quality of life in terms of whether it is better or worse than non-existence (ie. a 'life worth avoiding'), and this is useful in the absence of any other non-arbitrary 'units' of QOL measurement. This comparison to non-existence might also be useful for discussions about breeding, for example where certain breeds or strains might be expected to have lives worse than non-existence then it seems wrong to create them.
Treatment options
The next stage in QOL research is probably to use it more to assess between treatment options other than euthanasia (notwithstanding that euthanasia is theoretically an option in every case). Clinicians might predict whether a patient's overall QOL - for its whole life henceforth - will be better or worse for each treatment option. Researchers might assess QOL to evaluate interventions holistically and screen for side effects. The challenge for both, in evidence-based frameworks, is how to consider the QOL of each individual in a context of data that aggregate across populations.
Subsequently we might, as a profession, consider QOL when evaluating wider ideas, such as breeding strategies, management regimes, and even laws. (Indeed, there is a challenging question whether the profession itself, while clearly improving welfare for our cases, has led to improvements in animal QOL overall).
Our considerations of QOL might also alter how we think about patients and clients. Rather than taking paternalisatic approaches, or assuming owners have some absolute right to make decisions about their property, we can more explicitly ensure our decisions are based on improving animals' QOL - and ensure that our conversations with owners help them to ensure their thinking is also focused on their animals.
More information
Join us at BVA Congress at the London Vet Show for James's session 'Quality of life isn't just about death', Friday 16 November 4pm to 4.50pm.
Contact our media office
(for press enquiries only)
Want to join BVA?
Get tailored news in your inbox and online, plus access to our journals, resources and support services, join the BVA.
Join Us Today