BVA urges vet diligence when signing consent forms for treatment
We are encouraging vets to familiarise themselves with the work of allied professionals and make sure they are properly regulated before signing consent forms for the treatment of animals under their care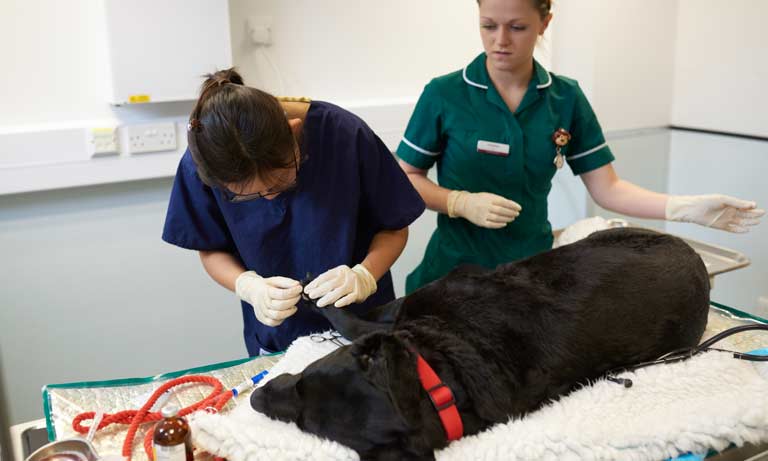 We are encouraging vets to familiarise themselves with the work of allied professionals and make sure they are properly regulated before signing consent forms for the treatment of animals under their care. The advice comes as we launch a poster explaining our vision for effective teamwork between vets and allied professionals.
Our concept of the vet-led team calls on vets and appropriately trained and regulated allied professionals to use a 'hub and spoke' model that has the vet at its heart to coordinate services for clients and patients.
Vets act as the hub for treatment, directing clients to an allied professional after examining an animal, making a diagnosis, and determining the best course of action. Allied professionals such as Registered Veterinary Nurses (RVNs), farriers, hydrotherapists, animal behaviourists, and veterinary physiotherapists operate as spokes surrounding the hub, returning cases back to the vet whenever further direction is necessary.
BVA President Daniella Dos Santos said:
"Vets working across all sectors have always worked closely with allied professionals. Our poster acknowledges and clarifies this important working relationship and is intended to act as a handy reference for vets regarding lines of accountability and responsibility for the animals under our care.
"As gatekeepers for animal healthcare, vets must familiarise themselves with the work of allied professionals and have oversight of any treatments or services carried out by a regulated professional as part of a vet-led team.
"That's why it's vital that vets don't agree to sign any consent form where their professional judgement is not satisfied. By providing consent that an animal is fit to receive a treatment, the client may infer that you have endorsed such a treatment. By signing, you may also be making yourself liable for poor treatment undertaken outside of the vet-led team."
Our Spring 2018 Voice of the Veterinary Profession survey revealed that over half of vets (52%) believe that regulation is one of the top three most important considerations when selecting an allied professional to work with. The same survey also found that many of the allied professions in which vets' confidence is highest actually have little or no formal regulation in place.
In our vision for the vet-led team, we make a series of recommendations on accreditation and regulation of allied professions and call for clear and accessible information to be made available to support veterinary decision-making.
BVA Congress: Shaping a distinct future for RVNs
This year's BVA Congress at London Vet Show will hold a session exploring the barriers that have been holding vet nurses back and discuss how vets and vet nurses can work together to secure a brighter and more distinct future for the profession. Join us from 9.30am – 10.50am on 15 November for Vet nurses are not mini-vets! Shaping a distinct future for RVNs.
Contact our media office
(for press enquiries only)
Want to join BVA?
Get tailored news in your inbox and online, plus access to our journals, resources and support services, join the BVA.
Join Us Today