Hampshire zoo vet elected new BVA Junior Vice President
Zoo and wildlife vet Dr Justine Shotton has been named BVA Junior Vice President for 2020/2021.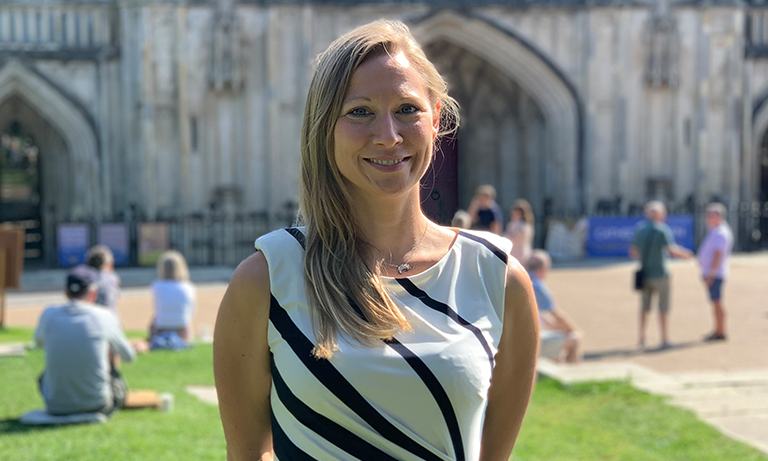 Winchester-based zoo and wildlife veterinary surgeon Justine Shotton BVSc BSc MSc MRCVS was named Junior Vice President of the British Veterinary Association (BVA) for 2020/2021 during a virtual awards and officer handover ceremony today.
A 2008 University of Bristol veterinary graduate with a First Class intercalated degree in veterinary pathology from the Royal Veterinary College, Dr Shotton has over 12 years' experience in zoo medicine, small animal practice and mixed practice in Oxfordshire, London and Hampshire, as well as internationally.
Upon graduation, she volunteered at wildlife rehabilitation centres in Guatemala and a small animal clinic in Honduras before spending five years working as a mixed practice vet in Oxfordshire. In 2014, Dr Shotton completed a Master's degree in Wild Animal Health from the Royal Veterinary College and the Zoological Society of London (ZSL), devoting her field research project to catching and collaring wild cheetahs in Botswana to research their movements, hunting preferences, and impact on farmers.
She went on to join ZSL as a post-graduate research assistant and wildlife vet for the Species Recovery Programme, where she researched and advised on disease risks and management strategies for reintroductions and translocations of native and European wildlife species following local extinctions or population reductions. 
Since 2015, Dr Shotton has worked at Marwell Zoo in Hampshire. As Veterinary Services Manager, she leads a team of veterinary professionals and animal scientists to optimise the welfare of zoo and wild animals and is involved in several wildlife reintroduction projects, including the international programme to reintroduce the Scimitar Horned Oryx back into the wild in Chad in 2016.
Alongside her veterinary and conservation work, Dr Shotton also works as a small animal and emergency veterinary locum in Hampshire.
Commenting on her election as BVA JVP, Dr Shotton said:
"I feel very lucky to be fulfilling my lifetime ambition of working as a vet and feel especially privileged to be working in a conservation-focused zoo, improving the health and welfare of a range of species.
"The veterinary profession is facing diverse and uncharted challenges. I am excited to be taking up the role of BVA Junior Vice President, where I hope to be able to use my experience to support all members of the profession through these unprecedented times and to ensure our profession continues to thrive. 
"I look forward to working with veterinary and veterinary nursing students, supporting their navigation through the Covid-19 changes to their education, as well as working with veterinary teams to promote positive mental health and wellbeing. I am also a passionate advocate for animal welfare across species and for supporting veterinary teams in helping their clients improve animal welfare."  
When she is not in practice, Dr Shotton lectures on exotics and zoo animal medicine at the University of Surrey and helms the veterinary zoological elective for the university's final-year veterinary students. She has been a member of BVA's CPD committee since 2016 and was appointed as a Trustee of BVA's charity, the Animal Welfare Foundation, last year.
In her leisure time, she enjoys running, travelling, learning Italian, and sailing.
Contact our media office
(for press enquiries only)
Want to join BVA?
Get tailored news in your inbox and online, plus access to our journals, resources and support services, join the BVA.
Join Us Today