New action plan offers guidance to veterinary professionals for tackling the scale of the pet obesity problem
Vets and vet nurses are marking National Obesity Awareness Week (14-20 January) by setting out an action plan for how veterinary professionals can play their part in tackling obesity in companion animals.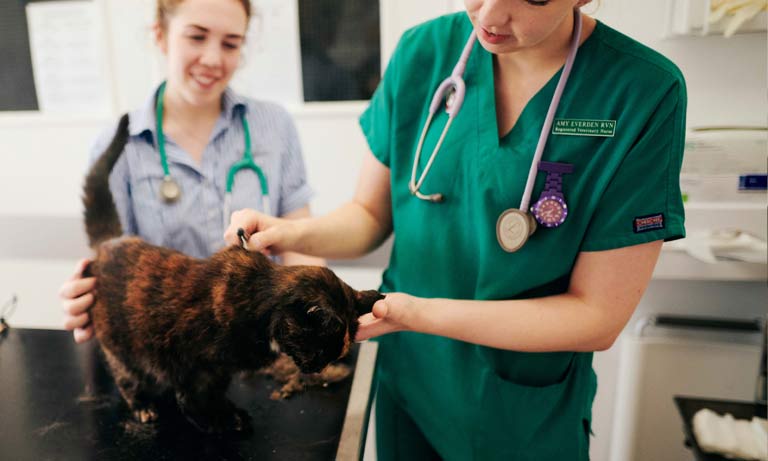 Vets and vet nurses are marking National Obesity Awareness Week (14-20 January) by setting out an action plan for how veterinary professionals can play their part in tackling obesity in companion animals.
The British Veterinary Association (BVA), British Veterinary Nursing Association (BVNA), British Veterinary Zoological Society (BVZS) and British Equine Veterinary Association (BEVA) have teamed up to produce 30 recommendations for how vets, practices and the sector as a whole can work with others to address obesity in dogs, cats, horses, donkeys and rabbits.
The position advocates the use of body condition scoring as a key tool for identifying, preventing and managing weight gain and the development of obesity in animals.  Veterinary professionals are advised to monitor the body condition score and weight of a cat, dog or rabbit during their growth phase, and to continue to check these measurements at least once a year. 
The organisations also recommend that staff should be well trained in using body scoring scales consistently for the species they treat, and practices should have policies in place that support vets and vet nurses to speak to clients about weight management for their pet in a timely and sensitive way.
Drawing on BVA's recent Advertising Guidelines, the position also calls on practices to avoid using overweight or obese animals in their marketing, and make sure that if animals are shown eating in any images the food should be proportionate to their size, dietary needs and lifestage and any treats are only depicted as being consumed in moderation.
Two thirds (67 per cent) of companion animal vets responding to BVA's Spring 2017 Voice of the Veterinary Profession Survey said that obesity and overfeeding of pets was among their three most pressing animal welfare concerns.  Many expressed concerns that owners of dogs, cats and rabbits were not aware that their pet was overweight or obese, that pets were being fed inappropriate portion sizes or that too many treats or human food were being added to their base diet.
Daniella Dos Santos, BVA President, said:
"As veterinary professionals we have a huge part to play in managing and preventing obesity in companion animals.  This is a serious and growing issue that can cause or exacerbate a wide range of health and welfare problems, so it's incumbent on us to give clients clear and consistent advice and support to help their animal maintain a healthy weight.
"Just as with weight management and obesity in humans, this is an area where stigma and misconceptions can reign supreme if clients feel too embarrassed to seek veterinary advice or aren't aware that their pet may need it.  It's vital that veterinary professionals can take the time to broach the subject in a sensitive manner and feel confident about educating owners about what constitutes a healthy weight, diet and lifestyle for their pet."
Jo Oakden, BVNA Junior Vice President, said:
"As an RVN, nutrition and tackling obesity in our pets has long been a passion of mine. The position on obesity in cats, dogs, rabbits and horses couldn't have come at a better time; with obesity being so topical, not only in veterinary medicine but in the human field as well. Both require very different approaches but for our clients, the key is education. 
"Veterinary nurses are ideally placed to provide this education. Through the relationships we are able to build with our clients and our pets, it is our responsibility to ensure that clients are supported in managing their pet's weight, and understand why it is so important. This support should be there from the outset and starts with the initial consultation with a client and their new pet; it should never be left until the weight is at crisis point. 
"This policy position and action plan provides the tools to veterinary professionals, so that they can gain the knowledge they need to take a lead in tackling obesity. If we are unified in our approach, we stand a better chance at making an impact in this epidemic."
Richard Saunders from BVZS said:
"Rabbits which are obese suffer a massively increased risk of joint problems, heart problems and difficulty grooming themselves clean. As a result, they can develop unpleasant external parasite infections of the skin, but, much more seriously, can be targeted by flies laying eggs on their skin, which hatch out into maggots and start to eat the rabbit. While there are other reasons for this problem (stiff, immobile spines, soft faeces accumulation around the back end, dental disease), obesity is a leading cause, and also reflects a poor diet, which can cause other problems, such as tooth overgrowth and gut disturbances, which can also be fatal by themselves."
Tim Mair, BEVA President, said:
"Obesity in horses has become a significant health problem in recent years, especially in leisure horses. In view of the clear association with laminitis, the management of obesity is now a high priority in equine practice, and veterinary surgeons should play a pivotal role in tackling the complex issues surrounding obesity and the factors that contribute to it."
Contact our media office
(for press enquiries only)
Want to join BVA?
Get tailored news in your inbox and online, plus access to our journals, resources and support services, join the BVA.
Join Us Today