Vets in Wales launch 12 pledges for animals, workforce and public health ahead of parliamentary elections
A group of leading Welsh vets is calling on all candidates in the upcoming parliamentary elections to sign up to key pledges to enhance animal health and welfare, support the veterinary profession, and protect public health in Wales.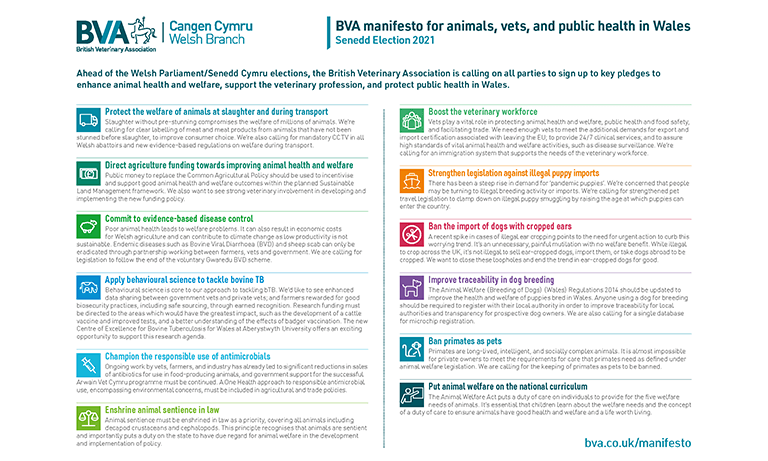 Launched a month ahead of the Senedd elections on 6 May, the 12-point manifesto compiled by the British Veterinary Association's (BVA) Welsh Branch spans pledges in areas including pet welfare, animal sentience, disease control, agriculture funding and veterinary workforce capacity.  BVA is asking its members in Wales to write to their parliamentary candidates to ask them to commit to taking action on these priority issues if they are elected.
The 12 pledges, available in full at BVA's Welsh manifesto page, are:
Boost the veterinary workforce 
Protect the welfare of animals at slaughter and during transport
Direct agriculture funding towards improving animal health and welfare
Commit to evidence-based disease control
Apply behavioural science to tackle bovine TB
Champion the responsible use of antimicrobials
Enshrine animal sentience in law
Strengthen legislation against illegal puppy imports 
Ban the import of dogs with cropped ears
Improve traceability in dog breeding
Ban primates as pets
Put animal welfare on the national curriculum
Launching the manifesto, BVA Welsh Branch President Ifan Lloyd said:
"Our manifesto sets out the animal welfare and workforce issues that matter most to our members across the Welsh veterinary community, and asks for cross-party commitments to action in these crucial areas.  Vets have a key role to play in keeping our pets healthy, protecting animals and the public against disease threats and maintaining high standards in our food chain, and we want to make sure that their views and concerns are heard and acted on by the new parliamentary intake.
"We know that there is strong political and public support for many of the animal welfare measures in our manifesto, such as enshrining animal sentience in law and tackling the scourge of puppy smuggling, but we want to see these pledges become a reality after the elections.  We're looking forward to engaging with all parties on these vital points, and are encouraging candidates to talk to vets in their local communities to better understand the veterinary workforce and welfare issues in our profession."
Contact our media office
(for press enquiries only)
Want to join BVA?
Get tailored news in your inbox and online, plus access to our journals, resources and support services, join the BVA.
Join Us Today