What's the issue?
UK farm assurance schemes empower shoppers to make sustainable and ethically informed choices about the food they buy, including the impact of food production on animal health and welfare. 
Assurance schemes allow farmers to demonstrate that the food they have produced has met specific, independently certified standards at each stage of the supply chain from 'farm to fork'. These standards include animal health and welfare, food safety, stockmanship training and competencies, and environmental protection.
Vets carry out important and wide-ranging roles in the development, implementation, and continuous review of farm assurance scheme standards. They are involved across the farm assurance process, from establishing and evaluating standards to supporting farmers in protecting animal health and welfare.
Vets have a key role to play in informing the public about where their food comes from and how farm assurance schemes help to safeguard animal health and welfare. 
We're raising awareness about the great work of the UK's farm assurance schemes and the vital role of vets within these schemes. Our #ChooseAssured campaign encourages vets and the wider public to look out for farm assurance scheme labels and purchase farm assured produce. 
It's important to recognise that good animal welfare isn't solely dependent on the type or size of different farming systems.
We know that each individual will have their own ethical and financial considerations when buying food. Our 7 guiding principles help consumers evaluate the schemes against their own priorities for animal health and welfare. They are:
veterinary involvement
behavioural opportunity
responsible use of antimicrobials and other medicines
animal health and biosecurity
approach to sustainability and the environment
To help shoppers get more 'scheme-savvy', we've developed a #ChooseAssured infographic, setting out which of the 7 principles the UK's most well-known farm assurance schemes cover.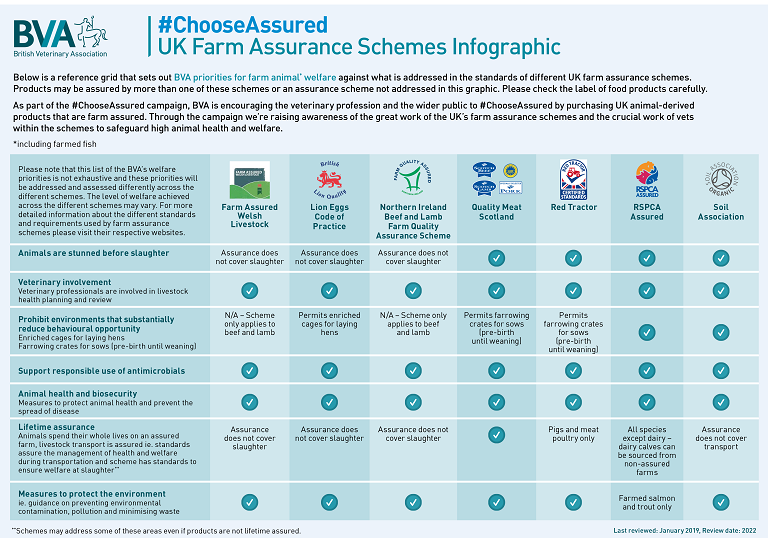 Get involved
Use and share our #ChooseAssured infographic.
Take action with our #ChooseAssured campaign.
Tell us how you #ChooseAssured on Twitter. Tag @BritishVets with a photo of your farm assured food.
Contact our policy team

 

for more information.