New grads join FAO ambition for Zero Hunger – part 1
In this series of two blog posts, we gain an insight into the experiences of interns who thoroughly recommend the internship programme at the The Food and Agricultural Organisation (FAO), a United Nations (UN) agency.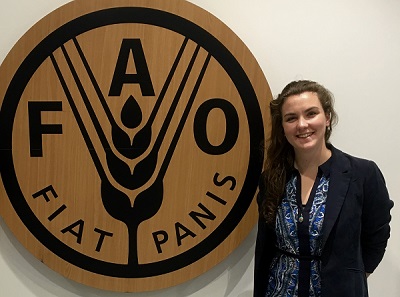 The Food and Agricultural Organisation (FAO) is a United Nations (UN) agency that aims to end hunger and poverty worldwide. Their headquarters in Rome house a vast array of expertise in technical initiatives as well as research and governance. Their internships offer an opportunity to gain a broad understanding of the global agriculture challenges the world is facing right now, as well as to join FAO's mission of zero hunger worldwide. 
Who am I?
I'm Eleanor Robertson, a recent vet graduate from the University of Liverpool. My fascination with the role of livestock in development was initially sparked during my intercalated Global Health masters at Maastricht University where I had an unbelievable year meeting incredible people and learning very quickly that I was very naive about the world. Since then, I have gained further insight into the intricacies of investigating disease in a wider social context and have become passionate about sustainable international development. I was lucky enough to join the Animal Health department at FAO post-graduation for the summer and can honestly say it has been a hugely insightful and inspirational experience. 
What did I do at FAO?
In Rome, I had the opportunity to work within a project called Africa Sustainable Livestock 2050, which develops long-term livestock scenarios for Africa in an attempt to anticipate emerging challenges to public health (primarily zoonoses and antimicrobial resistance). It is essentially the policy arm of the larger Emerging Pandemic Threats Program which aims to prevent, detect and respond to global disease threats. This all means that on a daily basis, I worked with a team of economists and vets to better the evidence base on which future policies to protect animal and public health can be founded. My own work centred around 'making the case' for One Health in regard to zoonotic disease, which I was lucky to share through a presentation and a (soon to be) published educational brief.
What did I get out of it?
I have learnt so much from the team in Rome and am so grateful for the encouragement and guidance they have shared. Simply being in the building, attending various meetings/seminars/discussion panels and gaining an insight into how the world of the UN functions was an incredible opportunity. The building was overflowing with extraordinarily talented people who are passionate about the work they are doing and are very willing to share their experiences and expertise over a coffee. I was particularly lucky in that the Committee on World Food Security (CFS) congress was held at HQ during my time here and so I witnessed first-hand how a huge multi-stakeholder platform composed of government agencies, grass roots civil society movements and big industries, can be coordinated to better global health.
It has been pretty special to explore a beautiful country (volcanic lakes, mountainous national parks and historic towns hosting wine festivals to name a couple of highlights!), learn from an impactful organisation and meet a world of people with a common ambition. I hope to return to the international development sector soon, but for now I am excited to get back outside and gain some hands-on clinical experience in a mixed veterinary role!
More information
If you have any questions, or would like some more information about the internship, please feel free to contact me through LinkedIn.
To learn more about One Health, including its role in tackling Zoonotic disease, check out the BVA One Health in Action Report.
For diverse vet careers advice, go to MyVetFuture.
Contact our media office
Want to join BVA?
Get tailored news in your inbox and online, plus access to our journals, resources and support services, join the BVA.
Join Us Today