New grads join FAO ambition for Zero Hunger – part 2
In this series of two blog posts, we gain an insight into the experiences of interns who thoroughly recommend the internship programme at the The Food and Agricultural Organisation (FAO), a United Nations (UN) agency.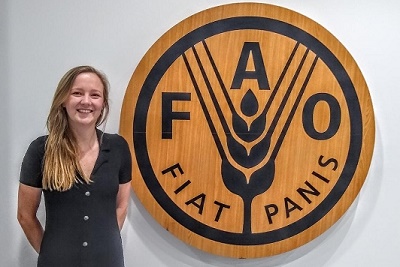 The Food and Agricultural Organisation (FAO) is a United Nations (UN) agency that aims to end hunger and poverty worldwide. Their headquarters in Rome house a vast array of expertise in technical initiatives as well as research and governance. Their internships offer an opportunity to gain a broad understanding of the global agriculture challenges the world is facing right now, as well as to join FAO's mission of zero hunger worldwide.
Who am I?
I'm Rosie Herrington, a recent graduate from the University of Edinburgh. My internship is six months long and split across two departments, Emergency Response and Resilience, and Animal Health. I always knew I would take a break between graduating and starting clinical mixed practice and I have an interest in following a career in international development further down the line. So far, I have learnt more than I could ever have hoped about the current global agricultural issues. Outside of work, there's loads of fun people to meet, of course Italian food to eat and we've taken pretty much every chance we get to go to the surrounding mountains.
What did I do at FAO?
My first two months were spent working in Emergency Response and Resilience, but more specifically on pastoralism and conflict. I learnt a great deal about this livelihood, which we learn nothing about in vet school. The pastoral production systems herd of around 1 billion animals worldwide contributes to the livelihoods of people on almost half of the worlds land. Their system is able to produce food in one of the world's harshest environments, using strategic mobility/transhumance to adapt to climatic conditions. Meanwhile, many areas populated by pastoralists also experience conflict which in turn has effects on livestock and human health. It therefore, in my opinion, rightly deserves attention from the FAO and I felt very privileged to be able to learn from such a knowledgeable and experienced team. I also had the opportunity to write reviews, attend meetings and contribute to the department's work in other areas, such as with their publications and joint projects with Universities and other organisations.
I then joined the Animal Health department where I am working with the European Commission on Foot-and-Mouth Disease (EuFMD). This commission aims to protect member states from FMD but also works where the disease remains endemic across Africa, the Middle East, Asia and South America. Here I am working on projects involving emergency management, veterinary paraprofessionals and public-private partnerships. Spending time in the Animal Health department has allowed me to attend meetings on the global animal disease outbreaks of the week, attend interesting seminars and to get an idea of the different roles vets can play at the FAO. I'm really excited to see what else I get up to in this department and so far have really enjoyed my time learning from the highly skilled and accomplished team.
What next?
After this internship I will spend time building my skills in clinical practice before one day hopefully balancing practice with more work in the international development sector. I really would recommend this experience and would be more than happy to give more information to anyone interested.
More information
If you have any questions, or would like some more information about the internship, please feel free to contact me through LinkedIn.
To learn more about One Health, including its role in tackling Zoonotic disease, check out the BVA One Health in Action Report.
For diverse vet careers advice, go to MyVetFuture.
Contact our media office
Want to join BVA?
Get tailored news in your inbox and online, plus access to our journals, resources and support services, join the BVA.
Join Us Today