One Health Week: Augmented reality, One Health for the real world
As part of the upcoming One Health Day, we will be publishing a series of blogs to celebrate One Health. Here, BVA Past President Sean Wensley explores what a One Health approach can bring to the 'big' problems affecting our world.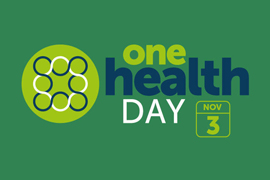 One Health is, at its heart, about joining forces to tackle the world's big problems. Climate change, antimicrobial resistance (AMR), the fair treatment of animals and producers, food security and unprecedented biodiversity loss are all amongst the issues that need co-ordinated, expert global responses.
Good health and wellbeing for people and sentient animals is the central goal. The three pillar approach of One Health recognises that the health and wellbeing of people, animals and the environment are inextricably linked, and that professionals across each of these areas will need to collaborate to be effective. It is a powerful, unifying concept, linking with other active areas such as EcoHealth, One Medicine and One Welfare.
But characterised this way, One Health can also seem vast and distant to busy professionals in our everyday lives. We could satisfy ourselves that international bodies are now collaborating on One Health – such as the World Veterinary Association (WVA), World Medical Association (WMA), World Organisation for Animal Health (OIE) and World Health Organisation (WHO) collaborating on addressing AMR and rabies eradication – but for One Health to find full expression it needs to be culturally embedded at the international, national, community and individual levels across the world.
This is happening in the case of AMR in the UK, for example, where BVA has partnered with the British Medical Association (BMA), Public Health England (PHE) and the Veterinary Medicines Directorate (VMD) to create a simple antibiotics top-tips poster for vets' and doctors' waiting rooms.
UK One Health Co-ordination Group
Bringing One Health to life in this way, at the practical, everyday level, is the remit of the Vet Futures-inspired UK One Health Co-ordination Group, currently chaired by BVA President, Simon Doherty. There are lots of real-world One Health projects happening in communities across the UK, with practising vets, nurses and veterinary nurses, medics and environmental professionals joining forces on wellness screening, passive smoking, AMR and protecting pollinating insects, to mention a few. Nature Prescriptions have recently been launched through a One Health partnership between RSPB Scotland and NHS Shetland. The UK OHCG is identifying these projects, to champion them and replicate their successes UK-wide.
Bite-size chunks
As ever, the job is to divide the wide-ranging in to the manageable, so the UK OHCG is approaching its work through the lenses of 6 key areas – zoonoses, AMR, mental health and wellbeing, non-transmissible diseases, environment and climate change, and non-accidental injury (the Link). Each is better understood and advanced when the Group's members – BMA, BVA, BVNA, National Trust, RCN, Royal Society for Public Health (RSPH), Veterinary Public Health Association (VPHA) and Wildlife Trusts – supplement and augment the capabilities of each other.
Wellness screening for pets and people
What if, when community veterinary nurses visit supermarket car parks, community centres and local green spaces to health check dogs, the dog's owners were also health-checked by a human healthcare professional?
In 2017, while offering nearly 3000 PDSA PetWise MOTs to dogs UK-wide, veterinary charity PDSA's Community and Education Veterinary Nurses partnered with the Salford Health Improvement Team – part of Salford City Council – to do exactly that. While the PDSA veterinary nurses provided free wellness screening based around the MOTs' Five Welfare Needs framework, the human healthcare professionals offered free checks for the over-40s, jointly promoted in advance, on Body Mass Index, blood pressure and cholesterol.
The rationale was simple. People who have been motivated to attend to check their dog's health and wellbeing may be willing to attend a simple but important health check for themselves, who might not have otherwise done so.
To date it seems to have worked. While data from the partnership project is still being analysed, anecdotally both parties have reported good uptake amongst otherwise hard-to-reach populations. Both have agreed to repeat the approach.
Smoking cessation
A similar logic has been applied to smoking cessation. Like people, pets can develop life-limiting diseases, such as nasal and lung cancers, as a result of passive smoking. Most smokers know their second-hand smoke harms those around them, but some are particularly concerned to learn this includes their much-loved pets. PDSA, BVA and the British Small Animal Veterinary Association (BSAVA) have each taken a One Health approach to smoking cessation campaigns, while the British Veterinary Nursing Association (BVNA) and the Royal College of Nursing (RCN) have run a joint campaign, prompted by the Vet Nurse Futures project. At the community level, a veterinary practice group in Fife, Scotland, has partnered with NHS Fife to jointly advocate the health harms of passive smoking.
Combining trusted advocacy from veterinary, medical and environmental professionals  augments the effects of each acting alone. As the RSPB's Karen MacKelvie said of Nature Prescriptions:
"…connecting people to nature through health means that people place greater value on the natural world. I mean - what greater value can be placed on something than that which helps your body and mind? If people rate nature, they are more likely to step up to protect it in the future."
Contact our media office
(for press enquiries only)
Want to join BVA?
Get tailored news in your inbox and online, plus access to our journals, resources and support services, join the BVA.
Join Us Today