Protecting personal safety on the farm
This Farm Safety Week cattle vet and BVA President James Russell recalls an incident that could have ended in disaster and reflects on the lessons he learnt about personal safety on farm that day.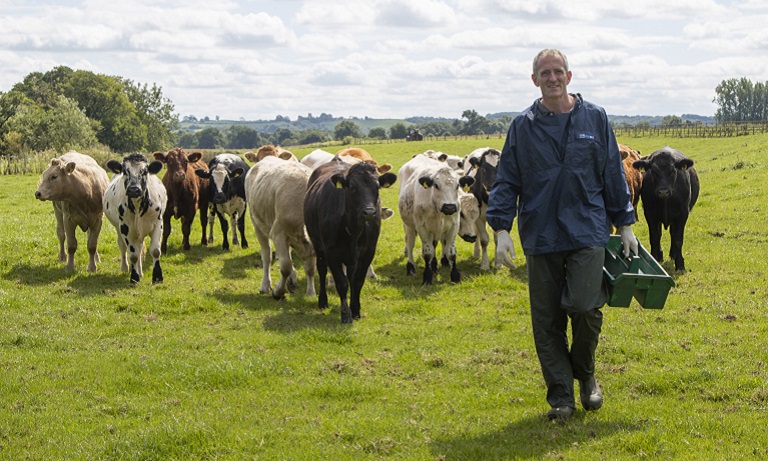 "It'll be 'right". Perhaps the most terrifying phrase I hear as a practitioner. I've had it said to me in a number of places and times – driving through a ford that required a snorkel and flippers for example. But the one time that listening to it came close to seeing me hurt was the crush with no base.
This steel exoskeleton was attached firmly to a nail in a rotten beam with a piece of frayed baler twine which I can only assume had been bequeathed down the generations to the current owners before 700kg of cow crashed into it at a speed approximating Mach 1. In fairness, she then stood still, quieted by the yoke. She stood still for just long enough for me to approach her flank to begin my clinical examination. At this point, Dorris (for that is the official name of every beef cow I have ever treated) hunched her shoulders into the crush, and stood a few inches taller, carrying her exoskeleton towards the ceiling with her.
Still blind to the danger I made soothing noises and scratched her back. I think she was enjoying it, but we didn't get long to discuss it because at that point Dorris slipped and lost her footing. The whole unit of beast and exoskeleton veered towards me, hung on a thread of historic twine. This teetering didn't last long before the whole lot – Dorris and a few hundred kilos of steel - crashed down to the place where until that fraction of a second I had been standing. To this day I can only wonder at how my body was not still there. Perhaps it has to do with being bitten by that radioactive spider earlier in life, but whatever it was, it shook me deeply.
I have no idea how injured I would have been had I moved a little slower, but I was very aware of how stupid I had been. My career, and possibly my continued presence on the planet risked so easily for the sake of looking at a flank abscess.
I suffered a number of minor injuries in my time in practice, but never again entered a situation where I could not see that my safety, as well as the animal's safety had been adequately considered, and better mitigations put in place to reduce risk than simply hoping that the woodworm would hold tightly to the nail in a beam.
My plea to any student, any vet, any farmer I have worked with since has been to just be aware of how much more valuable we are than any situation that we might find ourselves being placed in. One of my favourite phrases to summarise this remains unattributed, but has been appearing in print for over 100 years – the cemeteries are full of [people] the world could not do without.
For more information on health and safety on the farm take a look at the Health and Safety Executive (HSE) guidance on working with livestock.
Contact our media office
(for press enquiries only)
Want to join BVA?
Get tailored news in your inbox and online, plus access to our journals, resources and support services, join the BVA.
Join Us Today