Are you the next veterinary photographer of the year?
BVA has today launched the 2021 BVA Veterinary Photographer of the Year Award sponsored by iM3 veterinary dentistry. Past competitions have been extremely popular, attracting hundreds of entries from across the veterinary profession.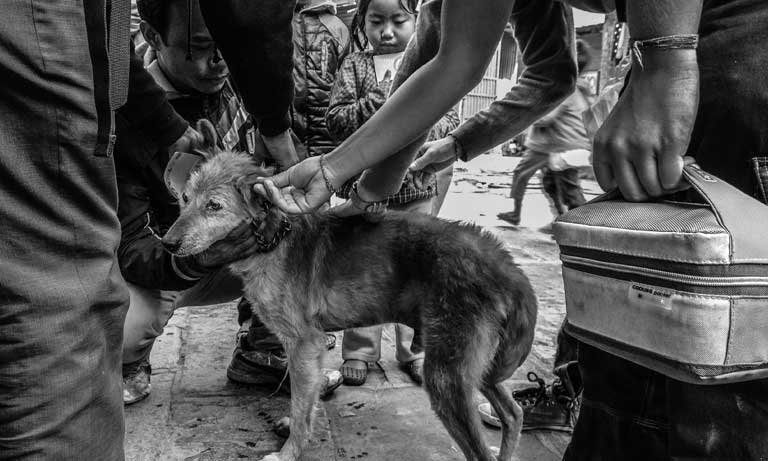 The UK's largest membership body for vets is once again calling for members with a creative eye to capture images of their daily work, and showcase some of the best companion animal and wildlife photography.
In 2019, Laura Caballero Pastor took top spot in the 'One veterinary community' category with her poignant shot of Nepalese locals vaccinating a street dog against rabies, entitled 'One shot, two lives'. Jennifer Dykes also took top spot in the 'All creatures great and small' category with her picturesque image of a misty UK mountainside and flock of sheep, entitled 'Conversations at Dawn'.
This year's BVA's Veterinary Photographer of the Year Award is split into three categories which focus on images that capture the human-animal bond in day-to-day veterinary work, as well as photos of pets or wildlife taken outside of the working environment. Submissions for each category can be taken on a phone or a high-spec camera, and should take into account responsible animal interaction, and positive animal health and welfare.
The three categories are:
A vet's life in lockdown

Images that reflect the extraordinary circumstances we have all been thrust into during the ongoing Covid-19 pandemic.
All creatures great and small

An opportunity to look at the vast diversity of the animal kingdom: domestic, agricultural and all aspects of wildlife.
Happy pets that make us smile

Reflecting the joy of a happy, contented animal.
Sponsored by iM3* veterinary dentistry, the award offers the winner of each category £250 worth of John Lewis vouchers. It is planned that the winning images, along with the highly commended entries, will be displayed at BVA Live on 24 – 25 June 2021.

BVA President, James Russell said:
"The BVA Veterinary Photographer of the Year Award is something that we all look forward to, and the incredible array of eye-catching photos taken by people from across the veterinary community never ceases to impress me.
"In view of the current circumstances, we have introduced a new category: 'A vet's life in lockdown', which we hope will produce some interesting documentation of how the profession has fared against a very challenging backdrop, like no other.
"Now in its fifth year, the competition always attracts high quality, diverse and often poignant imagery. I am very excited to be part of the judging panel, and to have the opportunity to see the amazing images submitted this year.
"Whether you're a semi-professional photographer or a casual snapper, we encourage you to enter and showcase your daily interactions with animals either at work or play, or your skill at capturing wildlife at its most beautiful, even if it is in your back garden, or on the windowsill."
The competition is open to all current BVA members. Membership must be active at the time of entering. It will be judged by BVA officers among others. Entries will close on 8 March 2021 and winners will be announced in April.
In the light of the Covid-19 pandemic, and current government restrictions, BVA is reminding entrants not to breach any guidelines just to get 'the perfect shot'. Photos taken around the home and garden, and local area are encouraged. Photographs from the past will also be accepted.
For more information and to submit your entry, please visit the BVA photo competition page.
*iM3 is a family-owned veterinary Dental Company established in Sydney Australia over 30 years ago. In that time, iM3 has grown to become a leading veterinary dental company setting the standard in product innovation, industry firsts and continuing education.
Contact our media office
(for press enquiries only)
Want to join BVA?
Get tailored news in your inbox and online, plus access to our journals, resources and support services, join the BVA.
Join Us Today