BVA urges cross-party collaboration on crucial animal welfare issues at Westminster event
Speaking to MPs and Peers at an event in the Houses of Parliament, BVA President Malcolm Morley urged for cross-party collaboration to put pressure on the Government to honour its commitment to deliver the long overdue Animal Welfare (Kept Animals) Bill.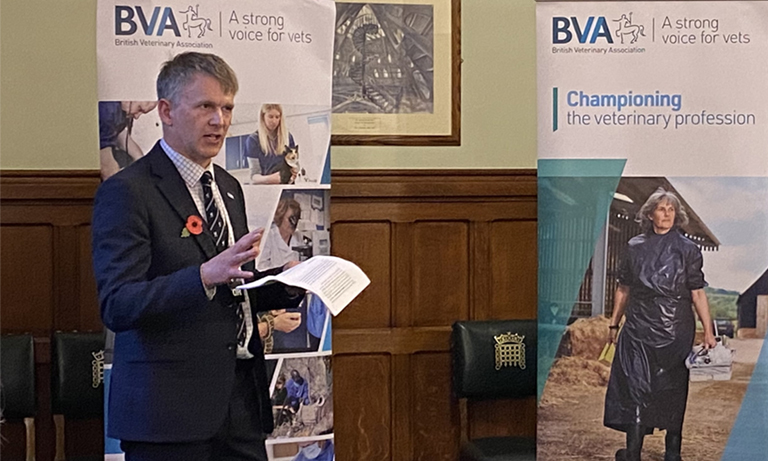 Acknowledging it has been a time of great change, both in Westminster and for the nation, BVA's President talked about the potential impact the bill would have in addressing some of the most 'crucial' welfare issues raised by the veterinary profession.
He said: "This vital Bill will address some of the most pressing animal health and welfare issues of our times, and we are urging the Government to deliver on its commitment to animal health and welfare by ensuring its continuation through Parliament.
"BVA has campaigned for many years on some of the issues included in this Bill, and it is essential, as it continues through Parliament, that it retains vital measures, such as those designed to tackle puppy smuggling, prohibit the import of dogs with cropped ears, review zoo standards, impose a ban on keeping primates as pets and introduce mandatory, reliable pre-import testing for dogs with unknown health statuses."
Malcolm encouraged attendees to show support for the Kept Animals Bill by taking photographs with BVA's "I support the Kept Animals Bill" board and sharing these on social media and by writing to the Defra Secretary of State, Thérèse Coffey, urging her to prioritise this key piece of legislation.
The BVA President also talked to guests about the potential shortage of animal medicines facing the profession in Northern Ireland as the result of post-Brexit regulation. Under the Northern Ireland Protocol it is proposed that medicines entering the country will be required to be batch tested by a marketing authorisation holder based in Northern Ireland or the EU. The 'grace period' currently in place, which delays the need for these requirements, concludes at the end of the year. Should the deadline lapse without a workable solution there is the potential for the discontinuation of around half of all veterinary medicines for a variety of animals and livestock.
Longer-term, there is a question about how new medicines come onto the market. Given the uncertainty of procedures combined with the limited size of the market in Northern Ireland, there is a worrying possibility that medicines companies will simply choose to bypass Northern Ireland altogether.
Malcolm said: "We are also extremely concerned about the current cliff edge facing the availability of veterinary medicines in Northern Ireland, with up to 51% of medicines at risk of being discontinued at the end of the grace period in December. Unless action is taken soon it risks an animal welfare crisis in all key sectors.
"The UK government and EU must not let this deadline lapse without a workable solution in place. It is not just an animal health issue but a public health issue, particularly if salmonella vaccines become unavailable to poultry vets. Such public health risks would also jeopardise access to markets outside Northern Ireland. We believe a path forward can be found. We've seen that it's possible to navigate the same issue for human medicines and adopting a similar approach for animals seems like a clear way forward."
The BVA President used his speech to urge parliamentarians to continue their support for BVA's campaign for improved welfare at slaughter, including calls for clear and relevant labelling of products by slaughter method to help customers make informed choices about the meat that they buy and eat, and for a ban on exports of non-stun meat from the UK.
Calling on MPs to support BVA in pushing forward the plans by the Royal College of Veterinary Surgeons to reform the current veterinary legislation, Malcolm said: "This is a once-in-a-generation opportunity to secure new primary legislation which will modernise the regulatory framework for the veterinary professions, ensuring it is fit for purpose.
"Changes such as these will create a modern and effective system, which will better protect animal health and welfare and retain good vets in the profession, at a time when the veterinary workforce is under significant strain."
The BVA President ended his speech by thanking MPs for their continued cross-party support for animal welfare issues and encouraging them to engage with their local veterinary practices.
Read Malcolm's full speech.
Contact our media office
(for press enquiries only)
Want to join BVA?
Get tailored news in your inbox and online, plus access to our journals, resources and support services, join the BVA.
Join Us Today