Exotics vet and children's TV favourite wins BVA Young Vet Award
Exotic animal vet and star of CBBC's 'The Pets Factor', Fabian Rivers has taken top spot in the BVA Young Vet of the Year Award 2020 sponsored by Zoetis.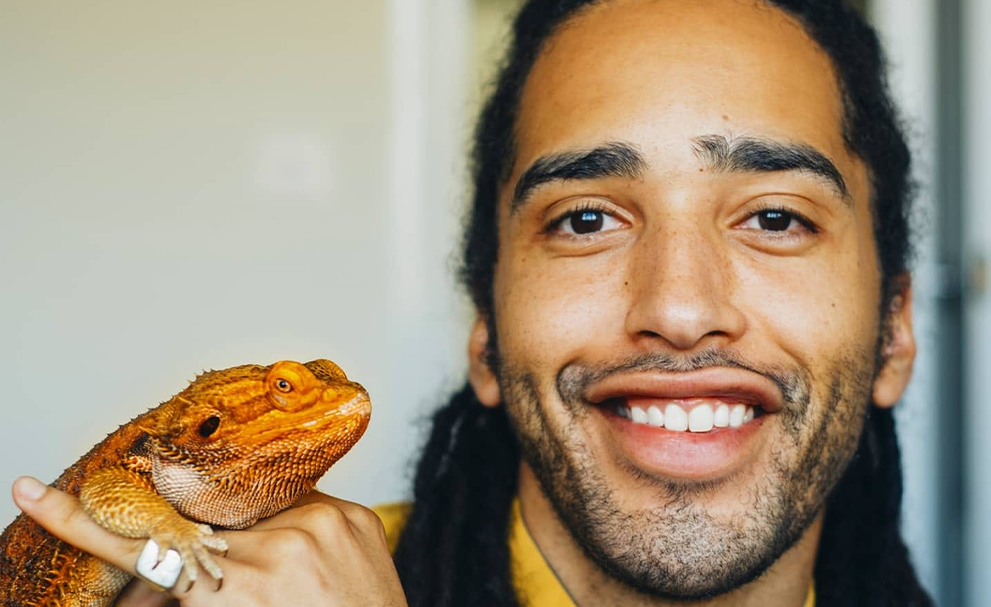 Small animal and exotics vet Fabian Rivers wowed judges with his ongoing proactive contributions to the veterinary profession and his passion for raising awareness around exotic animal care.
In a virtual ceremony which was held last night (13 November 2020), as part of Vet Show Autumn Series, Dr Rivers was selected from three finalists. He won first place in the award, which is supported by Zoetis, and aimed at early-career vets who have gone above and beyond the usual call of duty or who are making a difference within their community or the veterinary profession.
Dr Rivers, who is both a practising vet and the latest member of the team on popular CBBC children's TV show, 'The Pets Factor', is also a recent graduate member of BVA Council. In his spare time, he is an active writer. Whilst attending the University of Veterinary and Pharmaceutical Sciences in Brno, which he graduated from in 2018, he wrote his own student blog, 'Dready Vet'. Since then, he has published several articles on a variety of topical and important issues such as ethnicity and race, diversity within the profession, feminism, Halal slaughter and reptile health and welfare.
The judges credited Fabian for his passion for communicating the complex welfare needs of non-traditional companion animals to the public. Dr Rivers has a history of working with exotic species, from a period working with African Penguins in Cape Town, South Africa to presenting case studies on tortoises whilst at university.
On becoming BVA Young Vet of Year, Dr Rivers said:
"First of all I'd like to pay tribute to Nat and Ben and all the nominees. They are really important to where the veterinary profession goes in the future and I'm indebted to them for what they've been able to do in a short period of time. They are an inspiration to me.
"Thank you to the judges. It's really important that we start to celebrate each other and celebrate our wins. This is something I've tried hard to do this year.
"Thank you to everyone who's supported me and been part of this journey. It means a huge amount."
BVA President James Russell said:
"Fabian has made a significant impact within the profession and beyond. The broad reach of his work – on issues that affect our profession and animal welfare – has made a national impact and promoted our profession to new audiences of all ages.
"During a particularly challenging year for all of us, Fabian has shown immense leadership and he is a truly deserving winner of the BVA Young Vet Award 2020.
"There's never been a more important time to celebrate the achievements of our colleagues and I'd also like to congratulate our two amazing finalists, Nat and Ben. The judges had an incredibly difficult job choosing just one winner." 
Jamie Brannan, Senior Vice President and Cluster Lead UK, Ireland and Nordics at Zoetis said:
"I am so proud that we successfully launched the Young Vet of the Year Award with BVA last year and after such a challenging year in 2020, I am delighted that colleagues took the time to recognise so many talented young vets who are making the difference.
"Zoetis is proud to support the recognition of all these young vets and especially our nominees. I have been struck by Ben's humbleness, Nat's determination to break the silence on challenging topics and finally, Fabian, this year's winner who has provoked thought and change around feminism, racism, diversity and inclusion as well as mental health in the veterinary profession. Inspiring efforts and congratulations to you all."
Contact our media office
(for press enquiries only)
Want to join BVA?
Get tailored news in your inbox and online, plus access to our journals, resources and support services, join the BVA.
Join Us Today