First ever Carbon Calculator for veterinary practices launched
A brand-new tool to help vet teams track their carbon emissions and become more environmentally sustainable has launched today at the London Vet Show (17 November 2022).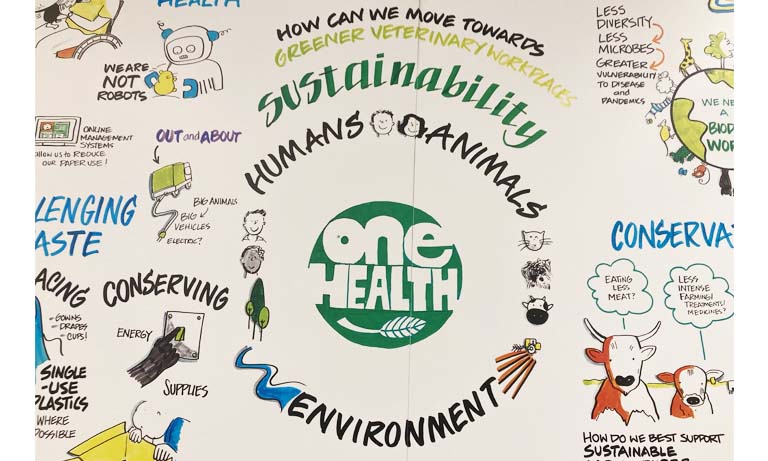 The widely anticipated Veterinary Carbon Calculator, which is the first specifically tailored to the environmental impacts of veterinary practice, will enable vet teams to easily calculate their carbon emissions for the first time.
Developed by Vet Sustain in partnership with Investors in the Environment (iiE), the calculator is also supported by the British Veterinary Association (BVA), the British Veterinary Nursing Association (BVNA), British Small Animal Veterinary Association (BSAVA) and Society of Practising Veterinary Surgeons (SPVS).
The calculator breaks down carbon emissions into various elements of business activity, such as utilities, travel and veterinary care waste. Once a baseline carbon footprint has been calculated, practices can set a baseline and track measurable progress. The calculator will help veterinary practice teams make positive changes to their business operations by providing essential understanding.
British Veterinary Association President Malcolm Morley said: "It is everyone's responsibility to take action on climate change and our research shows just how important environmental sustainability is to the veterinary profession. The Veterinary Carbon Calculator is a vital tool that will support practices in their journey to becoming more sustainable which will benefit the planet, but can also enhance workplaces too by saving money and resources but helping to recruit and retain staff.  I strongly urge members of the profession to consider using it."
Past BVA President and current Chair of Vet Sustain Gudrun Ravetz said: "Vet Sustain was set up to support veterinary professionals to become leading forces for sustainability.   Having a bespoke carbon calculator available and used by practices is another great step forward for the profession on its sustainability journey and we are very proud to have worked with iiE and supporters across the profession to lead this meaningful project."
British Veterinary Nursing Association President Charlotte Pace said: "We have been incorporating sustainability into everything we do at the BVNA, and we are proud to be a part of the launch of the Carbon Calculator, which has been tailored to the veterinary profession. Some of our areas of impact are unique to the veterinary world, and this calculator will help us understand and recognise this impact on the environment. The calculator is easy to use and accessible to all."
Carl Gorman, Vice President of BSAVA, said: "BSAVA are delighted to see this Veterinary Carbon Calculator come to fruition. All branches of the profession recognise the need for awareness of our environmental impact. This calculator will enable practices to readily determine their carbon footprint and highlight how to reduce their impact, as well as giving them an opportunity to seek to offset that carbon. With sustainability being integrated into the new RCVS Practice Standards, we urge our members to make use of this tool."
April Sotomayor, General Manager of iiE added: "We're delighted to have been a collaborator to help catalyse climate action in the veterinary profession through development of this easy-to-use carbon calculator. The calculator will help teams understand some of their carbon hotspots, and comes with simple advice on how to take action to reduce emissions. Year-on-year calculations will also help practices benchmark their progress and experience the benefits good environmental stewardship brings to their business."
To find out more about the Veterinary Carbon Calculator visit https://vetsustain.org/shop/carbon-calculator. 
For more suggestions on how to become more sustainable visit the Greener Veterinary Practice Checklist or search #GreenTeamVet.
View a demonstration of the Veterinary Carbon Calculator at the British Veterinary Association stand at The London Vet Show 17 – 18 November 2022 at ExCel London. For more details on The London Vet Show visit london.vetshow.com
Contact our media office
(for press enquiries only)
Want to join BVA?
Get tailored news in your inbox and online, plus access to our journals, resources and support services, join the BVA.
Join Us Today