New BVA President pledges to make sustainability a key priority for the profession
Zoo and wildlife veterinary surgeon Justine Shotton BVSc BSc MSc was elected BVA President for 2021/2022 at our Members' Day, which was held virtually today.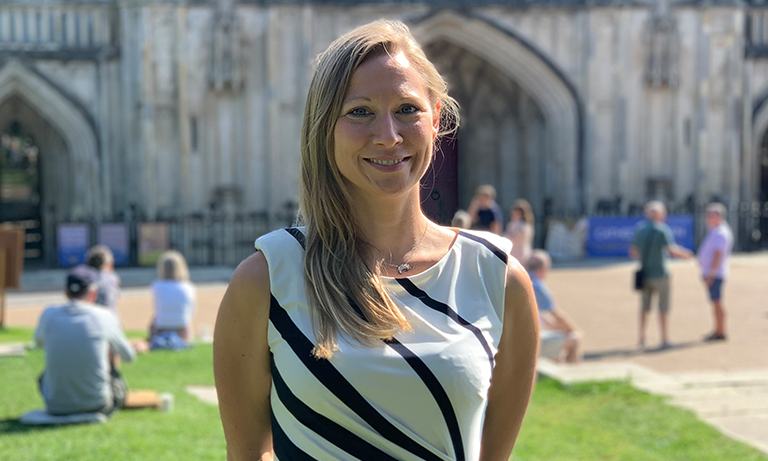 Dr Shotton, who is based in Winchester, has over 13 years' experience in zoo medicine, small animal practice and mixed practice in Oxfordshire, London and Hampshire, as well as internationally. She has pledged to make sustainability a key priority for the profession during her term as BVA President.
Commenting on her appointment as BVA President, Justine Shotton said: "I am thrilled to be taking the presidential reins today. This is proving to be a uniquely interesting and challenging time as the profession adapts to the demanding pressures of the pandemic, combined with workforce shortages and new challenges as we leave the European Union. But alongside these obstacles have come new opportunities and I believe it will be a very exciting year ahead. 
"My theme for my presidency will be 'Sustainability', with a focus on environmental sustainability.  The covid-19 pandemic has centred the world's attention on emerging diseases and how these interplay with our use and impacts on the natural environment.  Societies have realised anew the benefits of exposure to nature and green spaces.  The forced changes to working practices have shown the world that alternatives are possible, and even preferable."
A 2008 University of Bristol veterinary graduate with a First Class intercalated degree in veterinary pathology from the Royal Veterinary College, Dr Shotton has always had a passion for conservation. After graduation she volunteered at wildlife rehabilitation centres in Guatemala and a small animal clinic in Honduras before spending five years working as a mixed practice vet in Oxfordshire. After completing a Master's degree in Wild Animal Health from the Royal Veterinary College and the Zoological Society of London (ZSL) she went on to join ZSL as a post-graduate research assistant and wildlife vet for the Species Recovery Programme. While there she researched and advised on disease risks and management strategies for reintroductions and translocations of native and European wildlife species following local extinctions or population reductions.
Speaking about her passion for the issues around sustainability and conservation, she continued:
"As a vet working for a conservation-focused zoo, I have always believed that we each have a part to play in ensuring our practices are sustainable for the long-term, and that we need to find the balance to allow humans to thrive whilst supporting our wider ecosystems and all of the wonders they hold.  A One Health perspective is necessary, considering always the health of the environment, animals, and people, to ensure we can all continue to prosper."
Since 2015, Dr Shotton has worked at Marwell Zoo in Hampshire. As Veterinary Services Manager, she leads a team of veterinary professionals and animal scientists to optimise the welfare of zoo and wild animals and is involved in several wildlife reintroduction projects, including the international programme to reintroduce the Scimitar Horned Oryx back into the wild in Chad in 2016.
During her year as BVA Junior Vice President she has played an integral role in development of the imminent BVA policy on responsible use of parasiticides, supported the launch of the Greener Practice Checklist and represented BVA at the UK One Health Co-ordination Group and the Federation of Veterinarians of Europe (FVE).
Speaking about her work with BVA, she said:
"This last year may not have been as I expected but it has been incredibly rewarding. Getting the chance to represent the profession on areas that I'm so passionate about, and which I know carry such importance to my veterinary colleagues, has been amazing. I hope that throughout my work in the upcoming year, we will be able to support veterinary professionals in making more sustainable choices, providing them with actionable information to promote real change. The sustainability theme also weaves wider, into other areas of our profession, such as the sustainability of our workforce.  Having seen our policy priorities for the year ahead, I know it will be a very busy few months, but I have no doubt that the BVA team and our incredible veterinary profession will continue to achieve in all areas, and I am delighted to be President during such exciting times."
Alongside her veterinary and conservation work, Dr Shotton also works as a small animal and emergency veterinary locum in Hampshire. When she is not in practice, Dr Shotton lectures on exotics and zoo animal medicine at the University of Surrey and helms the veterinary zoological elective for the university's final-year veterinary students.
She has been a member of BVA's CPD committee since 2016 and was appointed as a Trustee of BVA's charity, the Animal Welfare Foundation, in 2019. In her leisure time, she enjoys running, travelling, learning Italian, and sailing.
Watch Justine's BVA Members' Day speech 
Contact our media office
(for press enquiries only)
Want to join BVA?
Get tailored news in your inbox and online, plus access to our journals, resources and support services, join the BVA.
Join Us Today