Outgoing BVA President thanks veterinary profession for support in 'year like no other'
BVA President Daniella Dos Santos thanked members, staff, officers and volunteers for their support in a year dominated by 'unprecedented change, challenges and uncertainty' as she made her outgoing speech at a virtual Awards and Officer Handover event held today.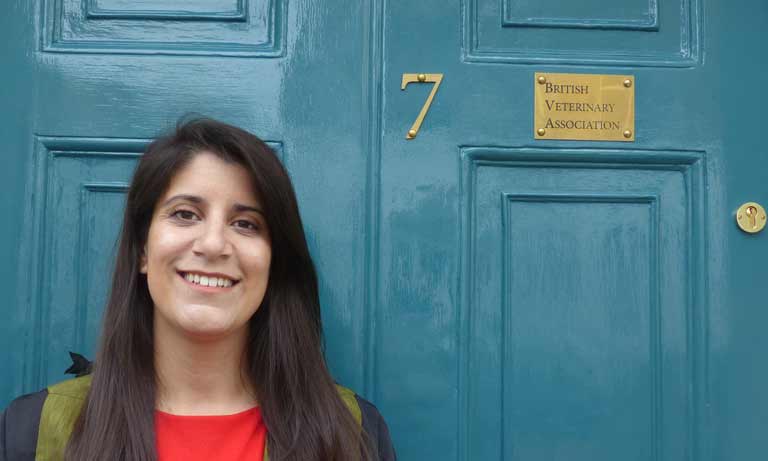 In her final address, Ms Dos Santos said that she was very proud of how BVA and the veterinary community had adjusted during the pandemic but wanted to highlight everything that had been achieved in spite of Covid-19.
She said: "When I donned the chain of office at the 2019 Members' Day in Swansea I knew that my presidential year would be dominated by Brexit and a General Election. I could never have anticipated that it would also play out during a global pandemic, which has created unprecedented change, challenges and uncertainty….
"From those early days of lockdown, the way that the team has adjusted to new working arrangements and new priorities, and always kept members at the heart of what we do, is nothing short of extraordinary."
Ms Dos Santos singled out BVA's recent policy positions on Bovine TB and Welfare at Slaughter, and one on Good Veterinary Workplaces that will launch next week, for particular praise.
Reflecting on her #VetDiversity presidential theme, she said: "In a strange and unpredictable year, I feel that it has been a real personal highlight to talk about the diversity of careers and diversity of people on high profile platforms, including the National Health Careers Conference, the Courageous Conversations conference, our own in-depth workshop on widening participation, and even on Crufts.
"I see our work under the Good Workplace banner as absolutely crucial going forward, so that we, as a profession, can come together and take action to create a culture where everyone feels welcome, supported and fairly rewarded for the work they do. It's never been more imperative that everyone has access to advice and wellbeing support whatever their career stage or circumstances."
Later in the speech, Ms Dos Santos recognised how Covid-19 has impacted on vets both personally and professionally, and said she was very proud of how the workforce had supported each other and worked hard to prioritise animal health and welfare in difficult times.
She said: "From our first Sunday webinar, watching the profession come together, collaborate and support each other through this has been incredible. As BVA President I have been fortunate to speak to so many of you as you have adjusted, supported one another and always kept animal health and welfare front and centre. I promise that BVA will continue to be there for you as these challenges continue, and the one thing that is clear to me is that we, as a profession, are so much stronger when we work together."
Looking ahead, Ms Dos Santos said that BVA's ongoing priorities will include continuing to support members as they adjust to new ways of working during the pandemic and helping the profession to navigate any changes brought about by the end of the Brexit transition period.
On Brexit, she said: "We'll continue to work hard to ensure that vets have a strong voice in policy negotiations, that our views are heard at senior political levels, and that the workforce feels informed and supported to navigate the new legislative landscape ahead."
The outgoing President went on to thank BVA's branches, volunteers and staff for all their support during her presidential year. She welcomed incoming President James Russell as someone who "cares deeply both about animal welfare and the wellbeing of the workforce" and thanked outgoing Senior Vice President Simon Doherty for bringing extensive experience to the Officer team, which "really elevated BVA's presence on areas including welfare at slaughter, sustainability and everything under the 'Brexit banner'".
Ms Dos Santos concluded her Presidential address by saying that she was honoured to have served as BVA President in such an unprecedented year:
"There isn't a book on how to lead during a pandemic, let alone doing it during an election year, a transition period, or when the regulation of your profession is being re-evaluated.
"This year has been unpredictable and unlike any other, but at every step of the way I have been absolutely honoured to serve you as BVA's President, and could not be prouder to be part of our incredible profession. Thank you so much for all of your support."
Contact our media office
(for press enquiries only)
Want to join BVA?
Get tailored news in your inbox and online, plus access to our journals, resources and support services, join the BVA.
Join Us Today