Search is on for 2021 BVA Young Vet of the Year
BVA and Zoetis have launched the BVA Young Vet of the Year Award. Now into its third year, the award is open to all early career vets who are BVA members and have begun to make a difference and show their contribution to the profession.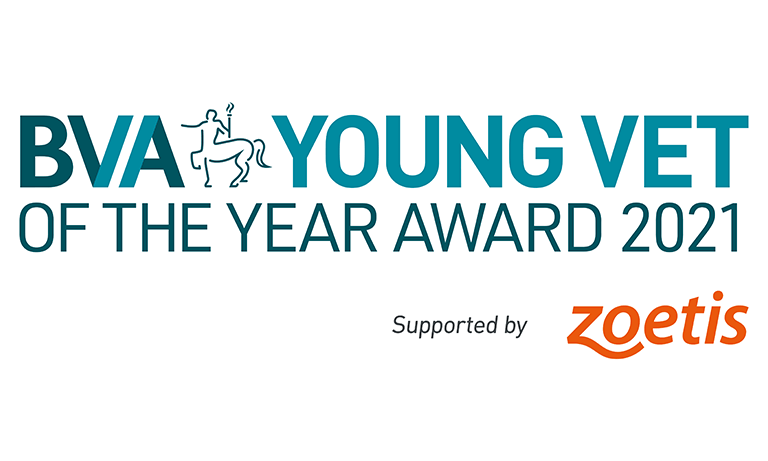 Nominations open on 1 June 2021. They offer a great opportunity to highlight the valuable contribution that young vets have made during this extraordinary and difficult year.  
The award recognises and celebrates early years vets who have shown outstanding and consistent care for their patients, often going above and beyond the usual call of duty, and those who have shown great interpersonal skills and support for their clients and colleagues.  It also looks for vets who have championed causes in the industry, where their commitment has shown a significant impact and where they have inspired others in the veterinary community.
BVA and Zoetis will jointly announce the winner in November at the London Vet Show BVA Gala Dinner where the winner will be awarded a prize of £1000, as well as a career-enhancing experience with Zoetis.
The award is part of a broader, long-term partnership between BVA and Zoetis who are working together to support, recognise and champion the essential work of the UK's young vets. It is the only award of its kind in terms of cross-community reach and is open to all vets registered with the RCVS and in the first eight years of their careers. Applications can be from those working within any veterinary sphere, including clinical practice, research, education or veterinary politics. The organisers are looking for an 'exceptional young vet' whose work is recognised within the workplace or who has benefited the veterinary community.
On the launch of the award James Russell, BVA President, said:
"This has been an extremely challenging year for all vets but for those at the beginning of their careers it must have been very hard. We have all heard tales of where the profession has stepped up and met the challenges the pandemic has thrown up. Now is the time to recognise those early years vets who have shown exceptional dedication and have inspired others with their hard work.  The Award is now seen as a tremendous accolade as the past two winners, Emily Craven and Fabian Rivers have shown. Now it is time to find this year's exceptional young vet."
Jamie Brannan, Senior Vice President Zoetis, UK, IRE & Nordics, said:
"Seeing the impact of this award over the last two years and celebrating the difference talented young veterinary professionals are making in their field was a personal highlight for me and the wider Zoetis team. Last year our nominations showed fantastic efforts of young vets in areas of diversity, equality and inclusion, mental health and One Health, all so relevant to today's challenges. I am looking forward to taking the time this year to continue to help build a habit of recognition, especially now, as young professionals need support to continue to do the right thing during changing times."
The Young Vet of the Year 2021 Award is open to self-entry and nominations. The deadline for entries is midnight 1 September 2021. 
Contact our media office
(for press enquiries only)
Want to join BVA?
Get tailored news in your inbox and online, plus access to our journals, resources and support services, join the BVA.
Join Us Today