Victory for #CutTheCrop and #FlopNotCrop campaigns as government's Action Plan for Animal Welfare promises action on imports of dogs with cropped ears
Campaigners are celebrating today after the Government committed to taking action to curb the growing number of dogs with cropped ears being imported into Great Britain.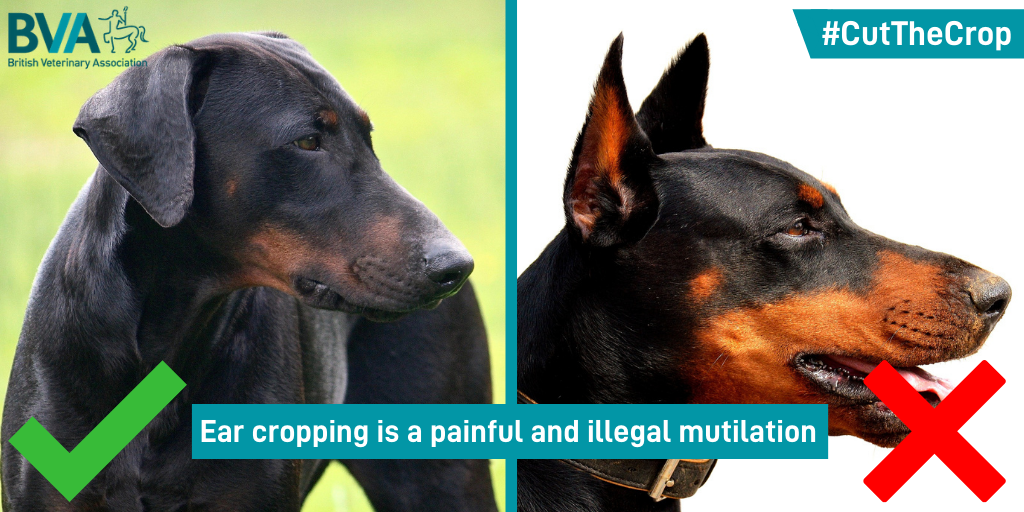 Under new measures unveiled in the Action Plan for Animal Welfare published today (Wednesday 12 May), people will be banned from bringing dogs with cropped ears into the country.  In the plan, which sets out a wide range of measures covering the health and welfare of pets, farm animals and wildlife, the Government pledges to:
"Prioritise the health and welfare of dogs by prohibiting the importation and non-commercial movement of dogs into Great Britain that have been subject to low welfare practices, such as ear cropping or tail docking, in line with our domestic legislation on these practices."
It is illegal to crop dogs' ears in the UK, but the law currently permits the importation of dogs who have undergone the procedure in countries where it remains legal, and it is not a specific offence to send dogs abroad to have their ears cropped.
The Government's commitment comes less than a month after a petition calling for action to close legal loopholes that permit dogs with cropped ears in this country passed 100,000.  The petition, which will remain open until August 2021, was spearheaded by the British Veterinary Association (BVA) and The FOAL Group, who both joined forces with a wide range of veterinary and animal welfare organisations and campaigners to amplify the call under the banners of #CutTheCrop and #FlopNotCrop.
Ear cropping is an intensely painful procedure that carries no welfare benefits for dogs and is usually carried out at a young age.  Campaigners have expressed alarm at the number of celebrities and influencers who parade their dogs with cropped ears on social media without denouncing the practice as a mutilation which is banned in the UK.  There is also growing concern that UK-based owners can purchase 'DIY' cropping kits from mainstream online retailers in a matter of clicks.
Welcoming today's announcement, BVA Senior Vice President Daniella Dos Santos said: "This is a huge victory for animal welfare and everyone in this nation of pet lovers who has pushed for the Government to call time on this barbaric trend.  We know that vets have been seeing more and more cases of dogs with cropped ears in practice, so swift action is needed to curb this concerning rise.
"The strength and depth of support for the campaign has signalled loud and clear that we need to do whatever it takes to prohibit imports, but there is also work to do to root out illegal practice of this completely unnecessary mutilation in the UK.  BVA and our members are happy to help the Government with whatever is needed to help bring these measures into play at the earliest possible opportunity."
Jordan Shelley, co-founder of The FOAL Group, said: "We're very pleased to hear that government will be prioritising the health and welfare of dogs by aligning importation rules with domestic legislation and stopping dogs that have been subjected to the cosmetic mutilations of cropping and docking from being brought into Great Britain.
"This change will help to both stop the unnecessary suffering of dogs abroad and those here in the UK by removing the smokescreen importation provides to illegal cropping and docking. We thank the Government for this commitment and all the organisations and individuals that have pushed the campaign to this point.  We urge everyone to continue using the remaining time the petition is open to keep the campaign front and centre, to continue to raise awareness and educate the public on why this rising trend must end." 
Contact our media office
(for press enquiries only)
Want to join BVA?
Get tailored news in your inbox and online, plus access to our journals, resources and support services, join the BVA.
Join Us Today