Work of outstanding veterinary professionals recognised by BVA awards
Today, the British Veterinary Association (BVA) has announced the winners of its four prestigious veterinary achievement awards at its annual Members' Day, held this year at Clare College, University of Cambridge.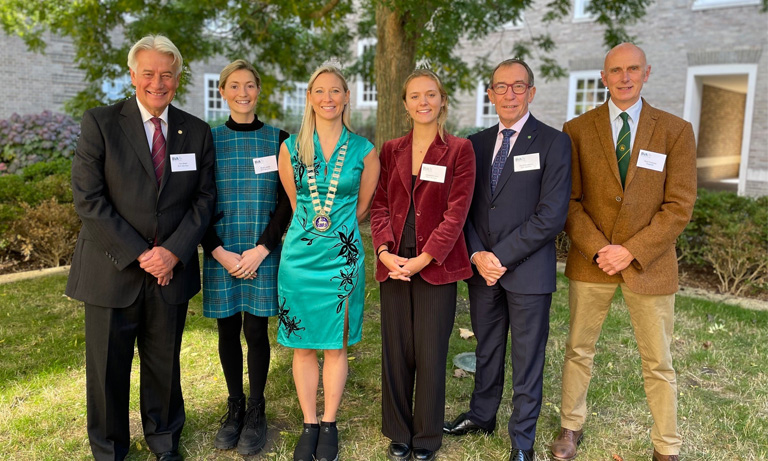 The annual awards recognise the exceptional commitment, work and achievements of vets from across the profession. They include the BVA's most prestigious scientific award, the Dalrymple-Champneys Cup and Medal along with the Chiron Award; the John Bleby Cup; and Harry Steele-Bodger Scholarships.
This year's winners are:
Dalrymple-Champneys Cup and Medal - Professor Tim Greet, equine surgery specialist
Chiron Award – Dr David McKeown, farm and mixed practice vet, Veterinary Defence Society Member Services Director and mental health volunteer with Vetlife, VetSupport and the Samaritans
John Bleby Cup – Mr Paul Freeman, retired mixed practice vet, BVA Council and North of England Veterinary Association member and Vetlife Trustee
Harry Steele-Bodger Scholarships – recent veterinary graduate from the University of Edinburgh Dr Rosa Loedel and University of Cambridge student Annabelle Lack
Outgoing BVA President Justine Shotton said: "Congratulations to all five winners. These highly sought-after awards shine a well-deserved light on an exceptional group of veterinary professionals, who each in their own field and practice, have helped propel the veterinary profession forward. Congratulations to you all on behalf of everyone at BVA."  
The Dalrymple-Champneys Cup and Medal
The Dalrymple-Champneys Cup and Medal, which is BVA's most prestigious scientific award, was first presented by Sir Weldon Dalrymple-Champneys in 1934 as a mark of the esteem with which he held the veterinary profession.  The award goes to a BVA member whose work supports the advancement of veterinary science. This year, it was awarded to equine surgery specialist Professor Tim Greet in recognition of his distinctive contributions to the veterinary profession and his specialist area of equine surgery, as well as for representing the profession in the veterinary political arena, promoting the welfare of working animals internationally, and mentoring and training younger colleagues and students.
Professor Greet, who graduated from Glasgow University in 1976, began his career with Peter Rossdale's Newmarket equine practice, where he became a partner in 1984. In 1997, the practice got the distinction of being the first equine hospital in Newmarket and is now one of the largest private equine practices in Europe.
Professor Greet, who is also a Past BVA President, said: "It is very humbling to be awarded the Dalrymple-Champneys Cup and Medal, following in the footsteps of so many influential predecessors. I must acknowledge the huge support I have received over the years from family and colleagues and the inspirational support in my early career from several previous winners of this award."
The Chiron Award
The Chiron Award acknowledges lifetime achievements in veterinary science or outstanding services to the profession and is judged as being of a standard that commands international or inter-professional recognition. Dr David McKeown, a vet who recently celebrated 50 years in the profession and has worked to support veterinary professionals with their mental health and wellbeing, was presented with the award for his hugely influential and supportive role in the lives of so many veterinary surgeons at times when they have needed help most.
After graduating from Glasgow in 1972, David established Knockanboy Veterinary Clinic in North Antrim in 1975 and spent the first 25 years of his career predominantly as a farm vet in a 6-vet mixed practice in partnership with his fellow Glasgow graduate Liam Kearney. His time in practice overlapped with what followed as a second career - a 31-year-stint in the Veterinary Defence Society (VDS). He has been an enthusiastic volunteer with both Vetlife and the Samaritans for 14 years and now divides his time between a management role with the Samaritans, his volunteering with Vetlife and a volunteer role with VetSupport. His interest in mental health matters within the profession emanated from seeing at first hand the impact on colleagues of claims and complaints during his time at VDS. Through his vital work, David has been at the centre of providing reassurance and care for those in crisis, providing guidance with complete integrity and confidentiality. 
David thanked the RCVS' Mind Matters initiative for the huge initial and ongoing support given to the establishment of the Vet Support initiative. Talking about his award, he said: "Having just celebrated 50 years as a vet, the news about this award left me speechless. I thought it was a prank call – I'm so glad I answered! Never in my wildest dreams did I think anything I have done would lead to receiving this amazing and prestigious award. I am humbled by BVA's recognition and as a consequence the sense of optimism and enthusiasm which tends to perhaps define me has just been turbocharged!"
The John Bleby Cup
This is the thirteenth year that the John Bleby Cup has been presented. The award was given by John Bleby to the Association after a remarkable 42 years on BVA Council representing Central Veterinary Society. It is given to the BVA Council member selected by BVA Officers for their outstanding contribution. This year the Cup was presented to Paul Freeman in recognition of his dedication to and valuable work for the Council during his years of service.
Paul, who graduated from Liverpool in 1978, worked in a large mixed practice in Northumberland for more than 30 years, including time spent as partner and director. Now retired, he has represented the North-East of England on BVA Council since 2018, is involved with the North of England Veterinary Association and is now a trustee of Vetlife, having started volunteering for the charity 13 years ago.
He said: "Being awarded the Bleby Cup in recognition of my contribution to Council is indeed an honour, but this contribution has been greatly facilitated by feedback and input I've received from members of my territorial division, the North of England Veterinary Association. Having retired from practice in Northumberland five years ago, I have enjoyed the opportunity that BVA Council membership gives me to maintain links with the veterinary profession, and hopefully play a small part in helping it meet the numerous challenges that it has faced in recent years."
The Harry Steele-Bodger Memorial Travel Scholarship
The Harry Steele-Bodger Memorial Travel Scholarship was established in 1953 to honour the memory of Mr Henry Steele-Bodger, President of BVA from 1939-41, in recognition of his great services to the veterinary profession and to agriculture, particularly during the Second World War. The award is open to penultimate or final year students at veterinary schools in the UK and Ireland or to those who have qualified from these schools within the previous three years. The grant will assist with visits to a veterinary or agricultural school, research institute or some other course of study approved by the Trustees. This year, two worthy winners, Rosa Loedel and Annabelle Lack received the scholarship.
Dr Rosa Loedel, a recent veterinary graduate from the University of Edinburgh, developed a keen interest in global health and the impact of infectious diseases of socioeconomic, geopolitical and ecological factors. She is fascinated by challenges such as the reemergence of infectious diseases, antibiotic resistance and the impacts of climate change on human, animal and environmental health. She is now in Paris to complete an internship with the World Organisation for Animal Health.
Rosa said: "Vets are multi-skilled operators in many fields, I am excited to gain further insight into how we use our skills to protect animal health and welfare; to protect public health; and to protect our trade and our economy. I'm delighted to receive this award as it enables me to take on this fantastic opportunity with WOAH. I am excited to be able to experience an international organisation and hone in on my project focus areas of dog-mediated rabies control and research coordination."
University of Cambridge student Annabelle Lack has always wanted to see EMS practice in Australia and to explore the country where her late mother lived. Thanks to the Harry Steele-Bodger Award she has been able to spend time at Australian equine and small animal clinics and begin conducting a survey into Hendra virus awareness for her research project as part of her studies.
Annabelle said: "I'm so thankful to have been awarded this scholarship. I've spent the last month at Larkhill Equine Vets, near Perth, which does a lot of racehorse work, and I've been fascinated by the veterinary medicine which goes on behind the scenes to ensure that horses are fit to race. I've also been conducting a survey into the awareness of Hendra Virus amongst vets and horse owners; I've found surprising results and I'm now looking forward to continuing my research project back home. I'm so grateful to BVA for the opportunity!"
BVA Members' Day and AGM is an annual event which includes the awards ceremony and the election of BVA's President, Senior Vice President and Junior Vice President.
The BVA Member Survey 2022 is live until 3 October 2022, offering every BVA member the chance to help shape the future of BVA. The survey takes just 15 minutes to complete using the unique link sent to members via email. The results will be used to help BVA deliver the best possible support to the profession. 
Contact our media office
(for press enquiries only)
Want to join BVA?
Get tailored news in your inbox and online, plus access to our journals, resources and support services, join the BVA.
Join Us Today