Celebrating the vital work of veterinary receptionists during Covid-19
Veterinary receptionists have worked incredibly hard to adapt to new working arrangements and support their colleagues and clients throughout the pandemic. In this #ThankYouThursday blog to mark April's National Pet Month, Lynsey Sadiwskyj, Business Support Manager at the British Veterinary Receptionist Association, recognises their continued efforts in these challenging and unpredictable times.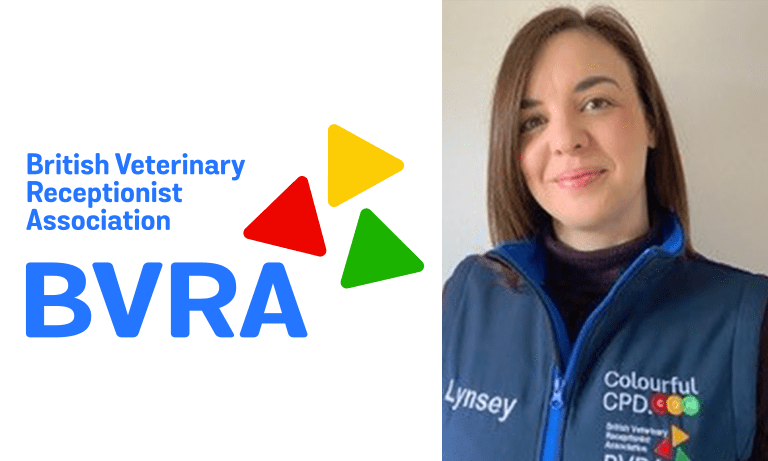 We need diversity of thought in the world to face new challenges – Tim Berners-Lee.
The current pandemic has dramatically demonstrated the need for diversity of thought, capabilities, and skills for us all. The roles and responsibilities of our client-facing reception teams in practice have encountered many changes and challenges along the way. These have been taken on with a mixture of intrepidation and determination in order to maintain care to our clients and patients.
Skills, Knowledge and Attitudes
Whilst protecting ourselves was paramount during Covid-19, restricting access to the practice created new challenges. Receptionists were central to administering video consultations. Key challenges involved new booking processes as well as changes to dispensing and taking payments.  Not only did veterinary receptionists have to learn how to use new technologies and new systems, but they were also instrumental in educating clients to do so as well. 
Diary management has always been a critical skill for front-of-house teams. This has never more so than over the last 12 months. A lack of in-practice consultations resulted in receptionists having to develop their triage skills. Receptionists suddenly found themselves having to decide when and how symptoms needed to be dealt with initially – as well as persuading sometimes reluctant clients to participate in video consultations.   
Receptionists have been essential in striking the balance between enabling patient care, customer service and controlling colleagues' workloads.
Restricting client access to the building, as well as split-teams meant that receptionists have assisted much more with animal handling. Involvement in the veterinary consultations enabled a much better understanding of the responsibilities and decisions vets must make.  Similarly, vets and nurses have had to become involved with some of the administrative tasks, cleaning protocols and even answering calls, emails, and doors! Interestingly, sharing duties and working more closely and more practically together has resulted in greater bonds between receptionists and clinical colleagues.
Receptionists thrive on face-to-face interactions with clients. PPE, car park consulting and reliance on the telephone were all challenges that had to be overcome. Receptionists' abilities to build relationships and communicate compassionately were paramount. Clients were often frustrated and worried. This did not always make them easy to deal with. Receptionists often had to absorb emotional outbursts without taking it personally and then talk irate clients down and win them over.
Attitude
Receptionists have had to demonstrate patience, adaptability, and resilience:
Patience in dealing with difficult situations and emotional clients.
Adaptability to new ways of working and last-minute changes.
Diversity of thought in learning new skills and helping colleagues.
Resilience in coping with the busy, dynamic nature of the reception role.
The last 12 months has taught us more than ever that positivity and pulling together as a whole practice team is essential in achieving customer and colleague satisfaction alongside clinical and financial resolution.
Overall, it has strengthened the bond between all colleagues and generated greater appreciation and respect for the different capabilities and challenges faced by all roles in practice.
This #ThankYouThursday, BVRA would like to thank the profession's receptionists as well as our vet and nurse colleagues for a remarkable effort through these unprecedented times.
Contact our media office
(for press enquiries only)
Want to join BVA?
Get tailored news in your inbox and online, plus access to our journals, resources and support services, join the BVA.
Join Us Today