Empowering you to support animal welfare investigations – why you should register to attend the BVA and Scottish SPCA virtual conference
We're excited to be teaming up with the Scottish SPCA on Friday 10 December (9am to 4pm) to bring you our first virtual conference together: 'Veterinary forensics, the link and professional responsibility: what you need to know about animal welfare casework'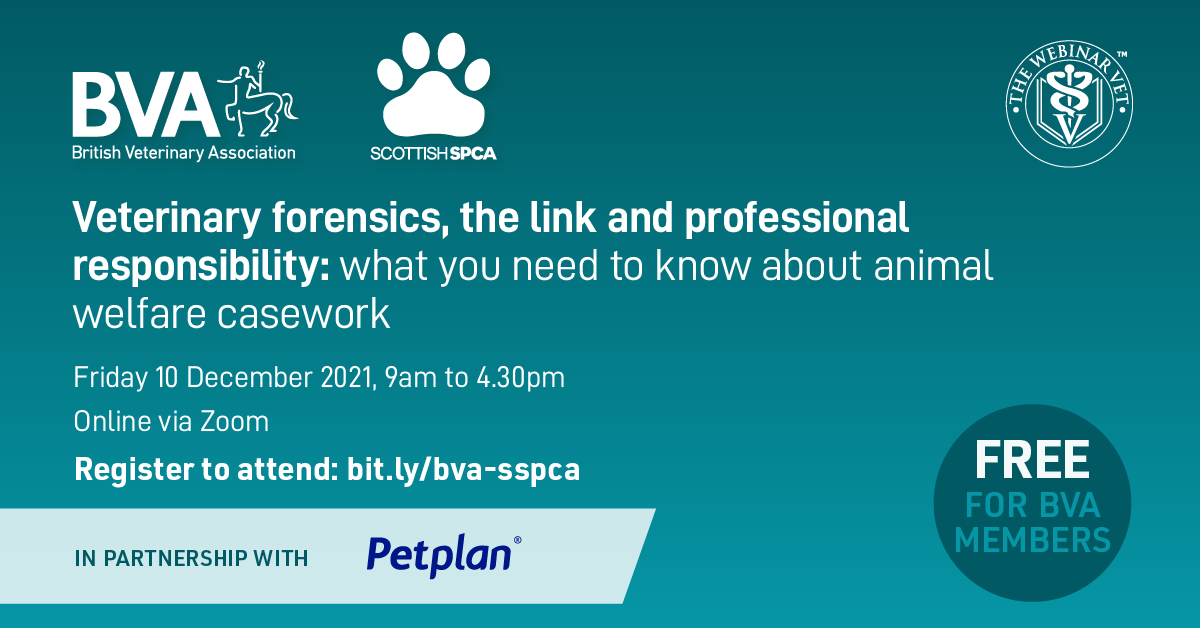 We want to give veterinary professionals an insight into veterinary forensics and show you how you can maximise your skills and expertise to support vital animal welfare investigations.
1. Gain confidence and boost your skills to protect animal welfare
We know that reporting suspected animal cruelty and neglect can be daunting, and formally participating in an animal welfare investigation even more so. So, our speakers will be breaking down what to expect from being involved in an animal welfare investigation, and how to navigate these challenging cases in virtual workshops and presentations. You'll learn what to do if a welfare inspector requests information about a client, when you should collect evidence and how to present this. You'll also receive top tips on knowing your legal obligations as a veterinary professional and how to protect animal welfare while not falling foul of client confidentiality and GDPR regulations.
2. Five hours of free CPD for BVA members
The day, which provides five hours of CPD, is free for BVA members and £35+VAT for non-members. BVA members just need to use their BVA coupon code available on their BVA Member Dashboard under 'My Discounts' to register for their free spot. If you're struggling to find your code email Hayley Atkin with your BVA membership number and we can help. Delegates can choose to attend all or part of the day and recordings will also be available after the event.
3. It's for everyone
Whether you've supported animal welfare investigations before and are looking for a refresher, have in an interest in getting involved and want to find out exactly how you can help, or are a student who wants to find out more about how vets support welfare investigations and work with different agencies - this conference is for you. Members of the wider veterinary team who have an interest are also very welcome!  
 What's more is that it's not just going to be applicable to supporting animal welfare cases in Scotland, the principles you'll learn and understanding you'll develop will be applicable across Great Britain. We'll being hearing from speakers who have worked with both the Scottish SPCA and RSPCA and comparing systems in Scotland, England and Wales.
4. Ask the experts
At the end of the morning and afternoon sessions there will be an open floor for delegates to ask our speakers their questions. Whether it's a point of clarification or advice on a hypothetical scenario, our speakers are there to help, so make the most of their years of experience and expertise. Remember, it's a safe space for learning and development, there are no stupid questions!
5. Hot off the press research
Delegates will be some of the first to receive an update on the results from Professor Jo Williams (University of Edinburgh)'s new research exploring what's stopping vets from recognising non-accidental injury. Paula Boyden from the Links Group will then provide us with practical guidance on how to overcome these barriers, recognise non-accidental injury and identify the link between animal abuse and domestic violence.
6. Practical and emotional support
Supporting animal welfare investigations can be psychologically challenging and emotionally demanding. That's why we've made sure our programme has a dedicated session to look at the research in this area and support delegates to identify strategies for prevention and support. The fantastic Rosie Allister will be discussing how and when moral injury and compassion fatigue occur in animal welfare contexts and exploring what helps.
You can find out more and register to attend the virtual conference on The Webinar Vet website.
Contact our media office
(for press enquiries only)
Want to join BVA?
Get tailored news in your inbox and online, plus access to our journals, resources and support services, join the BVA.
Join Us Today