Living (and vetting) with dyslexia
BVA Past President James Russell shares his experience with dyslexia, the impact this has on his day-to-day life, and what steps we can all take to ensure our veterinary workplaces support neurodiversity.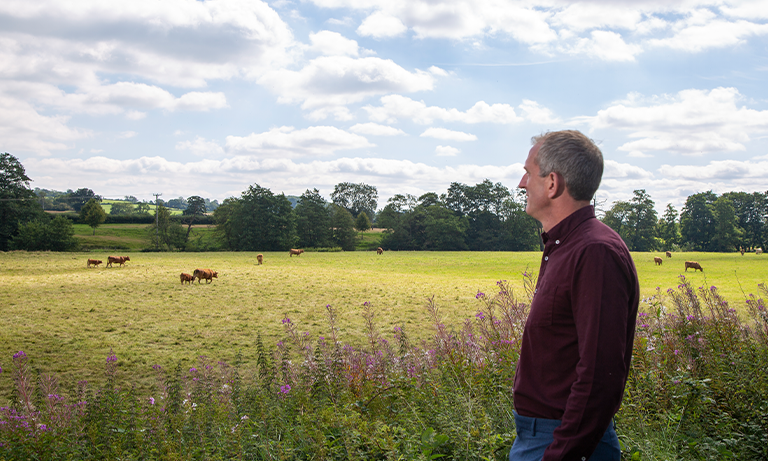 "What is it like living with dyslexia?"
"I don't know. What's it like living without it?"
Thus goes an often repeated conversation when dyslexia gets discussed. It isn't that I don't want to tell people about it, but I'm just not sure where dyslexia stops and James begins.
Is it fair to blame my chronically poor timekeeping on brain makeup, or is it simply that I am awful at timekeeping? Does my inability to bring people's faces to mind – even those who are very close to me – reflect on the fact that I am unobservant or is it another facet of my dyslexia? 
Equally, do some of my more outlandish ideas and schemes come from the ability of the dyslexic brain to see a problem in a different light, or are they simply that I am prone to making unusual suggestions for solutions?
I can't answer these questions any more easily than I can answer the all-time big question – how can you be raising children as Liverpool FC fans when you live so close to Derby? (Very few people ever ask me the same about Stoke.)
What I can observe though, are the things that I recognise make my life easier and have been reported by many other dyslexics to do the same. Although it's worth remembering at this point the old adage of Richard Gross, author of psychology text books loved by A-level students everywhere: "When you have met one person with dyslexia, you have met one person with dyslexia."
But the list of helpful things would include:
Left aligned font
A complete AOA (Absence Of Acronyms)
Dyslexic friendly font. This will be at least a sans serif font, if not the recently developed 'Dyslexie' font, my favourite that I've ever read
Lower contrast background. I am drafting this on cream paper
Decent character spacing and font size
Now, which of those things listed above would make life more challenging for the non-dyslexic? I'm going to put it out there that none of them would. And this really is my point.
On average 10% of our audience, regardless of who we are aiming our communications at, will be dyslexic. That's 10% of people who you will preclude from taking everything you want them to from your communication because you wrote too many TLAs (Three Letter Acronyms) or wrote it like this: 
in this font, or
in this size.
If a business guru came along and promised you a 10% greater penetration of all of your client communications, I'm willing to bet you would pay a fair bit for that advice. Here's an opportunity to do that for the price of some cream copy paper. Good deal? I think so.
Other things that will help your dyslexic colleagues or clients, and won't harm anybody else, include:
Breaking down complex instructions into simple steps
Recognising that processing speed may be slower. Give people time to consider their response
Ensuring that visual cues for times and activities are available
My other comment on dyslexia is that I feel for me it has good and bad days. This can be obvious – days when I am tired are harder. Other times it can be for no apparent reason but can make the world quite an intimidating place.
Put yourself in a supermarket, knowing that you need to find the right bottle of gin for a gift. Where is the gin aisle? What word on the moving, hanging sign says something that relates to gin? What do those words even say? Ah, good, found the gin aisle. Now to remember the name of what I wanted. I know it had a name… most gins do. Did I write it down? Found it. Good. In my phone it is written nice and clearly. On the bottle, it is written sideways, in italics and there are 47 varieties which all start with a 'T'.
Panic.
Can I find a picture of it online?
What colour is the bottle?
What shape is it?
Has that narrowed it down?
Found it. Better just check with someone though that it is right. How humiliating.
What if that wasn't a bottle of gin as a gift? What if that was in the pharmacy at your practice? What could you do to improve the likelihood of me being able to find the pred first time round?
So, as we continue to consider making our workplaces Good workplaces, I would encourage all of us to have a look on the British Dyslexia Association website and choose one thing that we could implement today in our workplace to help make the lives of the 10% a little bit easier.
Contact our media office
(for press enquiries only)
Want to join BVA?
Get tailored news in your inbox and online, plus access to our journals, resources and support services, join the BVA.
Join Us Today