What's the issue?
Healthy workplaces are good for us and for business. They are also vital to allow veterinary professionals to fulfil their professional oaths and continue to safeguard animal health and welfare, and public health.
Creating an environment where all individuals feel they fit in and making sure that employees feel valued and admired for the work that they do is important. It can improve the day to day experiences of team members, bringing benefits for both the individual and the organisation they work for.
If team members are happy at work, this is also likely to improve the retention of skilled and motivated staff, both in their workplace and in the profession overall. A healthy workplace will also be more likely to cope well with unexpected challenges like those posed by the Covid-19 pandemic, with the team better placed to work together effectively.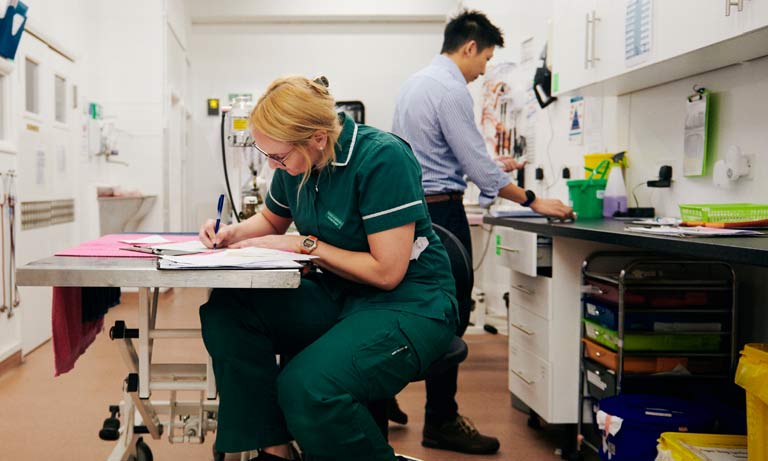 Throughout our work, we've discovered that workforce challenges are prominent. The issues faced by our profession cover a range of areas, including:
Health and wellbeing

Diversity, equality and fair treatment

Workload and flexibility

Reward and recognition

Personal and career development

Management and HR process

Workplace culture
It is vital that the UK veterinary profession retains a thriving, engaged and sustainable workforce. For this to happen, it is essential that, as a profession, we take steps to recognise and address the workforce issues we're facing.
What's our view? 
Every member of the profession has a role to play in creating and maintaining good workplaces, no matter their role or chosen sector, and regardless of whether they are an employer or an employee.
We've set out our vision for how a good veterinary workplace should look, highlighting the core principles and key resources every workplace should have. We've included 64 practical recommendations for employers, employees and the wider profession to follow, and 36 encouraging case studies to show how they could be achieved. Our comprehensive list of useful links also provides additional support for anyone working to make improve their workplace.
It is important to remember that every workplace is different, and workplaces do not necessarily need to fulfil every recommendation to be considered 'good'. However, all good workplaces should fulfil the following core values:
support and facilitate veterinary professionals in upholding their respective oaths;

develop, establish and track good physical and mental wellbeing and be supportive of the needs of all team members;

provide fair and equal pay and benefits for all team members, relevant to their respective roles;

be fair and equitable for all members of the team, with no tolerance of prejudice, discrimination, bullying or harassment;

have clear career pathways that are an attractive, accessible and attainable professional route for those positioned across all socio-economic demographics;

support, recognise and reward personal and professional development (both clinical and non-clinical) which is aligned with the business;

have appropriate recruitment processes and structures to support the retention of skilled team members, including regular mentoring and appraisal throughout their career;

have employers and employees who are aware of what is expected of them and share responsibility to fulfil those expectations; and

acknowledge the importance of a positive working culture, with the organisation's own culture and values being well understood.
We are calling on all members of the profession, across all sectors of veterinary work, to commit to our vision for a good veterinary workplace.
To help our members work through the position, we've developed the BVA good veterinary workplaces voluntary code. This comes in the form of a poster to display at work to show you've committed to be a good workplace. We've also produced a workbook, with space to write notes on what your workplaces does well, what can be improved, and your next steps for creating a good workplace.
Read our policy documents
Good workplaces webinars
In collaboration with the VDS Training we're inviting you to a series of monthly webinars exploring our Good workplaces policy position. Join Carolyne Crowe and BVA Officers for the free online sessions delving into the good veterinary workplaces topics and showing how you can take ownership, improve your working conditions, and make your workplace one to be proud of.

Focus on: Equality, diversity, and inclusion
Thursday 6 May 2021, 7-8pm
We'll be focusing on the topics of equality, diversity and inclusion, with Head of VDS Training Carolyne Crowe in conversation with BVA Senior Vice President Daniella Dos Santos, and Laura Haycock from Pearn Kandola, discussing:
how to create a workplace which treats everyone fairly and equitably
showing zero tolerance of discrimination,
the importance of diversity and empowering team members to challenge poor practice.
Join the conversation, submit your questions, and discuss what equality, diversity, and inclusion looks like for you in a Good veterinary workplace.
Register to attend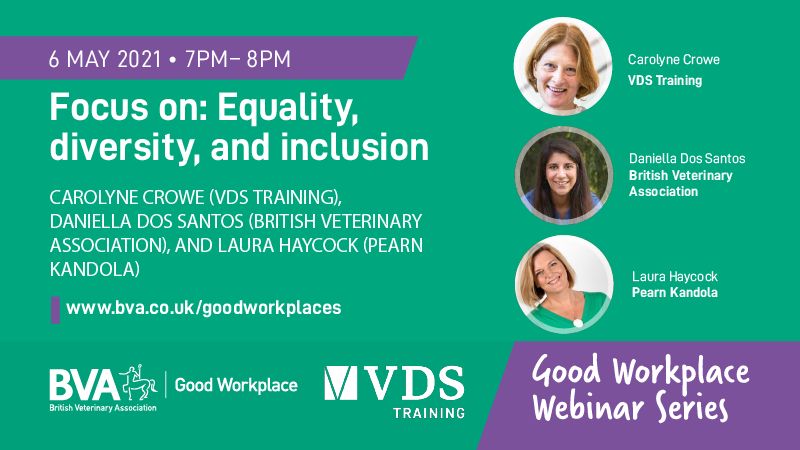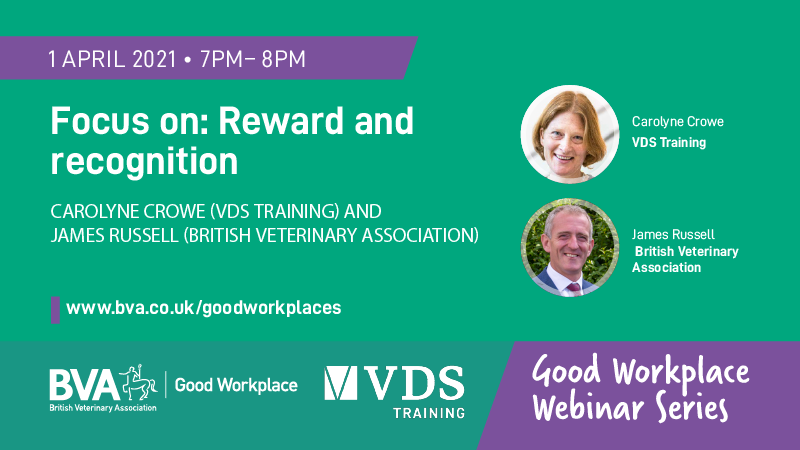 Focus on: Reward and recognition
Our third webinar of the series explored the importance of Reward and Recognition in the workplace, with BVA President James Russell in conversation with VDS Head of Training Carolyne Crowe sharing their thoughts on fair and transparent pay, benefits packages, what feeling valued at work means, and creating a positive workplace culture. Join the conversation to discuss what fair reward and recognition looks like to you.
Watch the recording
Focus on: Management and HR
BVA President James Russell and Carolyne Crowe from VDS Training explored the theme of reward and recognition in a good veterinary workplace. They discussed the fair and transparent pay, benefits packages, what feeling valued at work means, and creating a positive workplace culture. Watch the recording to find out what fair reward and recognition looks like.
Watch the recording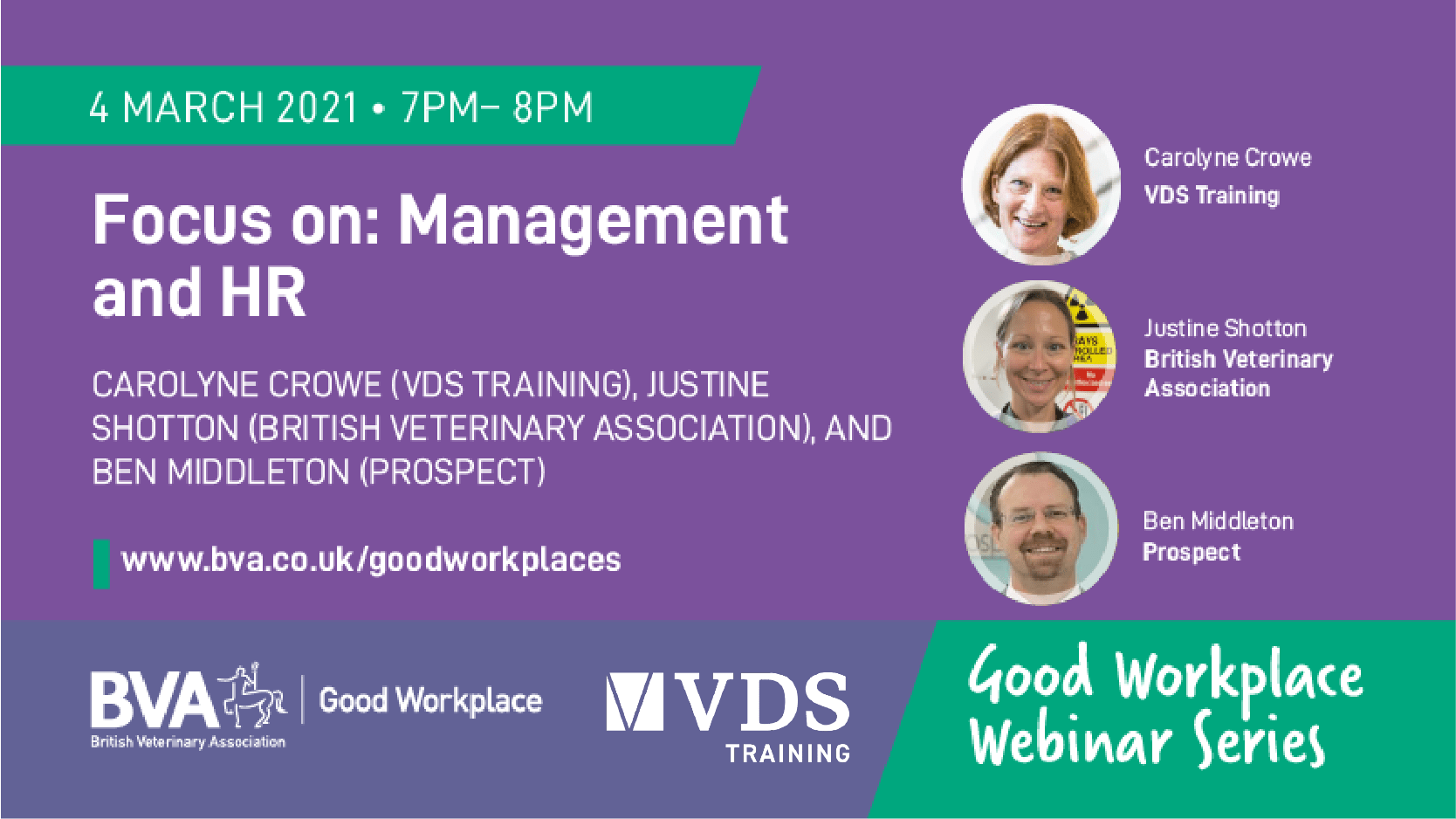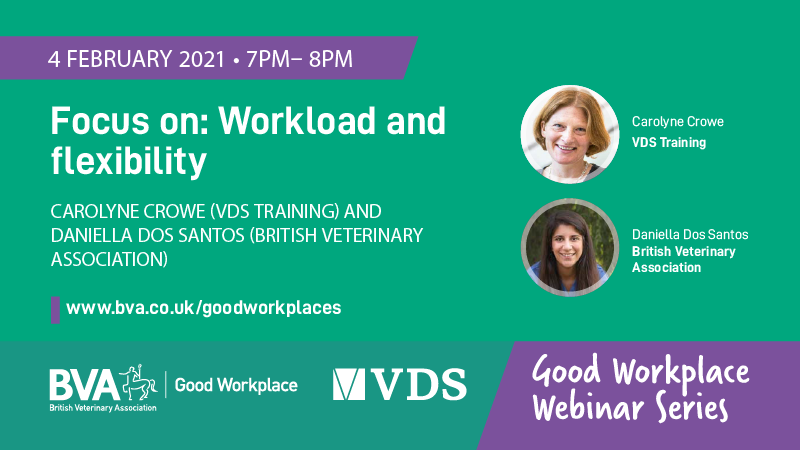 Focus on: Workload and flexibility 
BVA Senior Vice President Daniella Dos Santos and Carolyne Crowe from VDS Training led the discussion for the first in a series of Good workplaces webinars. They explored workload and flexibility in the workplace and shared their thoughts on working hours, breaks, flexible working, and delegation in a good veterinary workplace. Watch the recording for practical tips.
Watch the recording