Making the world a better place for vets and because of vets
On Thursday (24 September) I took over the BVA Presidency from John Blackwell at BVA Members' Day and AGM. It was a memorable day, held in the beautiful city of Edinburgh and attended by over 100 BVA members.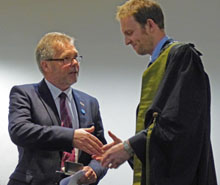 On Thursday (24 September) I took over the BVA Presidency from John Blackwell at BVA Members' Day and AGM. It was a memorable day, held in the beautiful city of Edinburgh and attended by over 100 BVA members. The day had many highlights, including recognition for BVA's award winners – recognising outstanding contributions to veterinary science and services to the profession in the UK and in developing countries.
It was particularly nice to see Devon cattle vet, Andy Biggs, receive the Dalrymple-Champneys Cup and Medal accompanied by his parents, when his father, Professor Peter Biggs, had won the same award 40 years ago!
My last 12 months as Junior Vice President has been stimulating, educational and enjoyable, not least thanks to my fellow officers, John Blackwell and Robin Hargreaves. We were each able to say a few words and I introduced my Presidential theme (134 KB PDF): "Vets in the human-animal age".
The age of human-animal relationships
I reflected that in my 70's, the human population is likely to reach its projected 9 billion peak on a planet with finite resources, having woven a complex web of challenges along the way – climate change; unprecedented biodiversity loss; antimicrobial resistance; food security, waste and inequality; to name a few. The theme recognises that we live in the so-called " Anthropocene"; a period when human activities are having such an impact on the climate and environment that they characterise our geological age. It's the age of the human animal, recognising humbly that we are one animal amongst many; and the age of human-animal relationships, both positive, for example as companions, or challenging such as conflicts with wildlife as we increasingly compete for limited resources.
Vets in this age, in a One Health vein, can highlight our evolutionary commonality with animals, both in terms of shared disease susceptibility and our shared capacity to feel. We can apply our compassion and ethics across all the human-animal interactions that we experience in our daily work – as pets, on farms, in research laboratories, in sport, in the wild and so on – and we can advocate for the best interests of animals and for the natural world, as society expects us to.
A global outlook for the profession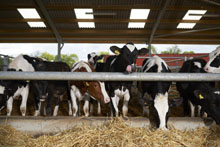 Sometimes it's easy to acknowledge the veterinary opportunity in these big issues, but struggle to synthesise examples. First, we will publish BVA's animal welfare strategy at the end of this year, developed in consultation with stakeholders from across the profession and beyond. The strategy will recognise that animal welfare competes for attention in a complex world, brought in to sharp focus by the challenges surrounding sustainable animal agriculture (741 KB PDF).
Global meat and dairy consumption is set to double by 2050, but associated environmental, animal welfare and human health impacts are now widely recognised. Growing productivity is important but not enough and we will need to collaborate with others to find ways of ensuring humane, sustainable agriculture rewards our farming colleagues for producing safe and accessible food that promotes the long-term health and wellbeing of farmers, farmed animals, citizens and the natural environment.
A critical element of my theme is that global challenges can be a distant irrelevance for colleagues who are experiencing problems such as poor mental health, perceived low public status or career dissatisfaction. We will keep working to promote the value of the profession, improve veterinary wellbeing and provide career support. We are already, for example, further developing our Young Vet Network.
Professor Tom Solomon gave the Members' Day keynote address which set up the global theme, speaking about One Health approaches to emerging zoonotic infections. And yesterday, on World Rabies Day, the importance of our global outlook and the contributions of UK vets was highlighted again. We won't change the world overnight, but combining optimism, thoughtfulness and realism we will keep striving to ensure BVA makes the world a better place for vets and a better place because of vets.
Sean
BVA Members' Day
Catch up on the photos and tweets from BVA Members' Day 2015.
Read Sean's full inaugural President's speech (134 KB PDF) and John Blackwell's outgoing speech from BVA Members' Day. You can also find out more about new Junior Vice President Gudrun Ravetz.
Contact our media office
Want to join BVA?
Get tailored news in your inbox and online, plus access to our journals, resources and support services, join the BVA.
Join Us Today