NI Farm Quality Assurance; the cornerstone of the industry
As part of BVA's #ChooseAssured campaign, we've asked the farm assurance schemes featured on our UK Farm Assurance Schemes infographic to tell us about the key features of their scheme. Here, Gillian Davis gives us a rundown of what the Northern Ireland Beef and Lamb Farm Quality Assurance Scheme means for consumers.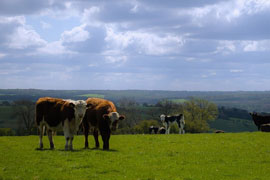 Established in 1991 and officially launched in 1992, the Northern Ireland Beef and Lamb Farm Quality Assurance Scheme (NIBL FQAS) is one of the first and longest running quality assurance schemes in the world.
The scheme is owned by the Livestock and Meat Commission for Northern Ireland (LMC) and has been managed by the organisation for over a quarter of a century. Although based in Northern Ireland, the scheme operates equivalence with the Red Tractor Assurance Scheme in Great Britain.
The main aim behind the NIBL FQAS is to give consumers assurance about the high quality of beef and lamb produced in Northern Ireland. The scheme focuses heavily on the farm end of the production chain with emphasis on three key pillars: food safety, animal welfare and environmental care.
Strict standards
When farmers sign up to join the scheme they are expected to adhere to a list of Standards and Rules which are drawn up by a Standard Setting Committee made up of various LMC stakeholders. The Standards and Rules cover eight separate areas: animal husbandry, stockmanship and welfare; animal health; animal nutrition; animal traceability- identification, sourcing and records; housing and handling; transport; environmental care and farm procedures.
Since its launch, the scheme's Standards and Rules have been continually updated and revised as appropriate to meet changing market needs and regulatory developments.
To ensure members are abiding by the strict Standards and Rules, farms are inspected by an independent certification body, the Northern Ireland Food Chain Certification (NIFCC), every 18 months. Five per cent of scheme members are also subject to random spot checks once a year.
Whilst the NIBL FQAS is largely farm focused, it's just one of the steps in the assurance chain. In addition to farm assurance, animal feed suppliers, livestock markets, collection centres, livestock hauliers, abattoirs, cutting and packing plants must all be assured to the appropriate standards.
By operating equivalent standards to Red Tractor across the supply chain, meat exporters will consult with their retail and food service customers to determine which label to apply depending on the end market. In Northern Ireland the NIBL FQAS logo is present on retail packs however beef destined for Great Britain carries the Red Tractor logo.
Animal Welfare and Environmental Care
Whilst traceability aids the delivery of safe food, the NIBL FQAS is also designed to care for the environment and enhance animal welfare.
The inspection process checks and verifies that farmers are competent animal keepers, welfare friendly and that their farming practices are done in harmony with the environment.
The Northern Ireland countryside boasts a diverse landscape protected by some of the most stringent environmental legislation in the world. The scheme seeks to maintain these high standards of environmental care.
Traceability
Another important aspect of the NIBL FQAS is that it offers consumers confidence that the beef and lamb they purchase is fully traceable.
All cattle are traced through the Animal and Public Health Information System (APHIS). APHIS is Northern Ireland's centralised system for the management of animal health and traceability which is operated by the Department of Agriculture, Environment and Rural Affairs (DAERA) and records all births, deaths and movements of cattle.
A clear Farm Quality indicator is visible on all cattle on APHIS that are independently certified as assured.
This traceability system is extremely robust and the envy of many countries throughout the world.
Cornerstone
In terms of the consumer, the presence of the NIBL FQAS means that they can be sure that the beef and lamb they are purchasing is of the highest possible standard.
Not only is the scheme important within Northern Ireland, but it provides an essential cornerstone for the industry to market its products with certainty in the UK, EU and indeed on a global scale. This will prove to be critical no matter what the outcome of a 'Brexit' deal may be and with that in mind, our assurance mark will continue to promote extremely high standards.
Our advice would be to look out for the NIBL FQAS or Red Tractor logo when shopping to ensure you're enjoying beef and lamb of verified origin and standards of production.
More information
Contact our media office
(for press enquiries only)
Want to join BVA?
Get tailored news in your inbox and online, plus access to our journals, resources and support services, join the BVA.
Join Us Today