Obesity in the spotlight at London Vet Show
During this National Obesity Awareness Week (14-20 January), Alex German highlights key areas of focus to help veterinary professionals and pet owners address pet obesity.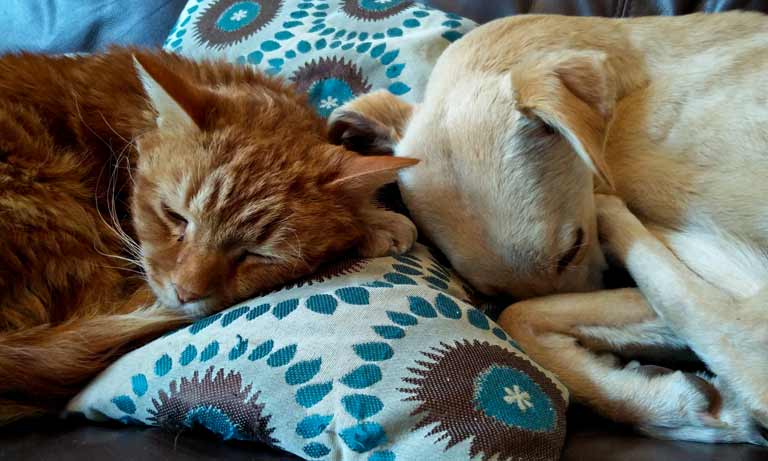 Currently, around half of the UK's pet dogs and cats are considered overweight, and has been identified by the veterinary profession as a major health and welfare concern. Indeed, in a recent study that I collaborated on with Mars Petcare's WALTHAM Petcare Science Institute, there was an association between overweight body condition and a shorter lifespan in dogs, being up to two and a half years less for some breeds. For a species whose average life expectancy is rarely greater than 15 years, that's a significant difference. So recently, alongside human health and public health dietician Dr Hilda Mulrooney, I had opportunity to highlight the importance of helping our pets maintain a healthy body weight at BVA Congress, held at the Excel London centre as part of the London Vet Show. 
Here are three key areas of focus to help veterinary professionals and pet owners in addressing pet obesity:
Avoid the blame game
It's easy to assume a pet's weight is based on a simple equation – calories consumed minus calories burnt off through exercise. Yet, in truth, it's far more complex than that and, as we are coming to understand, highly influenced by a pet's genetic makeup. Yes, giving animals a healthy diet and active lifestyle is important to healthy weight management, but it's also unfair to lay the responsibility solely on the actions – or inactions – of the people looking after them.
As pet professionals, we need to help pet owners better understand why their animal may be gaining weight in the first place and support owners – in non-judgmental ways – to take positive steps. For example, slow feeders and puzzle feeders for dogs and cats can be a great way of moderating how quickly and extensively they're eating. But do many people know about – and use – them?
Think before you treat
As any pet owner understands, the human-animal relationship is a truly special one. That's why many of us consider our pets part of the family, in the same way we would a child. Yet while this brings lots of benefits in terms of affection and care, it also carries a flipside. The more we humanise our pets, the more we may be tempted to give them human food, especially during the holidays. This can play a major part in weight gain.
That's not to say we can never let our pets enjoy an edible delight or two. Yet it's vital to balance these treats with not overfeeding them nor falling into a consistently unhealthy diet. A good tip here is to replace food treats with a chewable toy. Weighing any snacks or keeping note of the times you give them can also help you know exactly how much and how often your pet is eating. At this time of year, watch out for the increased opportunities for your pets to steal food from the bowls, plates and festive treats lying around too.
Ignore the Insta generation
These days, there are thousands of pets around the world with their own social media profiles. And though we're not quite at the stage of them being able to post for themselves, they do increasingly face the same challenges we see among humans – albeit in the other direction. If I release a picture of a dog or some other pet on social media and say 'This is a healthy weight', a lot of people will respond by saying the animal featured is too thin or ask what's wrong with it. We need to re-educate ourselves about what's normal,avoiding the trap of mistaking overweight and podgy in real-life for cute and cuddly on social media.
Focus more on prevention of obesity
Perhaps above all, we have to get serious about pet obesity. In my role at the Royal Canin Weight Management Clinic at the University of Liverpool, I see first-hand the negative impact that obesity has on their lifestyle and lifespan of companion animals, not to mention the emotional effect it can also have on their owners. Although the health benefits of weight management are most definitely worth it, the process can be immensely challenging, as anyone who's tried forcing themselves out for a run on a cold January morning can testify. Therefore, as a profession, we should consider focusing more on prevention of obesity. One thing that could facilitate this would be to implement regular weight monitoring in all pets, from first vaccination, throughout the growth phase (facilitated by easy to use growth charts) and during all stages of adult life. Bodyweight measurement is both accurate and precise, enabling small changes in weight to be spotted early, enabling corrections to feeding and physical activity to be made before obesity develops. Although not in itself a cure, it could go some way to altering the recent trends of increasing pet obesity.
Find out more
We are marking National Obesity Awareness Week (14-20 January) by setting out an action plan, including a joint BVA, BVNA, BVZS, and BEVA policy position, for how veterinary professionals can play their part in tackling obesity in companion animals.
Contact our media office
(for press enquiries only)
Want to join BVA?
Get tailored news in your inbox and online, plus access to our journals, resources and support services, join the BVA.
Join Us Today