Recognising early-career vets: My experience being a BVA Young Vet of the Year finalist
2021 BVA Young Vet of the Year finalist Sarah Krumrie explains why recognising the work of early-career vets can really make a difference.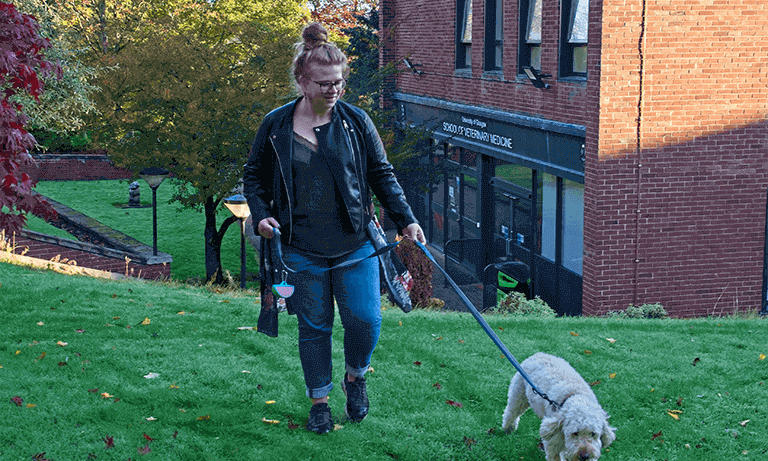 Imagine you're standing next to a campfire starting to creep out of control. The only vessel with which you can carry water to douse the flames is a small thimble, and you know you cannot extinguish the fire alone. Do you bother to try?
Before the nomination for the BVA's Young Vet Award it sometimes felt like pouring my thimble of water on the mental health fire was in vain. I was losing energy to continue the trek between the water and flames. But hearing my colleague, someone for whom I hold an incredible amount of respect, say she saw my efforts, my rapidly draining energy started to renew.
How being nominated for BVA Young Vet of the Year Award helped me
I will be honest and say I don't know how much being a Young Vet nominee has done for my career; what I do know is that it has made me feel as though my efforts are making a difference in my immediate environment, even if it's a thimble-sized amount. And my hope is that through the nomination and this follow-up blog post that someone, somewhere, will be able to relate to my words or my experience and feel that they, too, can make a difference.
Creating a culture where vets want to stay in the profession
In veterinary medicine we talk constantly about preventing the fire before it starts, because it's much easier than extinguishing a raging blaze. So why don't we adopt the same view for this roaring forest fire of mental health? As a profession, we teach people to "see the signs" and give them numbers to hotlines, both of which are needed, but we fail to investigate the root of the problem. The real root.
We need to protect the boundaries of those in practice. We need to highlight alternative career paths and stop guilting those who turn to them. We need to address the toxicity both outside and within the veterinary community. If we want to keep vets, we need to create an atmosphere and culture in which it's worth staying. And I believe a lot of that work starts with us.
Recognition matters
This nomination process is a fantastic way to recognise those who are active, proactive, empathetic, caring, and trying to help their profession, and perhaps need a bit of an energy boost to continue their fire prevention. They will remember that someone close to them is cheering them on. They will know their efforts are making an impact. An award is fleeting but ongoing support is priceless.
We can get so bogged down in our own work that we forget we're not the only one pouring water on this fire. There are supporters and people refilling and carrying water, helping to control the flames and keep people safe from the fire. So, should you bother pouring your thimble of water on a roaring fire? Of course. You never know who else is there pouring with you.
Contact our media office
(for press enquiries only)
Want to join BVA?
Get tailored news in your inbox and online, plus access to our journals, resources and support services, join the BVA.
Join Us Today