Remembering the day the Queen visited BVA
To mark the Platinum Jubilee of Her Majesty The Queen, who is BVA's patron, we're re-sharing a 2016 blog from BVA Past President, the late John Tandy, recalling the visit that she and Prince Philip paid to our London office in 1982.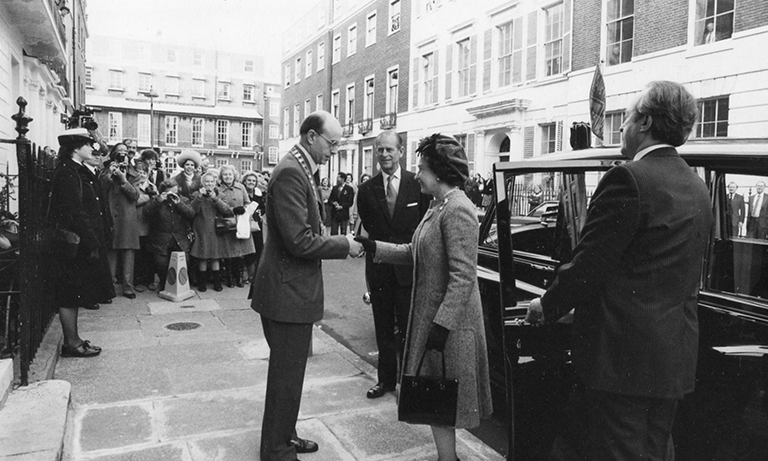 In 1882 a small group of veterinary surgeons decided to form an association to protect the interests and support the scientific and clinical aspirations of their young profession. The body was called the National Veterinary Association, which in turn became National Veterinary Medical Association, then British Veterinary Association. 
One hundred years later, BVA had become a successful body with over 8,000 members and based in an elegant building in London's West End.
A centenary celebration with the Queen
To mark the centenary, we were greatly honoured to welcome BVA's patron Her Majesty the Queen and Prince Philip to our headquarters at Mansfield Street on 9 February 1982. Arriving by car and without any publicity, fuss or security forces, they were greeted by BVA President Tom Gibson. 
Tom escorted the royal couple to the entrance where I was awaiting formal introduction in my position as Senior Vice President. From this point on the Queen would be accompanied by Tom in a tour of the building and Prince Philip and I would follow a few paces behind.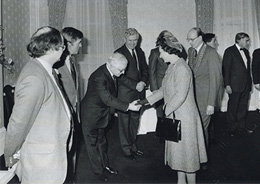 Most members of staff remained at their desks in their normal working locations, whilst the BVA Officers and other leading members of BVA gathered in the entrance hall and various rooms waiting to be introduced to the Queen. 
During the introductions Prince Philip chatted to me, and as always, made plenty of humorous remarks. In our first chat Philip said, "Can you tell me what we are doing here? What is the occasion?" I replied, "We are celebrating the 100th anniversary of the formation of the British Veterinary Association" to which he said, "Oh good."  
I was aware from television coverage that the royal family would be celebrating the Queen's 30th year of accession to the throne over the coming week, so I said to Philip, "I believe that this is a big week in your life!" "A big week in my life?" he asked, "What do you mean?" I said, "I thought that this weekend you were celebrating the 30th year of accession to the throne." He replied, "That is nothing to do with me - that's the Queen." 
At that time Veterinary Record was published at Mansfield Street so we met the publication's staff and editor, Edward Boden. Whilst leafing through some recent copies, the Queen and Prince Philip showed a great deal of interest and asked lots of questions relating to the articles and photographs. 
Sandringham Sam and his hips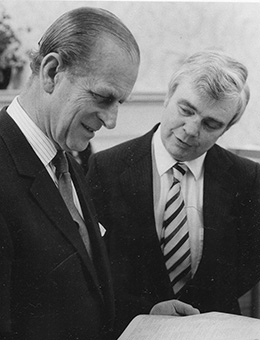 The royal couple were also introduced to two well-known academics from the BVA and Kennel Club Hip Dysplasia Scheme (now part of the Canine Health Schemes) who showed them radiographs of hips illustrating various degrees of hip dysplasia. One x-ray was even of the royals' own dog, a yellow Labrador called Sandringham Sam who was used for retrieving at the estate's shoots. The Queen's face lit up when Sam's name was mentioned, and fortunately, Sam was completely clear of the condition. 
She proceeded to tell us what a character he was and how his friendly ways meant he was often loaned to guests who had not brought their own dogs to participate in the shoots. The Queen also described him as very perceptive. During the initial phase of practice shoots Sam would sit at the end of the row of riflemen, watch closely, then make his judgement on who was the best shot. He would then walk over to the hunter of his choice and lie at his feet waiting for selection. 
The Queen was very interested in the subject of hip dysplasia and asked many pertinent questions. Philip joined in to say that he had a friend whose arthritis had cleared up after eating Chinese food and suggested this could work for dogs suffering from the condition. Our experts did not get involved in answering that question. 
Unveiling the plaque – but not without a hitch
The afternoon ended with tea and biscuits – Earl Grey to be specific, the Queen's favourite. The Queen was very relaxed and spoke with great pleasure about her lifelong interest in animals. There was such a convivial atmosphere that the visit went on for over half an hour longer than the time scheduled. 
Before their departure, the Queen unveiled a plaque commemorating her visit, however things did not completely finish without a hitch.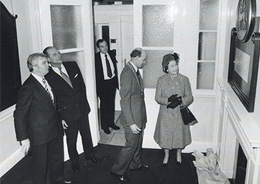 After pulling several times on the cord to uncover the plaque, the fabric failed to fall as anticipated. With anxious looks on our faces, the fabric finally came down to the relief of the assembled quartet.
At the top of the plaque sits BVA's symbol, a centaur. As illustrated in the photos, Philip's head is leaning in my direction. He said to me, "That bloody thing isn't straight!" When I looked at it, the centaur was at a slight angle and some 34 years later, whenever I go into the hall at 7 Mansfield Street, I look at the centaur and think to myself, "That bloody thing isn't straight!" 
What a memorable day that was and what an honour for BVA. 
View all the photos of the Queen's visit to BVA
Written by John Tandy BVSc MRCVS 
BVA President 1980-1981 
John graduated from University of Liverpool in 1957. He worked as a vet all over the UK before starting his own practice in St Helens. John spent time as president of British Veterinary Hospitals Association, Society of Practising Veterinary Surgeons, and in 1980 he became president of BVA.  He died in May 2022.
Contact our media office
(for press enquiries only)
Want to join BVA?
Get tailored news in your inbox and online, plus access to our journals, resources and support services, join the BVA.
Join Us Today