Surveillance - nothing to do with small animal vets, right?
BVA EWAP Chair and surveillance working group member Daniella Dos Santos tells us why small animal vets should not underestimate what they bring to the table when it comes to animal health and disease monitoring or 'disease surveillance'.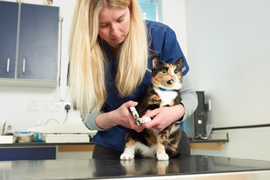 The word 'surveillance' tends to conjure up thoughts of farm animal vet work, reporting notifiable diseases and detecting new and emerging threats via post mortem and histopathological samples. A process driven primarily by government legislation and farm health and profitability. Surveillance has nothing to do with small animal vets, right? Wrong.
Replace the word surveillance with "health and disease monitoring", and it seems to make more sense to a small animal clinician. After all, the physical examinations we perform are forms of monitoring, as are the blood, faecal and urine samples we analyse.
All of these lead onto our clinical notes: an amazing source for small animal health and disease monitoring. But why is this important? We as small animal clinicians have a vital role to play in surveillance too, but due to language traditionally used, we just don't realise it.
A real-world example – Alabama Rot
A recent example of where small animal health and disease monitoring has come to the fore to detect new and emerging disease has been with cutaneous and renal glomerular vasculopathy (CRGV) in dogs, also known as Alabama Rot.
Disease monitoring has allowed the detection of Alabama Rot, and raised awareness within the profession and amongst owners. It is the collection of health and surveillance data that has facilitated the progress so far and hopefully will lead the way for further progress and understanding about the condition in the future. Other examples of animal health and disease monitoring include Rabbit Viral Haemorrhagic Disease-2, and the detection of Babesia in Essex in dogs that had not travelled.
Small animal surveillance also plays a role in the protection of human health. The detection of outbreaks of zoonotic disease within the pet population will protect human health given the close proximity pets live in, and allow clinicians to target their investigations in suspected cases as well at improve communication with clients. For example, a regional outbreak of giardia may direct the clinician to test earlier in the disease process and potentially prevent transmission to family members. A case of leptospirosis may guide a practice to reach out to registered unvaccinated dogs to suggest vaccination.
We, as clinicians, need to do our part for small animal health and disease monitoring
Going forward, health and disease monitoring may help detect diseases imported due to international travel or emerging diseases that may have an impact on not only our pets' health, but also human health. However, in order to make use of the value of surveillance, it is vital that the undergraduate curriculum emphasises the importance of small animal surveillance, and that we as clinicians do our part, share our data and disseminate the information in an appropriate manner to fellow professionals and owners.
Currently SAVSNET and VetCompass both work with practice management programmes to collate and use data collected within consultations to be used a surveillance tools. It takes minimal time and if fully anonymised, so I would encourage practices to sign up. Publications such as the Vet Record are also a good way of communicating to other vets about emerging diseases.
We must ensure that value of small animal surveillance is fully understood, and that we all do our part to share data, communicate its value and protect human and animal health.
Contact our media office
(for press enquiries only)
Want to join BVA?
Get tailored news in your inbox and online, plus access to our journals, resources and support services, join the BVA.
Join Us Today