Trojan dogs – do you know the risks of rehoming a stray dog from abroad?
Professor of Veterinary Parasitology and a Crossbench member of the House of Lords, Professor Sandy Trees, explores why the veterinary profession is concerned about the risks associated with rehoming stray dogs from abroad, and why BVA is encouraging those considering rehoming dogs to rehome from within the existing UK population.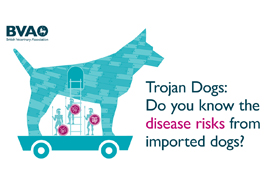 The Pet Travel Scheme was originally introduced to allow UK pet owners to take their pets abroad for relatively short periods and return with them without undergoing a 6-month quarantine period, subject to certain measures (notably rabies vaccination). It has been a great success but the scheme is now being used in different ways, one of which is to import as pets, dogs from overseas rescue centres which were born and raised abroad. This presents increased threats to biosecurity and the health of dogs in the UK.
What is a Trojan dog?
A 'Trojan dog' is a stray dog with an unknown health history that has been brought into the UK for rehoming. These dogs are of particular concern as they are very likely to be carrying infections which are common abroad, including in continental Europe as well as farther afield, but which we are free of in the UK.
These infections may cause serious and fatal diseases in dogs which may affect not only the imported dog but could be transmitted to other untravelled dogs. In this way the owner of such a dog could unintentionally introduce a new and dangerous infectious disease into the UK to which our native dogs have no immunity. Moreover, some of these infections can infect humans.
If I take my pet abroad could it become a "Trojan dog"?
Yes, but it is much less likely because the period abroad is relatively short so there is a reduced risk of acquiring infection. But if an exotic infection is acquired, a UK born and reared dog (which has no immunity) is likely to become very ill and may die, so the risk to other dogs becomes obvious or is eliminated. Lastly, owners should consult their veterinary surgeon before travelling to take all possible preventive measures to protect the health of their own pet as well as to minimise the risk of it passing infection to other dogs after its return to the UK.
Cause for concern
The infections concerned include a range of parasitic and bacterial infections which are characterised by an initial acute infection which may cause illness and death followed by, in survivors, persistent infection which can be transferrable to other susceptible dogs. Stray dogs from rescue centres are especially likely to have acquired such infections during months or years living a feral existence.
Whilst specialised tests may reveal whether a dog has been exposed to these infections, it is difficult or impossible to eliminate the acquired infection so that the animal is no longer a potential source of infection to other dogs. It is particularly worrying that as the practice of rehoming rescue dogs from abroad in the UK appears to have increased, there have been reports of canine diseases that have not previously occurred as endemic infections in the UK ; f or example, in 2016 four cases of canine babesiosis were diagnosed in Essex.
What about rabies?
Although the incidence of rabies has significantly decreased since 1991, the Pet Travel Scheme rules allow for the movement of pets from EU Member States that are still deemed rabies-positive. The dramatic increase in numbers of dogs of all kinds, including rehomed stray dogs entering the UK from rabies-positive member states is particularly concerning, with dogs entering from Hungary increasing by 663 per cent (399 to 3044) and Lithuania (considered to have a 'high risk' of rabies in terrestrial animals) by 780 percent (239 to 2102) between 2011 and 2013.
What is the veterinary profession doing about it?
To protect the UK's rabies-free status and the UK dog population from the importation of disease, BVA is calling on the UK Government to:
Restrict the movement of dogs from countries with high rabies risk in terrestrial animals and reintroduce the rabies titre test as a mandatory requirement before travel.
Restrict the movement of stray dogs from countries which are endemic for diseases not currently considered endemic in the UK eg. brucellosis, babesia, ehrlichia, dirofilarial, leishmania and introduce testing for any such diseases as a mandatory requirement for stray dogs before travel to the UK.
Reintroduce compulsory tick treatments for all dogs and cats travelling under the Pet Travel Scheme. Consideration should also be given to reintroducing compulsory tick treatments for ferrets as per previous requirements under the Pet Travel Scheme.
Introduce tapeworm treatment for cats as well as dogs under the Pet Travel Scheme.
Extend the waiting time post-rabies vaccination to 12 weeks with the aim of minimising the risk of rabies incursion into the UK and simultaneously reducing illegal trade in puppies for sale via the non-commercial route.
To protect the UK's Echinococcus multilocularis (EM)-free status, the tapeworm treatment window of 24-120 should be shortened to 24-48 hours before entry into the UK from infected countries.
Read the full set of 16 BVA recommendations to strengthen pet travel regulations
What should I do if I want to rehome a dog?
We know that the desire to rehome stray dogs from abroad comes from a good place, those involved want to ensure a good life for the animal in question. However, we would urge anyone looking to adopt a rescue dog to rehome from the existing UK dog population and UK rehoming charities or welfare organisations. These organisations generally do an excellent job of checking the temperament and health of the dogs in their care before matching them with appropriate homes, meaning there is less chance of costly vets bills or failed adoptions.
As a nation of dog lovers, we must weigh up the potential consequences of rehoming a 'Trojan dog' to the UK dog population and consider whether our good intentions could potentially do more harm than good. As I put it when I wrote about this issue for the Vet Record back in 2016 ' Who wants to be the owner of the Trojan dog which introduces a new serious disease to the UK dog population?'
Find out more
The issue of pet travel and importation will also be in focus at BVA Congress at the London Vet Show in November, with a session on 'Trojan dogs and trafficked pets- why pet travel rules need to change', featuring talks by Professor the Lord Trees and Dogs Trust Veterinary Director, Paula Boyden. The session will consider the risks and realities of pet travel and the illegal pet trade on both health and welfare and ask what more needs to be done to stop the bugs at our borders. Book your place now.
Contact our media office
(for press enquiries only)
Want to join BVA?
Get tailored news in your inbox and online, plus access to our journals, resources and support services, join the BVA.
Join Us Today