'Investing in people' vital to tackling systemic veterinary workforce issues according to new British Veterinary Association President
Equine vet Malcolm Morley outlines his presidential theme and priorities as he is elected BVA President for 2022/2023.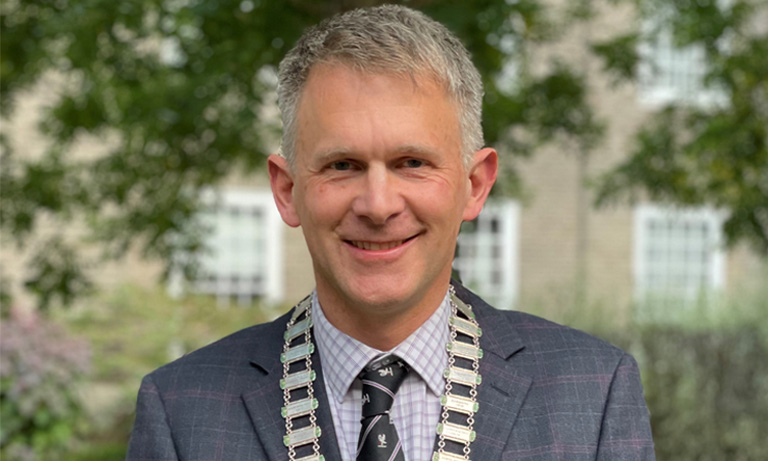 In his first presidential speech, the Winchester-based Clinical Director at Stable Close Equine Practice outlined his presidential theme, 'Investing in People'. The theme is of great importance to Dr Morley personally and he also asserts that investing in people is 'fundamental' to the future of the veterinary profession.
Addressing members, Dr Morley said: "Veterinary medicine is often characterised by animals but in reality, it is a profession intrinsically centred on people, whether they are our colleagues, our clients, the animal-owning public or farming communities. I'm incredibly proud to be part of such a dedicated group of professionals.
"Undoubtedly, it has been a tough few years. We can point to Brexit, the pandemic, and the rapid rise in pet ownership as external factors putting our profession under huge pressure and leaving staff exhausted. However, we must acknowledge that not all the challenges are new and there are longer-term systemic issues with retention, recruitment, and return to work. Workforce shortages are a key issue.
"We stand at a crossroads and the road that has brought the profession to where we are now will not be the same one that leads us forward. We can either put our heads down, tighten our belts and hope for the best or we can acknowledge the issues, focus on solutions and look forward to ensuring veterinary medicine is a great place to work."
Dr Morley plans to build on the success of BVA's Good Veterinary Workplaces Initiative and shine a light on the practices who can inspire others to adapt and embrace the good workplaces principles.
He added: "By inspiring, mentoring and empowering vet teams, we see a strong link to improved animal welfare as well as the retention and satisfaction of people. Championing and supporting the next generation of leaders is key to my theme of investing in people."
Dr Morley will also focus on BVA's strategic priorities and the other pressing issues facing the profession and standards of animal welfare, such as continuing to push for the Kept Animals Bill to pass into law, lobbying the Government for proper import checks on animals and animal products, addressing the rise of canine fertility clinics and the impact of the cost-of-living crisis.
Dr Morley graduated from Bristol Veterinary School in 1993 and has almost 30 years of equine medicine experience in both the UK and Australia, with primary areas of focus including first-opinion practice, dressage horses and pre-purchase examination.
Read Dr Morley's full Members' Day speech.
Outgoing BVA President and zoological vet Dr Justine Shotton will take up her new post as BVA's Senior Vice President. During her time as President, she focused on the theme of sustainability in the profession, supporting practices to explore and implement new ways to become environmentally sustainable.
In her speech to members, she highlighted BVA's work in 21/22 which included the passing of the (Animal Welfare Sentience) bill into law; continued work to challenge the unscrupulous breeding of pets for profit over welfare through BVA's campaign #BreedToBreathe, and raising awareness of the growing issue of work on canine fertility clinics. She also talked about the success of the first BVA Live event, which saw the veterinary profession come together for two days of CPD and fascinating lectures.
Dr Anna Judson has been elected as the new BVA Junior Vice President. She has spent her veterinary career mostly as a mixed then small animal practice owner in rural mid Wales. During this time she helped the practice to become a Veterinary Nurse training practice and gain Investors in People and RCVS Practice Standards Scheme accreditations. She is a Past President of the Society for Practising Veterinary Surgeons (SPVS) and has recently been working with Vet Sustain to deliver a SPVS and Vet Sustain Environmental Sustainability in the Veterinary Profession CPD day. She has also spent many years volunteering for wildlife organisations.
BVA Members' Day and AGM is an annual event which includes the election of BVA's President, Senior Vice President and Junior Vice President. It includes the presentation of BVA's four prestigious awards: Dalrymple-Champneys Cup and Medal, the Chiron Award, the John Bleby Cup and the Harry Steele-Bodger Scholarship.
The BVA Member Survey 2022 is live until 3 October 2022, offering every BVA member the chance to help shape the future of BVA. The survey takes just 15 minutes to complete using the unique link sent to members via email. The results will be used to help BVA deliver the best possible support to the profession. 
Contact our media office
(for press enquiries only)
Want to join BVA?
Get tailored news in your inbox and online, plus access to our journals, resources and support services, join the BVA.
Join Us Today