BVA Young Vet of the Year 2021 finalist: Sarah Krumrie
BVA Young Vet of the Year Award finalist Sarah Krumrie shares her experience working in academia, confronting depression, and finding her happiness during the pandemic.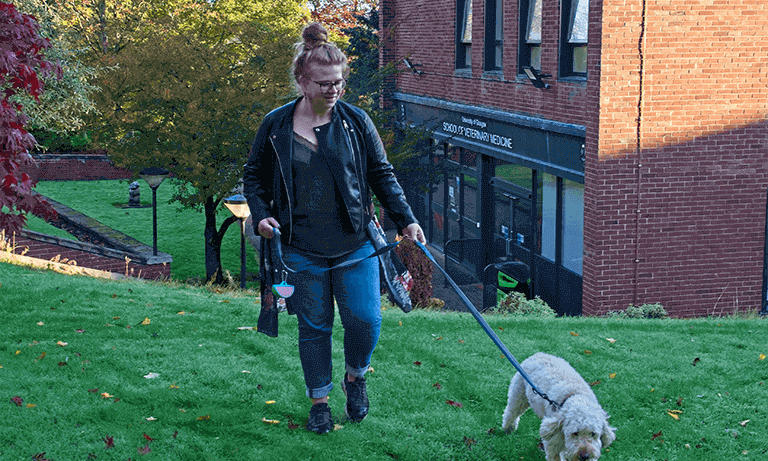 I'm not special. Really. In fact, if I were to rehash my story, it might read like one of those chalkboards used to punish primary school children: "I've wanted to be a vet since I was a kid" repeated too many times to really mean anything anymore. And somewhere amongst a turbulent-childhood-turned-turbulent-young-adulthood, that goal was the only stability and hope that kept my life moving forward.
Everything changed when I went to college. It's a cliché, but it's true. A professor recognised my depression, I was put on medication for the first time, I was introduced to my first therapist, and realised what abuse was. My entire life goal underwent a radical shift: being a vet was no longer my goal; being happy was.
I worked in vet clinics after college before vet school and absolutely hated it. Full days of smiling and small talk? Enduring aggression for attempting to convince clients to provide their pets with basic care? Absolutely not for me. But what did this mean? I spent my whole life working toward a goal I wouldn't enjoy. I was lost. I proceeded to vet school without an end goal. To add to the clichés, I was wandering aimlessly. I started exploring other career options while studying and while anatomic pathology will always have a bit of my heart, I landed in public health and research without a single regret.
There is no way I would have survived the last year in clinical practice, and I don't think I could applaud my colleagues enough for how hard they have worked. I struggled to survive myself, working in the pure solitude of a studio flat with a poorly behaved dog. This year has been one of the hardest of my life, as I'm sure it has been for many. How does a typically high-producing depressive cope with hours of silence and nothing but an internal monologue of spiralling thought? How does a depressive cope with the death of an immediate family member during a pandemic: when no one can visit to help mourn, empathy is already maxed out, and work deadlines are looming? How does a vet who took the leap away from clinical practice deal with the guilt of seeing their colleagues help during the pandemic while they're locked inside staring at a wall?
There came a point I felt I needed to help people like I knew I couldn't be helped; I spent hours thinking and reading experiences on social media in an attempt to formulate a plan, small changes, things everyday people could do to help people like me or people like them. People who are just seeking happiness. People who have felt too lost to recover or feel stuck. That's where my ideas come from. Because ultimately that's how the world will change: not with a few heroes, but with a lot of normal people who are making everyday changes. To help each other. I'm elated to be a finalist for BVA's Young Vet of the Year Award, and in a way, I feel every other normal person making small positive changes is a finalist alongside me.
Contact our media office
(for press enquiries only)
Want to join BVA?
Get tailored news in your inbox and online, plus access to our journals, resources and support services, join the BVA.
Join Us Today