BVA Young Vet of the Year 2021 finalist: Sarah Penturn
BVA Young Vet of the Year Award finalist Sarah Penturn reveals her love for behavioural medicine and how rehabilitating a rescue dog reignited her passion for behaviour practice.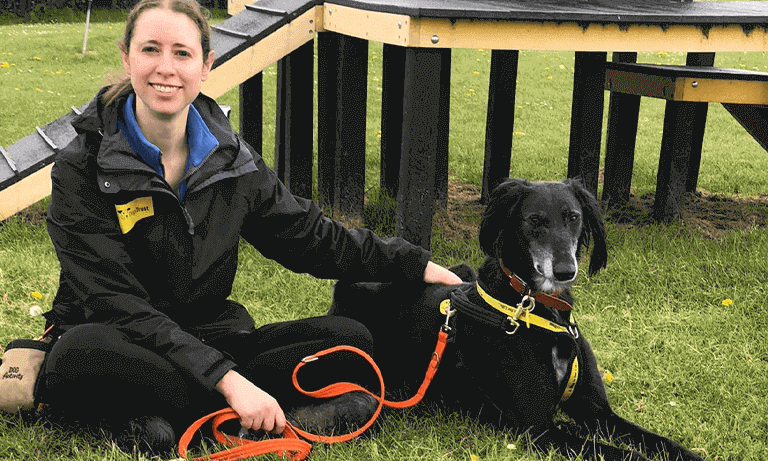 My parents raised me to believe that with hard work, a little luck, and a lot of grit, I could achieve anything I put my mind to. When my guidance counsellor in school told me that I wasn't a strong enough candidate to get into vet school I was undeterred. I had my heart set on becoming a veterinarian, and I wanted to get there as soon as possible. In Canada, getting a DVM is a graduate degree (meaning you need to complete an undergraduate degree first), so I set my sights on studying in the UK.
Like many new graduates, I had a steep learning curve during my first few years and a looming sense of uncertainty – the job was not what I thought it would be. It took me some time to find my niche, where I felt able to make a real difference. Joining Dogs Trust and being given the opportunity to design an alternative residency in Behavioural Medicine changed my life. I am privileged to have been able to learn from, and with work with, so many accomplished, talented, and inspirational people at Dogs Trust, and it is so incredibly humbling that they felt I deserved to be nominated for this award.
The Covid-19 pandemic has been an incredibly difficult time for the veterinary profession. From discussions with my friends and colleagues, it is clear that facing this crisis has, for many of us, led to a re-evaluation of our lives and priorities. Towards the middle of last year, I found myself really struggling to maintain my enthusiasm for my work, and recognised I was burning out. I agonised over the decision to scale back my working hours to focus on rehabilitating my mental health, worried I would let down my team. At the beginning of this year, I made the most difficult decision of my career and officially withdrew from my residency.
Like many other vets, I'm probably a little too "Type A" and always felt an intense pressure to succeed. My mentors and teammates could not have been more supportive, but it was still very difficult for me to accept that I needed to change course. I struggled with feeling like a fraud, that my years of experience and study didn't count anymore. I decided to take on a foster dog under the guise of helping to rehabilitate his behavioural problems away from the stresses of kennels – but really, I needed a project to distract myself with. He was an anxious dog when he arrived, so worried and overwhelmed by the world outdoors that I needed to carry him over the threshold to take him outside. Though progress was not always linear, with gentle guidance and plenty of positive reinforcement, we started to get small wins – each one adding kindling to help reignite my passion for behaviour practice. I was so proud when he found and successfully settled into his forever home. I know it's a cliché, but when my inner thoughts start becoming negative, I try and reframe my self-talk to how I might help an animal who has just experienced a setback, or who is feeling anxious or frustrated. I think many of us could do with treating ourselves with the same compassion, empathy, and kindness as we do our patients.
Being a finalist for the BVA Young Vet of the Year has being so incredibly validating after a tough year. Nobody wants to talk about it, but it is inevitable at some point that we will have all tried our best and still failed. Having grit does not mean that you will never fail, it means that you can bounce back and keep going. If I could give a piece of advice to new graduates, it would be to begin cultivating a growth mindset, and seeing failures as opportunities to learn and improve. I will not pretend that my career setbacks didn't hurt, but I have learned to prioritise a work life balance over academic accolades and am much happier for it. I still believe we can achieve what we set our minds to, as long as we are prepared to reflect, readjust, and be flexible with our definitions and expectations around success. Do not compare your career to others' and celebrate your successes however they look to you.
Contact our media office
(for press enquiries only)
Want to join BVA?
Get tailored news in your inbox and online, plus access to our journals, resources and support services, join the BVA.
Join Us Today