#ChooseAssured: 'Love Chicken, Love Red Tractor' campaign – what's it all about?
Lindsey MacDonald, Red Tractor Brand Manager, takes to the BVA blog to talk about Red Tractor's new 'Love Chicken, Love Red Tractor' campaign, and what Red Tractor's three logos mean for poultry welfare.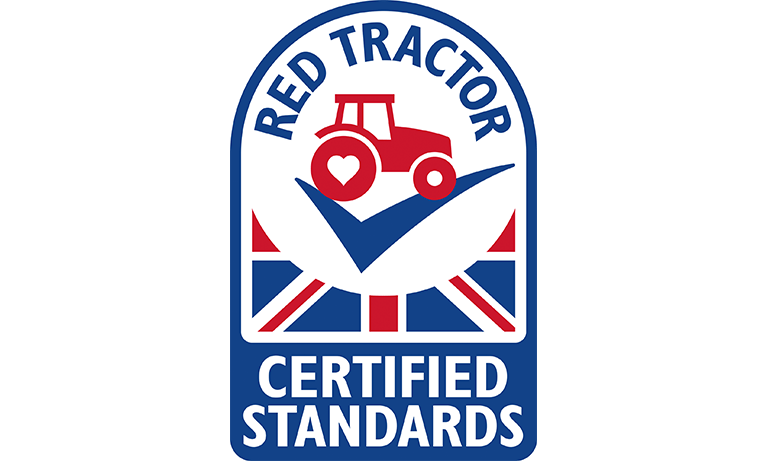 When it comes to sheer versatility and great taste, it's no wonder so many of us love great British chicken. However, recent media attention on chicken production has caused many of us to start thinking about what sets British chicken standards apart from the rest of the world.
That's why we have launched a 'Love Chicken, Love Red Tractor' campaign, to help shine a light on hardworking British chicken farmers; and to show consumers why they should be proud of the UK's chicken welfare, safety and traceability standards.
What sets British chicken standards apart?
Red Tractor has been working with farmers, vets and animal welfare experts for the past 20 years, to ensure that Britain has some of the highest standards in the world. Our scheme provides chickens grown and reared in the UK with more light, more space, and more enrichment to encourage natural behaviours than is required by European legislation. Our farmers work tirelessly to ensure the health and welfare of their birds is met every day.
To help highlight this, we recently set up a trip for Emma, to meet Red Tractor chicken farmer, Ed, and to see a Certified Standards chicken farm for herself. During this visit, she learned exactly why our British chicken standards here in the UK are considered world leading, as Ed explained what his daily life as a chicken farmer looks like. From underfloor heating and natural daylight to enrichment bales and biosecurity measures, Emma saw firsthand how much dedication and skill it takes to be a chicken farmer. You can follow Emma's visit to Ed's farm and find out more online. 
What does chlorinated chicken actually mean? 
Emma also spoke to leading international food safety expert, Guy Poppy, to understand the reality behind all the news stories she had been seeing. A key issue she wanted to understand was chlorinated chicken and what that term actually means, as well as how our standards here in the UK compare with other countries. Guy explained that the reason chlorinated chicken is considered problematic to many isn't because of the chlorine washing itself, but rather what happens in the supply chain prior to this that makes it necessary. He explained that here in Britain, we have some of the highest hygiene and biosecurity standards in the world, some of which Emma experienced while visiting Ed's farm – for example, she had to wear PPE, gloves and a mask, disinfect her boots and not go to any other farms in the preceding days of her visit.
What this means is that when birds in Britain leave their farms, they do not need to be washed in chlorine to remove contamination from the rearing process, before they arrive in the supermarket. This is not true of many other countries in the world. In such places, they do not have the same high hygiene and biosecurity standards up until that point, so the birds need to be washed in chlorine to remove potentially harmful bacteria before they arrive on shelves. You can follow Emma's chat with Guy and find out more online.
What do the different Red Tractor logos mean? 
You might have noticed there are a range of Red Tractor chicken standards which mean more choice for people when they're out shopping. There are currently three types of chicken in our range, all easily identifiable with different coloured logos:
Certified Standards (Blue):

Red Tractor 'Certified Standards' cover everything that you care about when buying chicken. All our Certified Standards chicken can be traced back to the eggs and farms they are reared on and have 10% more space than is required by European legislation. They also experience more enrichment as well as world leading welfare, hygiene and safety standards and we are phasing in the requirement of natural light on every single Red Tractor farm.

Enhanced Welfare (Purple):

Underpinned by all the welfare, safety and traceability of our Certified Standards, we are proud to introduce our 'Enhanced Welfare' chicken, which you can currently find in Tesco. These Red Tractor chickens are slower growing breeds with 30% more space than is required by European legislation and guaranteed natural light.

Free Range (Orange):

Red Tractor 'Free Range' chickens have access to outdoor ranges and even more space and enrichment indoors, giving them ample opportunities to express their natural behaviours.
In all cases, whatever the farming method, they have been produced to rigorous food safety, animal welfare and environmental standards, from farms to pack.
Find out more about the great work of the UK's farm assurance schemes to support animal health and welfare through BVA's #ChooseAssured campaign and #ChooseAssured: UK farm assurance schemes infographic
Contact our media office
(for press enquiries only)
Want to join BVA?
Get tailored news in your inbox and online, plus access to our journals, resources and support services, join the BVA.
Join Us Today