Expanding my horizons – winning BVA's Young Vet of the Year Award
Emily Craven, winner of BVA's Young Vet of the Year Award 2019, reflects on what's changed since winning the award in 2019 and why it's so important to celebrate early-career vets.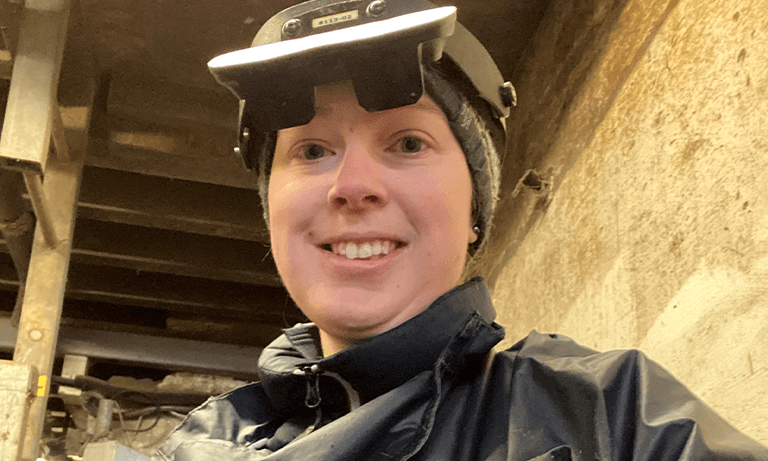 I found myself thinking over this piece whilst driving up to the Scottish Highlands and Islands and reflecting back to how times have changed. The last time I had been North of Hadrian's Wall was about a week before I found out I was BVA's Young Vet of the Year 2019 (YVOTY) and then Covid rather curtailed further trips north until recently. In those 18 months, the world has changed and evolved, and to a large extent, so have I. Granted much of that has been forced reactive and adaptive change, in coping with the pandemic but, it could be argued, that much of that growth goes back to six months earlier and winning the YVOTY Award. 
Winning came as a total surprise to me and to an extent still does. I am used to it by now, but I do look back and wonder did it really happen to me?
The award has served as a launch pad and given me the confidence to go out and pursue the things that make me happy. It has introduced me to new people and led me to build new friendships, as well as helping me to develop a deeper understanding of the great work that BVA does. Since the award, I have joined the BVA Policy Committee, started a Masters degree with the University of Edinburgh in International Animal Welfare, Ethics and Law, and taken the lead of the Mobility Special Interest Group within Vet Partners. When I first won the award, I would say I was 'just' a farm vet doing my job. Day to day, I'm still 'just' a farm vet but I have expanded my horizons, and I hope contributed to the profession as a whole, as well as focused on my clients. Certainly, the experiences I hope have shaped me and made me a better person, and a better vet. 
Winning the award has also given me a voice and given me the confidence to be more open. Prior to being YVOTY, I would never have opened up about my Autism, my anxiety or openly shared my thoughts and feelings. The private perfectionist in me would not have allowed it. Since then, I have been a lot more open in the hope that it could help anyone struggling, particularly in their early career that even if we are projecting this perfect life on the outside and on our social media, we all have our own private fears, turmoil and anguish. Life's great at the moment – not something I ever thought I would say – although I'm sure I still get cases wrong. I'm still me, still fall off my pony, still get insecure and anxious but I'm more contented, open and more confident. It's ok, not to be perfect, and it's ok to have bad days but it's making sure that overall we are coping and enjoying things and spend more time in that positive welfare state that we openly advocate for our patients but often forget to prescribe to ourselves. 
In this world, people can be very quick to run each other down, and we can be very quick to be critical and forget to actually remember the human under the vet with feelings and fears. Taking the time to celebrate someone's achievements, in a language that they actually hear it is so important. That is where initiatives such as the YVOTY are so key and why we should all support them. Yes, its been an incredible experience for me, and I hope Fabian would say the same thing (albeit without such a degree of hindsight) but I hope its been just as valuable to our fellow finalists and all of the other nominees. Over two years, hundreds of nominations have been received by the BVA. That's hundreds of young vets that have been celebrated. Their colleagues have recognised and communicated their great work, which is fantastic. But for everyone that has been celebrated, I am sure there are many others where people have been too busy to stop and reflect on how outstanding their young colleagues are or just not managed to find the time to commit those thoughts to paper. My supportive boss taking some time to write that citation for me has, I hope, shown that time investment multiplies into a more confident, contented and resilient vet. I know how lucky I have been to have had this experience and that support and just really want others to have get the same privilege extended to them. 
 "The single biggest problem in communication is the illusion that it has taken place"
George Bernard Shaw
So please, prioritise that time to communicate that support and share and celebrate all your colleague's achievements. A few words could make all the difference to a young vet's career. It certainly did for me. 
Nominations are open for the BVA Young Vet of the Year Award 2021, supported by Zoetis. Visit our webpage to find out more.
Contact our media office
(for press enquiries only)
Want to join BVA?
Get tailored news in your inbox and online, plus access to our journals, resources and support services, join the BVA.
Join Us Today