From aspiring equine vet to practice owner
Young Vet of the Year 2023 finalist Camilla Church shares her career journey, from securing her dream job as an equine vet to setting up her own practice and other initiatives to help promote equine welfare.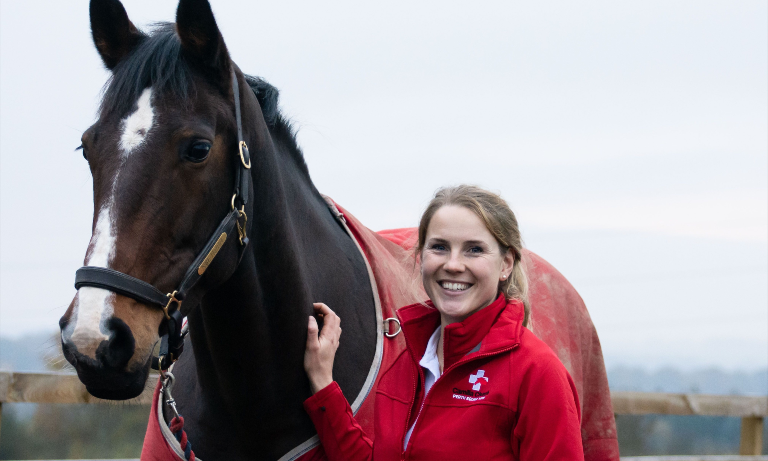 I love being a vet. Being nominated and reaching the final three of the BVA Young Vet of the Year Award is an amazing privilege. I hope to inspire more young vets to remain in and enjoy the profession during this recruitment and retention crisis.
Why do I love it so much? I love driving about the beautiful countryside, meeting owners and their horses and hearing about their hopes and dreams. But most of all, it's because I can make a difference in the lives of the owners and horses I treat.
My dream job
When I found it wasn't possible to buy into the practice I was working in due to a corporate takeover, I re-evaluated my career. Despite the COVID pandemic and one day wanting to have a family, I decided it was now or never. Finally, in January 2021, after six years in practice, I got my dream job as a purely equine vet in the practice I set up from scratch.
What an adventure it has been - and still is! Many phone calls were made to fellow start-ups, accountants, wholesalers and buying groups - everyone I spoke to wanted to help. It is such a tight-knit community, even though we are separated by a vast geographical distance. Just before opening, I remember sitting in my spare bedroom, surrounded by bandaging material, equipment, and thousands of pounds worth of drugs, and feeling completely overwhelmed. These feelings were relieved after speaking to someone who was six months into their start-up journey. What a fab community spirit!
Many opportunities
Since qualifying, I've had many opportunities. I've lectured part-time to veterinary nurses online and delivered CPD for vets in Ethiopia. Since the practice started, I've created an education series involving blog posts and short videos to educate owners on how to keep their horses healthy, promoting preventive healthcare and resulting in improved welfare. Regular client evenings and large events have been organised, again, to promote the welfare of the horse. I've lectured internationally, telling large stakeholders my story. I've been on the local news for my involvement with a "Get Into Vet School" afternoon for future vet students. My little one-woman band now has a business partner, three working vets and three part-time admin staff. It has been an incredible roller coaster ride so far.
Future changes to the profession
Having a baby last year changed my life in many more ways than I could imagine. Suddenly, there were even more balls to juggle. Working as a vet, with long, unsociable hours and on-call commitments, is difficult. It reinforced my determination to create a practice that embraced more flexible working around family life, commitments, and hobbies. With the shortage of experienced vets, employers need to rethink and redesign their rotas. The whole profession would see a benefit, with hopefully more vets remaining in practice.
By coming together, evolving and modernising, we can all continue to make this profession great. Perhaps I am young and naïve – but I hope that in another 20 years, I will still love my career and the profession.
Contact our media office
(for press enquiries only)
Want to join BVA?
Get tailored news in your inbox and online, plus access to our journals, resources and support services, join the BVA.
Join Us Today